From diary 2, and the cosy, small villages, I now reach Pokhara.
21/12. Another crisp morning above 1.000 meters. Everything below our level
is covered in clouds, and even the remote peaks seems a bit misty. I try the Indian breakfast, which consist of either Puri Bhaji or Aloo Paratha with curd, tea and juice. I go for the potato combination, and it is real good: A pancake with potatoes and tomatoes.
I have seen what I came for, and it is time to head on for Pokahara (elev. 884). I have to go back through Dunme, then it is a rather long drive through a fantastic landscape - although I find it hard to stay awake, mainly because I, as usual, having a hard time watching out.
I have joined up with a Kiwi and a Aussie, and we only spend a few minutes in Dunme, before we get the three last seats in the Pokahara bus. It is a three hour drive, but due to the low elevation, most of the tour is without sun and generally in mist. Just as we assent a hill towards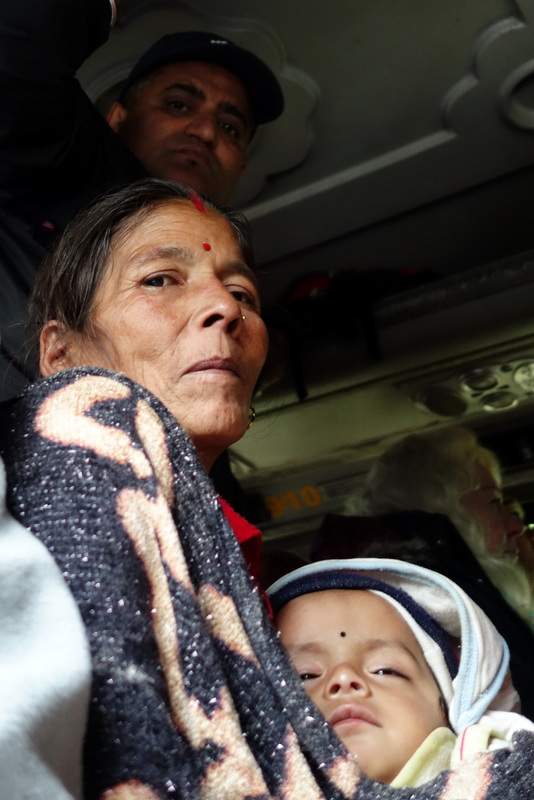 Pokahara, we break through the clouds, and the sun shine bright. I notes several recruitment camps for the famous Gurkhas, on the way into town. They are used for the absolutely best of the best solders, Singapore police, Indian elite forces and the sultan of Brunei's personal guard.
We share a taxi from the bus station to LakeSide Central, and say goodbye. I try a hotel right at the place I'm at; Hotel Simrik, and they offer on a nice room with hot water at 1000R, which is fine with me. Drop the bag, and head straight out in the big and real touristed LakeSide. This part of the city is along the shore of the huge lake Phewa Tal. Not fare from here, the mighty peaks of Annapurna Massif raises. Mt Machhapuchchhre (6993m) look just like Mt Matterhorn, just half a time higher, and it have never been climb. Next to it is Mt Annapurna (8091m) with her siblings.
I'm heading out south, towards Devi's Falls and World Peace Pagoda. The guy at the hotel offered me to arrange a taxi for 2.000R, and he would throw in a few other sights. I rather walk and see what is
on the way. At first, it is mainly tourist shops. Here are a lot shops with i.e. North Face clothing, and I start hunting for a real warm jacket. It is the right brands (not copies), and the prices are not that good. Finally, I find a shop which is going to close, and I get 25% off what others have offered. I tell him; I'll be back! I do not have any use for it this afternoon!
It will be a long walk, and I figure, I better fuel up, while I have the chance. A rooftop restaurant offers brownies, tea and a magnificent view to the mountain. On a lower peak, closer to the city, numerous paragliders spins around and around.
I make a short walk along the lake, before I enters another part of town, free of tourists. It starts to be a bit dull, and I get a 200R taxi. That way, I feel confident I'm actually heading the right
way. I'm kicked off, right outside Devi's Falls. Only locals inside, and I'm not impressed! The entire area is gravel, and a creek has cut a deep crack through the years. Here should have been some nature, but I kind of more observe the trash in the creek.
Back in the city, I try a local marked. In the back, some sort of temple is in a cave, deep down. Music is coming up, but I stop at the entrance. Out on the street, I ask for the prise on a taxi to go to the World Peace Pagoda. 6-800R, because it is a bad road. Well, I either walk or catch a bus. Black cows are crossing the road, tractors cruising round and village-style taking over.
The city ends, and the farmland takes over. Tiny farms on steep hillsides with tiny patches of rice, a few water buffalos,
bananas and little else. After some busses have passed me, I catch one, and get a 10R drive to the side-road, leading the the pagoda. Well, at least, I didn't miss it!
It is a steep assent, sometimes on a real bad surface. I loose my breath, bur surely getting the heat. The temperature reach 27C, and I'm in the sun, most of the time. A few taxis and quite some motorcycles passes me, some offering a lift. I decline; the nature is way too interesting here. Loads of interesting plants, a few birds, including distant vultures.
A small stand at a local framer's hut offers water and juice, and I sit down for a moment. A bit further up, I finally see the white pagoda. Then the road turns away, and the surface turns real bad. No wonder the taxi drivers didn't exactly ask for this tour.
I reach a ridge, offering a magnificent view over the city, the lake
and the mountains. And the World Peace Pagoda, sitting on another peak! There is a path, leading way down, only to go up again. Well, I have seen my share of pagodas anyway. I buy a cup of tea at the viewing point, and I'm told: There is a path down through the jungle to the lake, and boats across it. Or a bus passing here in well over an hour. He sold the jungle right away.
The trail passes quite close by the pagoda, then turns almost straight down towards the lake. I meet two women, packed with greenery for their cow or goats. I ask for a photo, and afterwards, the older one say money. Well, that is only fair, and when I only have 50R, I get a few more photos.
It is a fantastic tour, through numerous interesting plants. Here are at least eight different species of ferns,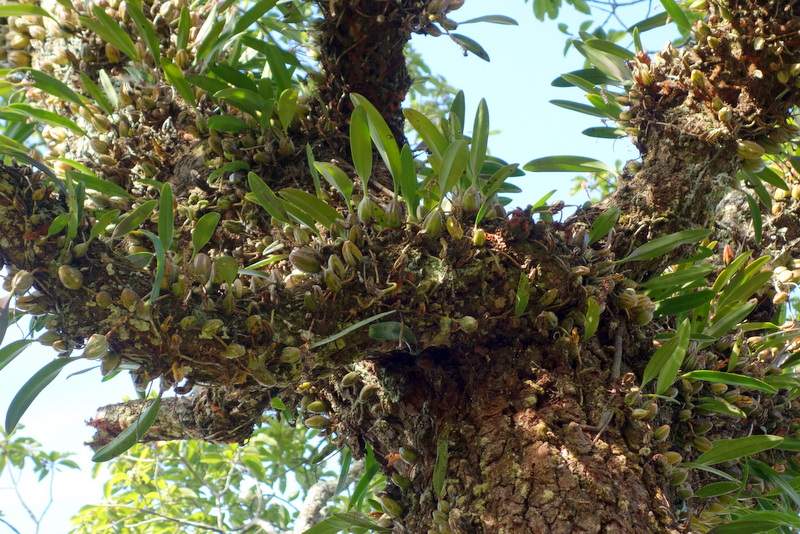 two species of Selaginella, some Huperzia, two or three Bulbyphylloms, Asclepiadaceaes in the trees, and at least two other genera of orchids along with a Peperomia. I wretch my jacket, climbing a tree, but at least I'm the right place to replace it. A few plants are flowering, but all seems to be in growth.
A young man, with a helmet, sits alone on the trail. He start talking, ask to see my photos - and see them through twice! I wonder what that was about?
I spend a long time, descending this ridge, but it is a real interesting tour. The last part of the trail is a steep, zigzagging stone stair. When I reach the shore, I am asked to buy a ticked for the rowing boat: 350R. I would have expected quite some more.
Then again, despite here are around ten men, I'm send out with a seven year old boy. He do a good job, but I figure; if we have to reach the other shore within suppertime, I'll better help.
Back in town, I go back to the hotel with all the cloth I didn't need, and the water I didn't touch. Then, I head out to find the jacked I made a deal on. While I'm there, I replace the thin fleece I torn at the mountain. On the way back, I notes; despite is is almost dusk, it is not as cold as it use to be at this time. I re-organises, and take a bath - before everyone else use the warm water. It seems like all "hot" water for showers are sun-heated.
Then it is about food. I passes a restaurant which, like most, had their menu on the sidewalk. They offered pork with ginger and lime. It turns out to be a blood-red,
transparent sauce with meat and vegetables, rice and raw vegetables. Tasty and sufficient. I can't feel a bit mocked: I have finally found a real, warm jacked, a restaurant with actually glass in the windows, it is far the warmest evening in Nepal I have had (17C), and they have a large, live fireplace in the middle of the room! Then again, isn't that winning it all? Reluctant, I head home to work. I'm glad I don't have to deal with the flower photos from the other camera these evenings.
After hours of back-breaking work in the bed, I head out in the not-so-cold city for a cup of evening tea. As no surprise, I end up at the same restaurant, having the cosy fireplace. The city is only starting to close-down, when I head home after ten.
22/12. I find breakfast as I
head out of the tourist-village I'm staying in. A taxi brings me out to Seti River Gorge. The entrance fee is a bit unexpected, but never the lees there. It is a small, park-like area with no people. A bridge, leading over a white river in the gorge, make a viewing point down through the deep gorge. It seems like it is 30 meters deep, and only two to five wide. It even folds and twist, and it appears as it is a tunnel in some parts.
To my big disappointment, I can't walk along it, nor in it. It is simply too steep, and the ends are sealed of by buildings. No botanizing here. I can't even get a proper photos of it, it seems.
I walk back to the old Pokhara centre, which its old houses, narrow streets and even farm houses and plots in some areas. This seems to be real close the the mighty peaks, covered in snow, but the sum makes is a nice day to explore - on the sunny side of the streets.
Here are a lot of great motives, and I
even get some with people on! Here are no signs of tourists at all, and the shops are a strange mix of real old stuff and brand modern.
I find a glass of tea in a little joint, look at the weaved baskets and burned, but else raw clay-work for the household. Here are even old stone grinding mills, one-hand-use. I pass the rather large bus-station, and start walking back to LakeSide. I noticed some small nurseries on the way up here, and I will pay them a visit on the way back.
Unfortunately, they do most in pre-grown vegetables, pretty flowering plants for the garden and a few collectors-items from Africa. Most are grown in transparent plastic bags with a shitty soil. Only the third is keep nice, but I fail
to learn anything here.
After a long walk back, I find my self at the lake. Plenty of room for tourists, and even a few to be found. The locals are washing their cloth at the shore, boatmen try to get customers and the waiters from the restaurants look long after the few potential clients. I returns to the hotel to let my legs rest a bit, while I work. I have seen what I came for, but it is too late to enter the long mountainous road to Tansen by now.
After an hour, I ventures out again, following the northern road out of town. From posh tourist shops and cafés, it turns into paraglide shops, the the sealing of the road disappears, and the shops are a bit more "hippie-like". The lack of sealing gives a lot of real fine clay dust, and the parsing trucks share it generously.
I finally make it out of town - kind of - following the lake-side.
To the other side of the road, a real steep forest stretches upwards, and despite my efforts negotiating the steep climb, I fail to find any interesting plants. The other side of the lake, on the other hand, had so many to offer yesterday. I reach a small plain, but farmers small lots have spoiled the nature too much for me.
I returns by the path along the lake. Numerous restaurants are lined up in the swamp, few having a single customer. In the lake, several species of South American floating plants are found, shadowing the cichlid-like, small fish. Some boys are catching them - or feeding them with bread; hard to say.
I have a look out to the island with Varahin Mandir temple, but I have seen temples enough for now. I walk slowly down through town, looking at the tourist shops. Not for anything particular, but I am amassed so many shops can have so many things, just alike. There are perhaps six different shops types, each group just alike each other. Even the prices seems to be fixed.
Figures and religious stuff, weaving and cloth, travel gear and cloth, drugstore conveniences, books, maps and papers and that is about it.
I return to a real nice, hot shower, and then try to find some roasted pork. One place has it on the menu, but not in the kitchen. To my surprise, they look surprised when I leave. The next place has a fireplace, and despite it is 17C, I can eat anything next to a contraption like that. After a real nice meal, I figure I better head home before I doze off in the restaurant. Work for several hours at home, before I head out for a cup of evening tea. I find yet one more fireplace, and have to share it with the employees.
A standard question is: "What country are you from?". Then, some in restaurants and young people ask: "What type of beers, do you have?". They all seems surprised that we have Tuborg and Carlsberg too. It is, without any doubt, the two biggest brands in Nepal. San Miguel in as third and the local cell-phone company forth. I got a feeling; they think of them as Nepalese (they are actually Danish).
The plans for tomorrow are made, now I hope everyone involved will play along.
In to the bus-station and on the right bus towards Tansen, on the praised Siddhartha Highway in four hours.
23/12. I get up earl - a bit too early it seems. Finding breakfast is a challenge, and I end up right next to my hotel. They are open, but it take forever before a moped brings the toast for my real good English Breakfast. I don't complain; I sit in the sun, and I'm not really in a hurry.
An ATM is next, then a taxi to drive me to the bus station. Five minutes later, and a rather nice bus with me, sitting in my favourite seat, leaves for Tansen. The seat is in the middle of the bus, in the shadow-side and the window can easily be opened for photographing.
My bag-pack is a bit stuffed by now: The excellent imitation of a Michelin-man
costume I bought for a jacket, does take its room. But I won't feel bad for NOT using it.
It is not actually to get to Tansen, more the road leading to the town: The Siddhartha Highway from Pokhara to Sunauli. It serpentine its way through some astonishing mountains in the southern, central Nepal. In general, we follow a river, but around 50-100 higher up, on the almost vertical mountain side. If the valley is wide enough, there are mainly rice patches in it, if the slopes aloud it, terraces with rice clings to them.
Despite this is a "Tourist only-bus", I'm the only pale, in a else full bus. Almost every time a local set next to me, they ask for the window seat. I decline. They tell me, they get car-sick. I offers a plastic bag. To be fair, the locals do really suffer for motion sickness - window seat or not, and this road is made for it. I hardly notice it; the
scenery outside is so amassing, and each corner reveals a now scenery. We passes through villages, some real tiny. I try to capture the idyll and people, basking in the sun. We do a single, longer break passed noon, at a single diner, on a remote hill-side. I do a walk, find some orchids and dwarf bamboo, before I get a milk-tea to-go.
After six hours of intense sceneries - and me being awake the entire time, I'm kicked of at a tiny junction. The local taxi drivers agree on 500R to get me up to Tansen - I don't. They do have some huge 4WDs, but I can walk - or be lucky with a bus. I don't get long, before I get a 15R lift with the local bus, to the square of Tansen (elev. 1372). It appears to be a slightly larger village, nothing else.
I had
a hotel in mind, but I'm not going to pay 600R to get to it. Later, I figured they might have thought I wanted to go to the local tourist site: Ranighat Durbar. I find a nice hotel round the corner: Hotel Indreni, and considering how late is have turned, I head straight out on adventures.
The city is build on a series of steep slopes. The narrow streets are steep and many of the houses real old. Some appears to have grass-roof, but I think it is the old tile roofs, which give home to the grass. I don't see a single pale in the city, despite I do most of it. Here is a "famous" kettle factory, but I get enough from outside. The temple is being restored, but the lovely old houses are it all worth. Some old houses have modern shops inside, with a second facade inside - nice detail! A short tea-break, and I do a big loop out in the wild-side. Nothing really sticks out, until I see the huge fruit-bats, flying around a fig tree in the
centre of town. When I get to them, they have settled down again, and not even a persisting crow can change that.
The sun is setting, and the temperature dropping fast. I head back to, what I had hoped would be a warm bath, but at least some more warm cloth. I might as well eat at the hotel: I have never figured why to look around, when you are unfamiliar with it all anyway. It might be the busiest kitchen in town, and the Butter Chicken Masala is absolutely delicious! I have brought my computer, and start working after the dinner, in the restaurant. As no surprise, many of the photos, taken from the moving bus, are either blurry, out of focus, of the trees along the road or not justifying the vast landscape at all. They just look alike.
The waiter who bring the endless line of milk-teas, wear gloves, and it is not white butler ones; it is warm ones! I figures Pokhara and Tansen will make a nice slideshow together.
When I look outside at eight, it seems like here is a power failure, but I'm told; that is usual. People head their beds early here too. I did plan to see Ranighat Durbar; "Tai Mahal of Nepal", but after having learned, it was stripped, and the picture of it just show a average country house, I decide: I can do without.
My room is 15C, although it feels significantly colder. No duvet, but two large and rather thick blankets must do.
24/12. Danish Christmas Eve, and as a curiosity, I'm going to visit the
birthplace of Buddha: Lumbini. Besides from that, it is in the southern lowlands, and I kind of look forward for it, just by that. Despite people seems to go to bed early, they does not seem to raise early. I wait quite some for breakfast - before I skip it.
I jump the first bus, as it turns out from the square, and we head out through the first morning sun. First the short stretch down to the Siddhartha Highway, then further south towards Butwal. I fare from got a desirable seat, but soon, the mist spoil most of the view anyway. It seems to be just as magnificent as the first stretch, although it might seems a bit warmer here. Well, the vegetation does, it fare from feels that way.
After an hour and a half, we reach the dusty, busy and not really interesting city of Butwal. I hoped for some breakfast, but I'm delivered right into the next bus, which departures right away
. I have to run to it from the stand I buy some biscuits at.
The mist and general misery gain strength, and it is not really worth the effort to pull out the camera. Both windows I sit at, are opening by them self, leading in some real cold wind. I had hoped for some warmth, going both down and south, but that turns out to be a major disappointment.
A short stop and change of bus in the just as un-interesting city of Bhairahawa, and I reach Lumbini before noon. I can't figure where I am in relation with the city or the site of Buddha's birth, but it seems to be in-between. I get a hotel: Mahima Guest House, with hot water- on the sunny days, which it isn't.
A restaurant next to it offers pasta, and I go for it. Then I get my bearings, and head in to the complex. It is called Lumbini Develop Zone, but "religious" or "archaeological" site would be
more appropriate. It is a fenced, 2x5 kilometre big area, with the archaeological site and some temples along with a huge, undisturbed area.
The mist still dominates everything, and despite the area might be interesting on a summer's day, I find it a bit hard to enjoy. The square, white building, protecting the actual spot that historian and scientist agree is the actual spot, Buddha was borne, is in a no-shoe-area. After I have deposit my boots, they ask me to go way outside to buy a ticket. It is a vie cold for my pinkies!
A few facts, which seems to be historical correct: Buddha was borne Siddhartha Gautama, son of the ruler of Kapilavastu: Suddhodana and Maya Devi, around 563 BC. The legend has it,
she gave birth on a specific boulder, and it is within the building, on its original placement.
The area soon attracted interest, but then it got destroyed and forgotten for years. Later, excavations have revealed the historical buildings and even a monolith, erected in 249 BC by Indian emperor Ashoka.
I had expected the area, and especially the special site, to be real crowded, but beside from a sleepy guard, I have it all to my self! No photo inside, and I get yelled at, when I take one from outside. In the park-like area around the building, several Buddhists groups are praying and sinning. I see the pond with turtles, the ancient brick ruins, the pink sandstone pillar, left by Ashoka and the area, filled with praying flags.
Before I looses my toes, I head out, and do a loop around the inner park. A large snail is the only real interesting the mist reveals. A long path go though the Developing Zone, and a few things have been started. A golden statue, sponsored by
Thailand, an eternal flame, a big bell and a long pond. I take a quick look at a few of the temples and stupas, but to be frankly; I appreciate the tea in a small sheet more.
I find my way into the undisturbed part of the Zone, and despite I eagerly look for interesting plants, the only ones I can find are three species of Cucurbitaceaes. A single, strange ant's nest, made-up by what appears to be cow dung, and a singe butterfly make up the zoological discoveries.
I'm back at the starting point, in front of my hotel. It seems like Lumbini is formed as a tiny T, one road made up by a few hotels, some primitive restaurants and some small
souvenir stands. The other has a few more hotels, some workshops, some Tharu-like huts and a few shops. The locals are sitting around tiny fires, and it seems like everyone is freezing, not only me.
Just at the end of town, a small but lovely marked with vegetables and a few freshwater fish are found. It is real nice crops they display, and I just wished the sun would join in. I do several loops, till it get a bit embarrassing. Then I see the rice-processing area outside town, and the barren fields.
Back through town, downing several milk-teas, while I watch the people pass bye. It seems like I have made an error this time: Lumbini does fare from have anything to offer beyond three hours - and surely not twelve! I have a hotel and I have bought a ticket for the morning's luxury bus at 6:00, but what to do until then? I find some "breakfast" for tomorrow morning, realising none else will be up at that odd time. More walking, more tea, a
real cold shower and finally: Supper.
The diner next door offers one of the few tables, I will set my computer at, and despite it is 12C like the rest of the town, I work there till I'm out of battery. A restaurant with a central fireplace would be a major hit, I think. Despite the lack of sunlight, I am thrilled by the photos I have managed to capture today, mainly at the marked.
I start with a couple of mixed spring roles, and when I still feel a bit peckish, I try the other local specialities, which are great. Despite my skiing underwear, my knees turn dead, and I can't recall last, I had any feeling in my fingers.
It is only while I go through my photos, I realises I actually have seen some pale tourists today. I guess many has been Buddhist pilgrims from other Asian countries, but they are a bit harder to recognise.
I can't recall a Christmas eve I ever have gone to bed before nine, but this is it. No battery on the computer, power failure, a city that has gone to bed and I'm freezing. Next day, I make a slideshow from Lumbini.
It is now time to return to Kathmandu and the surrounding valley - in diary 4.