From diary 4, and the temples and stupas it is now time for some nature.
30/12. I recon, I will have to use at least three busses to reach the day's first site, and when the group of taxi drivers in front of the great stuba approaches me, I give them a chance. They start at 1200R, I at 500. I get to go a few times before we agree on 600R. It is, as the other times I have used a taxi, the youngest driver who get to drive me - I interpreted this, as I get a good bargain.
We drive down to the Kathmandu ring-road and up to Budhanilkantha. I'm here for Shivapuri Nagarjun National Park, but I might as well have a look at the reclining Vishnu as Narayan, floating in a cosmic sea. This five meter long statue is made in the 7. or 8. century from a single black stone. Around it is many other, but smaller stone arts.

I find a cafe, and try to get the owner to take care of my backpack by paying 100R for a milktea. While I drink it, I watch some young boys playing ping-pong on an old concrete table with bricks as net. Hoping the wardrobe works, I set out on a walk op to and into Shivapuri Nagarjun National Park. First, it is steep up to the entrance for half an hour, through small farms and their terraces. I reach the gate to the park, pay the 500R, and the armed ranger lets me in.
I have chosen the trail, leading all the way up to the peak of Shivapuri, around 2000 meters higher, at 2732 meters. From the entrance, it is twelve kilometres, starting on a steep and real rough gravel road, leading up through a rather open forest. Here are numerous birds, but I concentrate on plants. Due to the elevation,
I will meet so many on the way up.
Here are giant grass, dwarf bamboo, Begonias, ginger, Sinningia-like ones, Selaginellas, wild corn?, many ferns and lots more. And new ones coming around every turn. I get some glimpses of the Kathmandu valley, down in the mist. After an hour, a set of stairs turns out. I gamble, and follow them. They are made of concrete and covered in slate. To the open side, endless slopes with dense forest, to the other: Steep tree covered slope. Some flowering Fabaceaes, a single caudiciform with dried leaves, a small alter with multi-headed cobras, and then I meet the orchids. They sit all the way down to the ground, when I reach a ridge. Here are at least eight species, perhaps twelve or more. I spend some time on the ridge, before I climb even higher by
the stairs. They have now turned into rough forms granite stones, but the path still remains two meters wide. It feels strange, walking this fare away from everything, on a set of steps.
I reach a stretch with real dark, dense forest, containing of laurel-like small trees. After more then an hour on the steps, I reach a more open forest with huge trees. The path flatten out, which is a relief! A few, open plateaus has yellow grass and some great views. Due to the height, I'm not surprised to find frost on the ground.
The forest, resembling a Danish one, seems to made up by giant ilex with some Urticaceae underneath. I keep my distance! Some of the Nepali Berberisas seem to grow rather big here.
One area contains some flags, secrete stones, a pond and alters. Then I reach the monastery. I had hoped for a posh Buddhist one with a restaurant.
Here are a sheet with three odd looking Hindis. Then I wished I have brought the half litre 7Up I have been carrying around for three weeks! I follow the steps even higher, and after four hours, I reach the top.
A brand new statue of Shivapuri Baba is sitting at the very top, and the plateau is covered with yellow grass. To my big disappointment, the view is spoiled by trees, all the way round. I can glimpse the white peaks 180 degrees round, among them the 8960 meter tall Shivapuri. I continues a bit, and get some better views, but I must confess: I am a bit out of energy after the four hours a intense climbing - and I have to go all the way back too. I find a single orchid near the peak, and a bit down; A hermits cave. He has the best view, it seems.
On the way down, I concentrate on getting
my steps secured. I'm tired, and the steps and trail slippery by dead leaves and loos gravel and fist sized rocks. I have not seen any one, except the monks, and a strained ankle or worse, would be bad!
I do spend more time at the ridge with the orchids, and I even find a single cluster of flowers. Despite the plants sit so low, they are pretty exposed to the sun. I see a few monkeys and deer, but the birds outnumbers them for sure. After more than 30 kilometres of tracking, I'm back at the café, and I recon I deserve a cup of tea. I pay 100R again, and get my bag with a smile.
It is pretty easy to find the bus down to the ring-road. Getting into it turns out to be hard: It is so stuffed. The ticket boy really tries, but some women, complains, when I'm placed on their
labs. It look so much a record attempt for Guinness, and most smile. I find another bus, which actually go all the way I like. It start pretty empty, but when we reach the ring-road, it is just as stuffed as the other.
I manages to squeeze our near the Swayambhunath Stuba, a UNICCO site. First, I have to check three giant brass figures on a hill. It is Buddha Amideva Park, which is a group of temples, stupas and these big statues. Buddha flanked by a couple of Hindi ones. It is amassing how entwined Buddhism and Hindi is around here. I passes some huts with enormous praying mills, and on a very big hill, I finally find the huge and golden Swayambhunath Stuba. It is dusk, and I have to hurry. The area has a lot of sights, but I'm to tied to deal with them all. The trekking of the day and my backpack can be felt.
I had
hoped for a hotel nearby, but a bit asking around does not reveal any. I was prepared that Budhanilkantha didn't offer any, an I had not planned a specific for today - thought I by now knew how to find them. Well, I give in, and ask a taxi driver to get me to one nearby. For 300R, he drives me to a magnificent one: Hotel Vajra. The garden, the polished wood and brass gives me an idea about I'm in the wrong place. I am: A room with shared bath; 20.000R. The other day, I paid 400R for that! The confrencier is a nice fellow, and advises me to go to Thamal. I thought is was further away, but additionally 300R get me to my first hotel, and considering it has turned pitch dark, familiar neighbourhood is welcome. I get a almost warm shower, and find some real good sizzling pork in a Thai restaurant, and a a tea and brownie in another. Back to work all night in a rather cold room, and due to the fact, I am going to stay here for two nights in a row, I do some laundry.
31/12. The plan was to find a bus, going to Balaju and Phulbari, but that get spoiled by a hungry
taxi driver. He delivers me right at the gate, and after having paid the fee and deposited a ID card, I am let into the park. It is another section of the park, I visited yesterday, and I choose the route carefully- or not. It is either a 20 kilometre smooth route, or steep steps, all the way to the 2095 meter height peak. Knowing my patience, I go for the steep steps. Despite the abuse of my body yesterday, it have not revenged itself today.
The area is known as Nagarjun or Queens Forest, and it is rather dense and boring. A couple of Hong Kong / English birdies walks slowly, and we chat until I get impatience. I find alternative trails, parallel with the big one, but it is rather limited how much new, I can find.
Some areas have been dug up by the wild boars, a few insects flies bye, several small groups of monkeys make noise in the threetops, and some birds tweet in the lover bushes.
I get a few glimpses down the mist covered valley to one side, and the white peaks to the other, through the trees. A plateau with dry grass and boulders give a better view of the valley and the peak I'm heading for. Just before the top, I find a few Dendrobiums and a massive group of a new, tiny Bulbophyllum.
Just before I reach the peak, I join with the road. The peak is dominated by the shrine of Padmasambhava and a tall viewing tower. It offers a fantastic point to tie up praying flags and watch the distant, snow covered peaks, 180 degree to one side, and the hills and valleys to the other. Here are a single group of pilgrims, and a local mending the shrine. None have thought of selling tea, but learnt by experience, I have brought my 7up. The shrine is beautifully decorated inside, and the entire area covered in praying flags.
I do a few rounds, desperately trying to find new plants and even better views. Then I consider taking the long road down, but another, tiny path loured me. Some way down, I find a three which have been marked by a bear. Then I meet the Hong Kong based British birdie, now with his son, on their way up.
I find the narrow trail, which seems to be used often. I meet a group of local women, who are gathering firewood and fresh leaves here. I have no clear idea of where I'm going, but as I hoped, I reach the sealed road, a few
kilometres higher up. I passes the entrance and get my card back, and start walking down towards Kathmandu.
As I reach the valley, the road get busy and dusty, and when a taxi driver offers a ride back to my hotel for 300R, I'm a easy push. Unfortunately, he is not familiar with the Thamal area, and he even fails to find the Royal Palace. I only have a wake idea of where we are, but the jammed traffic make me want to walk. I do seven turns in a zigzag route, and I'm home, to my big surprise. It is mid afternoon, and I figure I see a bit of the Thamal tourist area. My day-bag need mending again, and I could use a light nylon bag for storing some effects at the hotel, the next couple of days. I succeed with both, and even find a cake and some tea. Back to take avenges of the sun heated water and start working. Among others, I make a slideshow from both visits at Shivapuri Nagarjun National Park. The planning, which I thought was going so fantastically nicely, now turns out to have a fault. Somehow, I have cut a few corners the last couple of days, and now I have two days to spare. Could be worse for sure!
The restaurant; The Black Olive, where I got cake in last knight offered a rather entreating New Year's dinner, and I'll try it - they even has a fire in the yard. The starter is a bit funny; cheese, ham
and salami. Then black olive potato followed by a nice sweet corn soup. I can choose from wild boar, lamb, rainbow trout, spinach mushroom quiche or ostrich. I go for the ostrich, which I think was a good choice. It is served with sweet potatoes, fresh salad and a too strong sauce, which luckily came separate. Desert is a chocolate/fruit cake-pudding with crème. All in all a real nice dinner, especially considered the price: 1275R.
I eat slowly, placed right next to the fireplace. At first, here are pretty empty, but slowly the yard and restaurant behind fills up. Included in the menu is a hot rum punch, which is so good, I'll have another one. Later I try their mullet wine, which is close to glögg.
What especially make it a great evening is the music. Normally, that could scare me away, but these three guys are brilliant! One on several wooden flutes with a fantastic soft sound, reminding me of Peruvian music. One playing on two drums, which reminds me of African talking drums. The last on a classic guitar, playing in a flamenco-inspired way, and he is amassing! Reminds me of Yngwie Malmstein and Joe Santini, but without getting into the "diarrhea-mode". When another musician takes over after a couple of hours, I head home, despite is isn't ten yet.
1/1 2015. I return to The Black Olive, which seems a bit marked by last
night's new year party. The employees on the other hand, are ready to serve breakfast. Then it is time to find the bus station for Bhaktapur, which I have an idea of where to find. One of the trishaw drivers want to get the tour, and I give him a chance. He say 400R, which make me laugh out lout - it should be 50R, 100R at the most. All his colleges laugh then, knowing he overshot is.
It is just a short walk, and despite I end up on the wrong side of a big military lawn with an exercise parade, I find the bus.
It takes of right away, despite it is almost empty. I get the seat next to the driver, and just wished it wasn't through town all the way. Absolutely nothing new or interesting to photo.
In Bhaktapur, I have to walk quite some, to get to another bus station. I know I been here before, but have absolutely no recollection of the city (It is amassing). It is a primitive,
misused and beaten down town, and I only stay long enough to get a cup of tea.
The bus for Nagarkot, way out in the eastern ridge of the Kathmandu valley, is already full. Strangely enough, it does not leave for fifteen minutes. I get a seat from a young girl, but give it up for an older woman - major bummer! She doesn't even smile back, and I get stocked in a crowd of teenagers. It feels like a highschool bus, and we are hard pressed together in the row. My head it up in the luggage shell, and I can't bend down to look out the windows.
I got a feeling of, we leave the town right away, and drive on a one-lane road on a steep assent.
After half an hour, a single person gets of, and the bully get the seat - that is me! Soon after, we reach Nagarkot, and all gets off.
It had started to drizzle a bit, and the fare mountains to the west get snow.
Nagarkot is not really a city, just some scatted buildings and hotels. I try a couple of the first, but 1500R each place, seems a bit too much. I continues for several kilometres, but all hotels charge 1500R - except the expensive one. Some military areas, a single raven and a squirrel among the pines.
As I get closer to the peak, it get colder. A guy sitting next to a small fire, offers me a seat, and I buy a cup of tea. As I continues, I pass some areas with parties on. Loud music and many young people. One place; Manala Resort charge also 1500R, but their view is astonishing! The entire valley and the snow covered mountains in the back. And he tells me, they got gas heated water: Sold! The other hotels were facing the other side, and a smaller valley.
They have only one vacant room, and it has to be cleaned yet. Fine with me, I got the view and some tea. The sun start to peak through the clouds in different areas, and new motives occurs all the time. I know it will be a tough work, sorting all these pretty alike photos, but I just can't help my self.

It is a bit weird to me: The area look so undeveloped on the maps, but the entire valley, covering 100 square kilometres - I think, is covered in terraces, and it must produce a huge harvest.
I get some info on the tour I had planed for to morrow. It is not a 40 kilometre, bus served road leading down to Banepa; it is a trail! Well, that can be walked, but only if then weather cooperates. The last 15 kilometres to Panauti is served with a bus
Right next to my room is a giant boulder with many wild orchids on. I passes a few on the way up here, and I hope the area will reveal even more orchids. I drop my bag, and head up the road to the peak; 1984 meters. Here are even more young people and a viewing tower. I don't have to climb it to know, it has a significantly lesser view than my room!
I try to find the trail I will walk tomorrow. A long, badly maintained gravel road leads downwards - and downwards. It pass a retreat, and just before I give up, it meet the trail and even a map, showing the area. From that, I can see, I already have done quite some of it. The tour back to the resort is tough, upwards, and surprisingly un-interesting botanical seen. Here are fare from the plants I had hoped for. Around three, the sun vanishes, and the temperature drops fast.
Back at the resort, I get some tea, and start working. After an hour, my fingers won't work, and the owner tells me; he had a electrical heater inside. While I've been working on the computer, three small women has been carrying sand down the stairs. I recon they have 40 kilo on their back, halt up by a band on their forehead. Actually, most of hard labour are done by women.
Just as I think life is good, the power fails, and my new, best friend turns cold - along with me. It is amassing how fast the temperature drops, when the sun disappears. The other day, I was cold in the forest's shadows. Then I reach a clearing on a steep hillside, and it felt like a föhn-dryer blowing up from the sunny valley.
It is a candle dinner tonight, mainly because they don't have a generator, and the power is still off. But, the gas they used for barbeque this afternoon, can be installed in the else electrical heater, and life is worth living again.
A French/Singapore couple turns up, just as I am about to eat, and we dine together.
He have brought a bottle of Zacapa, the awesome 23 years rum. Later, when they have gone to bed, one of the employees offers me a local rice brew, served slightly warmed. It is surprisingly good, smooth and mild, not at all like the Sri Lankan ones I had. The owner invites on BBQ chicken sausages, and after having see them cremate frozen ones earlier this afternoon, I kind of takes over. He feel a bit cheated, I didn't do that earlier. All I do is to raise the grill, and rotate them often.
While planning tomorrow, I realises; the tour to Banepa is merely to get to Panauti, only because it is a "cosy village". That in combination with the sudden change in forecast, going from bright sun to full day rain, make me re-think the track tomorrow. Alternately, I could stay here at this very friendly and cosy place with the best view ever, sipping milktea and rest my legs.
I learn: Hills is below 5000 meters, mountains higher than 5000 meters (in Denmark mountains start at 200 metres - not that we have any). I try to explain we: In Denmark only have one mountain, which we on the other hand is mighty proud of: The Mountain of Skies, towering 147 meters. (Actually, our highest natural point is Møllehøj with 170,86 meters, while Yding Skovhøj is five centimetres lower, but has a tomb from the bronze age on it, adding 1,89 meters, and some think that make it the tallest).
Just before ten, I'm handed a hot water bottle, and I recon they want me to abandon the heater and internet, which I reluctantly do, and head to bed.
2/1. A perfect sleep, but I wake up before everyone else, and
dragging my self out in the 11C room is hard. The valley is covered in clouds, and a light drizzle hits the bushes outside, where the temperature is 8C; way below my comfort zone! The tracking of the day might be spoiled, and I figure I might stay put, taking short walks and enjoy whatever of the view that will be revealed.
I just get my Bhutan visa by email, and it is detailed till which city I will be in each day. Now I just have to get it printed out, to be aloud on the fight.
Then, after breakfast, it clears up, I pack my bag and pay my bill. On my way out, I'm hit by a shower, and the clouds are back. Plan B; find a book in the minute library and drink tea. As no surprise, I find a Danish crime book; Et Stille Umærkeligt Drab by Kaaberbøl & Friis. The 400 pages last the entire day, only interrupted be short visits to a occasionally fire on the terrace.
As fare as I can learn, all the accessible parts of Nepal is hit with some unusual bad weather for the next three days, and I have a hard time figuring what to do with my self, until it is time for Bhutan. When I ask the locals about the weather, they just say: It is the mountains. You can experience four seasons before lunch.
3/1. It is not that dark this
morning, and I figure I head off to Panauti. After breakfast, several showers are hitting some parts of the valley, and it is getting darker clouds. I will go, but by bus. Half a hour walk down to the Bhaktapur bus, where I get a front seat, and can enjoy, what I correctly assumed was a great tour. Here are farms all the way, but also plenty of open farm land. The bus end up packed as last, but beside the lack of sun, I enjoy the tour on my front seat.
In Bhaktapur, I go for a short walk in the historical town - which apparently do best in bright sun, of which here are none today. A cup of tea, and the first bus I ask, go the right way - with my head in the upper baggage department. The next stop is Banepur, and it seems not to be that interesting after all, and the next bus is easily found on a nearby square.
The badly maintained, hardly sealed road leads through waste terraces, which are fertilized right now. Cow
dung are carried out in piles, and then spread - all by women. We reach Panauti (elev. app 1500) some time after noon, and I walk directly to the only hotel in town. Considering there won't be hot water due to the clouds anyway, I go for the cheaper room with sheered bathroom.
The little town - or village, it spread along a river and the misused road, transporting boulders from a quarry behind the town to Kathmandu. Here are plenty of ducks, hens, goats and cows within the city.
It is still overcastted, but I figure it won't be better anyway, and head out to explore. First a tour out on the fields and eventually to the forest. No real interesting, and due to the gathering clouds, I head back.
A light drizzle starts, and I head into a teahouse along with a Dutch fellow. He has been living here for seven years, and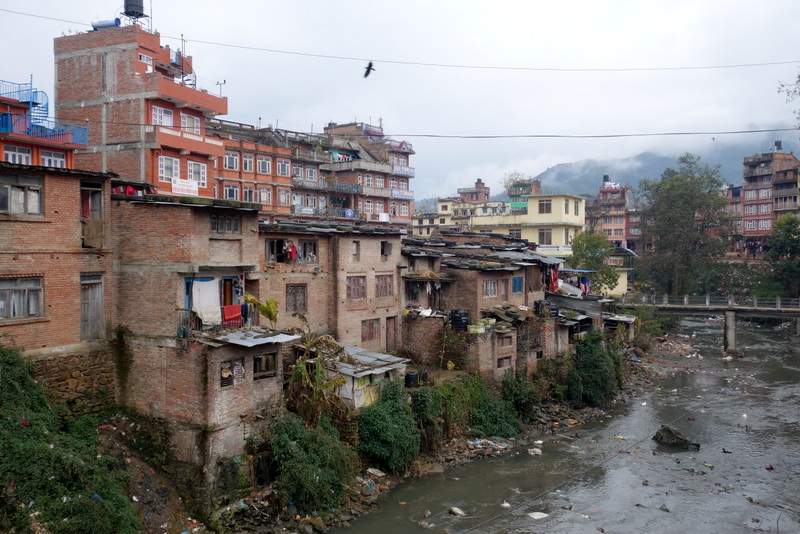 is real interesting to talk with. When I head on, the drizzle returns, and besides form the periods it turns into light rain, it won't let go. Here are so many interesting motives in this fare corner of the valley, and despite the lack of light, I do several loops in the town.
The big temple charge 300R, but I guess I have seen enough at present. People are sitting inside, shops are closed and the roads turns into a slippery, yellowish glue of clay and water. I get several cups of milktea, but around four, I return to the hotel with a lot of greyish photos and slightly damp.
It is only 12C in my room, and I head down to the reception - which have the same uncomfortable lack of descent warmth. On top of that, their internet vanished yesterday - they say. Their TV, on the other hand, is showing exactly the same Bollywood films like anyone else.
Real amateurish, cartoon like with what appears to be the same five stereotypes characters and same story.
One of the small teahouses were serving some real well-smelling noodles, and I find my way back at dusk. They still are, and I order a double, considering it is vegetable. It is absolutely great, and if it wouldn't be so embarrassing, I would have yet another serving. I settle for two cups of black tea, and pay 60R for this formidable meal. While I enjoy the second glass of tea, the predicable power failure occurs. It has gone from dark to dark black! Shortly, generators starts up, and a minute light spreads along with a more massive sound of engines and the smoke from them. To add, the trucks, hauling rocks for Kathmandu's constructions keep driving through the narrow main street. Some
have light on, some not. Some only flashing, colourful ones, like a Christmas tree.
It has to be checked: Does any one have bun fire or alike in this town? I might not have searched all the dark streets, but I doubt it. I'm back at my humble room, finishing up the work of the day, and creating a slideshow from the Eastern Ridge of Kathmandu Valley. That will roughly cover Nagarkot, breath Bhaktapur and Banepur and in gray tones; Panauti.
At seven, I'm done, and despite from freezing, I haven't a clue about what to do. After half a hour, the power returns, and I try to find somewhere with Wi-Fi. Not in this town; everything is closed and black, as if the power was still off. I did consider spending another day here, but that won't fly! I could do another day in Bhaktapur, in the nice guesthouse, but the city fee of 1500R scares me off. Well, two nights in Kathmandu can't be that bad.
I keep forgetting to write: The most common manufactory of cloth is without
any doubt The North Face, although I somehow doubt they know it. In many places, every second person you meet, has a The North Faced logo in their jacket or other cloths. Here are even big, fancy shops called The North Face. Those I found, for a good price in Sri Lanka was second-class originals, made in Sri Lanka. I can't figure the origin of the Nepali "first class" ones.
Another thing is their dogs. Most look quite fine, some are even carried, a few have scabs. All are real friendly, but they do no seek you up, in any way. I have seen a few cats, all gray and spotted.
Here are alcohol in so many shops, and Tuborg, Carlsberg and other beers real common, but I have only seen one clearly drunk person.
Here are so many modern but small motor cycles, but nearly none seems to have been on their side. Considering the intense traffic, the muddy, slippery roads, rough gravel roads and the state of busses and trucks - both in- and outside, it is a true miracle! They ought to look like ice hockey pucks.
I did mention the lack of heating, right?
Oh, yes; Their are hoarking! It seems like every one is doing it, real loud and public. Even young, pretty girls sounds like an old alcoholic, chain-smoking fart in the early morning. And the following spitting, of cause.
The milktea I am enjoying so much are sometimes masala ,which means it has been spiced with a mix of green cardamom pods, cinnamon sticks, ground cloves, ground ginger, and black peppercorn. It does add quite lot to the taste, and I love it! Other times, it is just hot milk, which has been boiled with tea leaves, sometimes with sugar.
4/1. Somehow
, I get to sleep eleven hours undisturbed. The sun is shining, but not for long. The little shop next door has some boiled eggs, a bun and a cocked cookie; great breakfast along with their milktea. It has been raining during the night, and the streets are even more muddy. The bus straight to Kathmandu is puling off, but I get a window seat.
On the way out of town, we pass a group of women, hammering rocks to pebbles. They use a ring, just as in Denmark, 100 years ago.
Round about Bhaktapur and straight into the capital. The guy next to me ask where I'm going, and it turns out he has an office in Thamal, and we join. He let me loose a few streets away, and I walk straight to my hotel - surprised as always.
Just as a formality, I check the hot water, and it is not only warm; it is hot! I can't recall last all of my joints worked at the same time! Bit of re-organising but it is depressing how little which can be stored at this hotel. I need the warm stuff for Bhutan and the normal for Bangladesh. A bit of laundering, then out to find a printer for the Bhutan ticket and visa I got by email. While
I'm at it, I find a pair of cheep sunglasses: Bhutan could easily be covered in snow. A new goat-bone pearl for the string to my camera, several milkteas and a great cake. A friendly young man is real eager to show me his art school. They learn to make the religious Buddhist and Hindi motives; Thangka, and it take ten years before they are a master, so they are aloud to sign them! No doubt; it is truly a magnificent work they do, and it is rather easy to see how fare they have come in education - and patience.
I walk some new tourist-shop-streets and do a long tour through the locals' trading area. I had a plan about the Garden of Dreams, but can't recall where it is, and I have the entire day tomorrow to enjoy the half hectare garden anyway. The entire area I walk today is familiar with what I have seen, and
I hardly make any photos. It is always like this; the first days, everything is fascinating and new, after a month; quite familiar and traditional. Newer the less, I have been able to enjoy a nice, sunny day: Drinking tea in the sun, surrounded by real friendly and smiling people - and a few tourists.
At five, I head out to find something interesting to eat, wearing a bit more cloth, than this afternoon. When the sun disappears, it is winter!
I remembered something about, the band that plaid New Years Eve would come back Sunday, and I'm lucky. Enjoy a large and delicious serving of ginger curry chicken, a chocolate cake and several masala-teas, before it is time to head home and work.
Kathmandu has some shops, selling cloth and boots for the Himalaya teams. Perhaps I could find a pair of gloves, which could turn out to be warm enough? Their boots look like moon boots, and the gloves will too, but the feeling of NOT freezing my fingers off, is just too tempting!
5/1. I find the Garden of Dreams, made by field marshal Kaiser Shamser in the 1920s. It made be inspired by Edwardian gardens, but it is a bit too open for my taste. I try to talk with some of the surprisingly many gardeners, but it is hard to communicate, and from their work, I doubt I'll learn much anyway.
I get some close-ups of the else so frighten ground-squirrels and some from the lay-out of the garden, before the rest of the city drags.
Finding Everest-prove gloves for adults, is a rather hard. I walk for several hours, trying everything from thin gardening gloves to dyvels with thumps. I end up with a pair which will stick out at the Danish train station, but at the same time; ought to make my fingers survive Bhutan.

Several times, friendly "guides" tag along, but when they finally reveal their proposal; seeing their art school or helping them rebuild their shoe-shop, I bed them farewell in a polite way, and they respond the same.
On the way, I get my beard trimmed, and as a unexpected bonus: A cranium- and back massage. And that despite I negotiated him down from 250R to 100R. I recon the locals pay around 30R anyway. A walk around Asan Tole and down the old area of town, to try to capture a bit more of this cosy, idyllic - and poor life the locals lives.
Around noon, it is time for a bit of reorganising and redressing for the warmer afternoon, and I returns to the hotel. I have some work at the office, among that sorting out all my employees pay
checks - that will be mine. I enjoy the sun on my terrace for some time, before I head out again.
A lot of the shops have several jackets I fancy. Some are bright coloured fleece jackets, some a rather thin, filled with down. All nice and affordable, but either they have real short arms, or the few not having that, is build for a significantly heavier man than I! The only thing I can find, fitting me, is several milkteas and a few cookies.
Like always, I am restless on the last day, having accomplished what I came for, waiting to head on.
A thorough going-through all my things create a tiny pile which can be left - I hope: Less than a kilo, most made up by the remains of the Nepal guide book. The bag will still - I hope - be stuffed in Bangladesh, with all the warm cloth in it.
I recon this is the last bit of Nepal for a month or so, and a slideshow would be appropriated. The ones I have held back is from Kathmandu.
I find a new restaurant with a bun fire, and try their Nepali speciality; non-veg. It is just like the
other ones, tasty fried vegetables, some spicy stuff, dhal, curry and a soup, accompanied by plain rice. I'm still a bit peckish, and finish off with a bacon sandwich. After I've asked, they lit up the fire, an I stay for a few more cups of masala tea. The only other guests in the rather large restaurant are two girls from Ecuador and one from France. This is more "no-season" than it is "low-season".
After having checked the weather forecast for Paro and Thimphu, I got a clear feeling I might be the only pale in Bhutan by now. Both cities have a prediction for snow, and they are in the "low-lands". It might be a bit difficult to botanise in a snow landscape? The plan is very fixed, the visa have one town for each day, and the day the Botanical Garden is scheduled for, is supposed to be dominated by snow. The day after offers a 4316 meter high pass - in snow, it seems.
6/1. Not much to do, before the drive to the airport at ten. Checking papers, enjoying breakfast and more masala-tea. The hotel have arranged for a taxi, and I get it some time before - no reason to sit at the hotel waiting, and the be late. It is a smooth ride to the airport, where I have way too much tome to wait. Just at the entrance, I meet a young German engineer, who have travelled quite a lot.
Our flight is not on the schedule, and we spend a bit of time, walking around to find the right counter to check-in. In a moments clear sight, I ask for a windowseat in left side. That means I have first row to Everest, when we passes it. We chat while we wait almost two hours for the flight, and when we want to enter the right area, we are told our flight delayed additionally two hours - which is printed on my boarding card. Bit of a bummer; then we only reach Bhutan at dusk, and the first days program will be cancelled.
We find another place to sit, and talk some more. Then he catch our names in a speaker call: It turns out our flight is on time, and they are only waiting on us! Well, short run, and we catch up with the back of the line. It is one of Druk Air's three Bodings, and we leave Nepal only ten minutes delayed. (Druk means boosing in Danish!).
From here, the diary continues in the Bhutan part.