From diary 3, and the birthplace of Buddha, I now return to Kathmandu and the surrounding valley.
25/12. Despite I have set a alarm
till way too early, I actually get some sleep. When I go out, all is dead. A few sleepy people are gathered around a single bus at the square, and it is mine. A cup of tea in a plastic cup, and off we go. The first hour is through pitch darkness, then it kind of lightens, but the mist is heavy.
We pickup people as we go, but it is not the common local bus. People are better dressed, and they do not get car sick. Back through Bhairahawa and Butwal, then east in the lowlands. Just around Bharatpur, the sun slowly peaks through, after five hours of fog-driving. We do a few short stops, one for lunch.
We head northbound, a bit into the heights around Muglin, and the sun gain more strength.
We reach Kathmandu after four; more than ten hours on the road.
I had hoped, but not counted on being here this "early". Then I can skip the night in central Kathmandu, and head straight for the suborn; Patan. That way, I don't have to carry my bag during the day tomorrow, and I might save some time.
Two mini-busses bring me the roughly ten kilometres right through central Kathmandu. The traffic is rather intense, and the streets rarely sealed. I still can't figure how they get this to work in the rainy season? Now, it is a hazel with the real uneven surface, huge boulders and unmarked holes. When the dust is transformed till mud and holes into ponds - or lakes???
I'm in the right part of town; Patan, but finding a hotel proves to be hard. I have upgraded my self slightly, and the hotel I planned, is not interesting anymore. When I finally find a hotel, it is too posh - or at least; expensive. I'm pointed to the other side of the road: The Hungry Treat Home, which I can relate to. A bit expensive, but a nice room - I'm told, I can't see it: The power is out.
I head for their restaurant, and they insist on I try their Pork Curry, and why not? It is actually good. When the power returns, I get the computer, and start working. Not really mush to report today, but it was planned to be a transportation day, and that worked fine.
Beside from a plastic Christmas tree in the restaurant, I have not seen or heard anything reminding me of it. Every time I get a milk-tea, it seems to taste different - even the three I get at this restaurant tonight. Some have a clear taste of cinnamon, some other species, some rather spicy, some just warm milk and tea. So fare, I haven't had a bad one. Those I have seen being made is by pouring powder - mainly tea - into boiling milk and let it boil for some minutes, sometimes added some sugar. Alternately, I get warm milk with a bag in. The price go from 12 to 60R. I guess it is my major expense.
26/12. I get up too early for breakfast,
and while the sun fights the mist, I find my way back to the bus station. Here are hundreds of busses, and I spend some time, finding the right one. While I search, I come across Lagankhel stupa on a hill - quite strange in the city. Another strange thing is the crusting on the grass, but some will consider it Christmas morning.
When I finally find the right bus, I'm told I have to wait for an hour. Well, that gives me time to find some breakfast - or at least try. It is hard to find anything like noodles, nana, continental or alike. I end up with a real sweet and crusty cake and the usual milktea.
I return to the bus after half an hour, just in case, and that was vice. We drive through the chaos, heading south. We cross some huge hills, and here, the mist rules. I looses the feeling of altitude, but as we descent again, it clears a bit.
I jump of in Dullo, a small village - or intersection outside Phraping. It is a lovely valley with small farms and some strange, huge and apparently very rich Tibetan Buddhist monasteries. The look strange with all the bright paint, golden towers and roofs here, among farmers clay huts. I thought Buddhism was about being humble! Here are signs with "Beware of the Dog" and plenty of real nasty barbwire. I'm glad I didn't go here to see them.
The path is teaming with school kids. Normally, I only see them after nine, but they might start this early this fare out?
I get a milktea, two boiled eggs and two rottis - pancake-flat bred. Real nice and for the symbolic price of 60R. Then I'm ready to explore the valley.
I follow the trail pass farms and monasteries, great the locals and try to figure what they grow on their fields and their plastic greenhouses.
The trail end at a huge, real colourful statue and the pines. The sun is gaining strength and both the locals and I enjoy it fully. I walk slowly back to the junction, and head up towards Pharping. It is a steep climb, and the narrow, dusty road is rather heavily used. When a bus passes, I jump on. It turns out to be a school bus, but they don't care. I jump off with the kids at a monastery school. In front of it, several huge Arcucaria bidwilli; Monkey's Puzzle from Argentina mark the entrance. Bit strange to see them here, but why not? Most of the plants I pay the first attention to, happens to be South African of from Madagascar.
It is a
bigger village, and it seems like it at one time was kind of rich. I follow the old main street, letting the busses and trucks take the ring road. Almost every house has a small stone in the red brick sealed road. Here are made offerings with red colour and flowers. There are many small temples along the road, and they seems to be in use.
I find a trail, leading out through some fields, along a big stonewall.
After a good walk, I meet the main road again, and turn down towards Dakshinkali. I pass through pine forest on a steep hillside, and despite the hazard, I make shortcuts to investigate the plants. Here are not that many, the most interesting, beside from the pine, is a small Peperomia. Some epiphytic ferns are real hairy, and a few plants are flowering, though I suspect them of being foreign.
I reach a long line of small stands, offering - offerings. Flowers, hens, red die, smoke-sticks, fruit and spices. Among
them are the usual ones with cheap plastic toy and tacky plastic souvenirs and jewellery. Then the restaurants starts, and I try a tea here.
I had expected a bit more "Indiana Jones"- like atmosphere at this blood offering temple of Dakshinkali, but it is not that lame. It is located in the bottom of a rather deep and narrow gorge, surrounded by forest. I can hear the hens screaming, the entire area is dripping with blood, although they apparently are washing it away quite often. I don't feel for removing my boots, to step in the red-black-brownish liquid. Not that it bothers me, but putting my feet back in my boots will. Well, none ask me, and one is working there has his shoos on.
Here are numerous bells, fantastic brass sculptures, smoke, blood,
pigeons, diseased hens and people praying.
I try to make some describing photos without offending anyone, and leave while I can.
A sign point to Mata Tampled, and I follow it. It is a steep trail, leading up on the other side of the gorge. It winds it way up through the forest, and I spot some absolutely massive Bulbophyllums in the trees.
The temple is not that impressive, but I remove my boots on request, just to get to the view. Fare away Phraping sit on its hill, else it is endless pine forests as fare as I can see. I don't get credit for taking a photo of the inside of the temple - can't please all. As I descent,
a small clay path leads uphill, and I'll give it a go. It leads to another peak, passing more of the huge clusters of Bulbophyllums and even a couple of small Dendrobiums. The area is hard to penetrate due to the steep slopes, but I do my best. When there don't seem to be more plants to be discovered, I return. On the way down, I see a weasel-like creature, black with a brown middle. Small Asian Mongoose; Herpestes javanicus​?
The trail back, is down through the gorge again. I reach Phraping by the car road this time, and make a loop through the nice, ancient centre of town again. When I reach the road, I'm told the next bus will be the Patan, and I wait five minutes. I figure; this causes for a slideshow: Dollu & Phraping & Dakshinkali.
This time, the
Kathmandu valley is visible, and a the brown rice fields can be seen for kilometres. At some point, I realises; I'm heading right into the central Kathmandu, not the southern suborn of Patan. A bit asking around, and I'm on a bus going the right way. I have half the afternoon, and I think I might jump of near the Golden Temple, and see some of Patan. I walk through some narrow, old streets, filled with tiny shops. Each and every one of them selling religious brass statures. Several gats; deep holes with stairs to a pond or taps seems to be the normal source of water here. In some, people are lined up with plastic containers. Here are small temples everywhere, some in courtyards. I see several before I get to the famous Golden Temple. It is actually amassing! It is one of the biggest, and the roofs, the walls and the thousands of stature are in brass. I try to capture it, but the size of it and the small yard make it impossible. Here are not many praying locals, but the first pale tourists I have seen for quite some days. A sign outside points out the Kumbeshwar Temple, and why not? It is fare from as impressing, but the pigeons seem to like it. Here, they have taken bells to a whole new level.
My next target is the Durbar Square, and here, my mind is blown! It is huge, it
is packed with ancient buildings and they are so beautiful. The Patan Museum should be a visit worth, but that will be another day. I walk around the square for some time, until I have an overdose of temples. Then I head down the almost-pedestrian street, which I hope leads home.
It is rather full with locals and a big variation of shops. I stop at a bakery which sell milktea for just 12R. I watch the bakes work, but restrain my self. I end up at the bus station, just as I had hoped. It is four o'clock, the sun has been shining all day, and I gamble on a hot shower - and wins! Once again, a power failure marks the dusk, and I head to the restaurant to work. It is lit with two Christmas tree candles, but my camera completely fail to capture that: It look just normal lit.
27/12. I find the
Godavari bus just at is it about to leave, despite it is almost empty. Then, before we are out of the bus station, it is stuffed. Today, I drive south-east, down through the valley. I reach the village Godavari, and find the road leading up along the wall, surrounding The National Botanical Garden. The trees along the road has many orchids from at least three genera. I follows the wall for more than a kilometre, and reach a tiny village; Garden Corner. Even further down along the wall, I reach the entrance to The National Botanical Garden - half a hour to early. That calls for a milkyea in the village.
The entire area is apparently a weekend pick-nick area for big groups. Each bringing their speakers and amplifiers, and we are talking serious stuff!
As I returns to the entrance, a school bus turns up, and by some
freak mistake, all the kids think I'm their fluffy host this day. I play nice, but loos them soon, as we enters. Inside the 82 hectare large park-like botanical garden, more pick-nicks with speakers and games are taking place. I'm issued with a big folder with a tiny map in. The only text I am able to read - glasses or not - is the useful information: "You are here". Well, that is clearly an error...
Doing my best to escape the kids, I start with the Lilly Garden. It is, not that unexpected, not the time of year. Lots of green leaves, but that is it.
The Rock Garden is more year-round appealing with some Agavas, Euphorbia bushes and a few Opuntias. Then I reach the big and blue Tropical House, which so fare is closed. A loop through the arboretum - or forest, reveals more orchids,
which I'm sure are wild specimens. I see one of the employees, loaded with dead plant material. She look more like a farmer's wife - or gra'ma. In the Special Garden are two familiar plants: Beaucarnea sp. which probably is a recurvata and a Cycas revoluta.
The area with annuals are a bit barren, and the Fern House too. The Cactus & Succulent House not really impressing - kind of survival of the fittest - in this case Mammillarias and Opuntias. The open Orchid House on the other hand is lush, but lack the flowers. Here are the Bulbophyllums, and Coelogynes I have seen, but no Dendrobiums. Here, like the plants in the wild, the totally exposed plants seem to do best. One house has mixed tropical plants, but like the rest, except the orchids, they lack a bit "freshness". A better soil and some occasional fertilizer might do it. The last house is all about Ornamental Plants, and a few flowers do show.

The botanical garden was established in 1962, but the houses look significantly older. The total number of species is given to 550, but I guess the "wild parts" of the waste park counts way more.
I do a few more loops to see the Terrace Garden, the Japanese Style Garden and finish up with the Rose Garden. Bit hard to tell what is what... I finish the visit in the now open Tropical House, which have a number of pots with common culture plants on the ground underneath a few big trees. A single plant catch my eye: A Stephania glandulifera, a species I'm not familiar with, in that genera. It has nor leaves nor flowers, I can't guess.
The last houses are the shop, and it is a sorry sight. After two hours, I have seen it all, I think, and head out. The National Herbarium and Plant Laboratory look a bit deserted in the front of the else
impressing building. The back does look real deserted out.
A short tea break at the Garden Corner, and then up the trail in Godavari Kunda Forest, which is a local project. It seems to be a forest, a water plant and a small forest nursery. A few orchids in the high branches, that is it.
Back out, and back to the bus stop, where a road leads up through a huge gorge and the forest of Pulchowki Mountain. I pass several pick-nicks, but finally I make it out to the wild. Here are loads of interesting wild plants, and I see numerous orchids, wild vine; Vitaceae, a real potent Urticaceae (after 12 hours, my hand still hurts and feel num at the same time. 24 and it is slightly swollen and real num, 72 hours, and it is almost gone), the flower of a sub-terrestrial parasitic plant (Hyobrata
?), wild ginger, some bushes with magnificent blue berries (once, I remembered their name), Finger philodendron, wild pepper (Piperaceae), Hedera sp. and much more. I manages to scare a single Barking Deer. After spending the better part of the day here, I end way up, on a narrow trail. It is a long walk back to the bus, which I just reach as it pulls off. I make a slideshow for the Botanical Garden and the forest around it.
This time, I'm on the right bus, and end up at Patan bus station. A strengthening cup of tea and a test on some entreating cakes. They are made by milk, I'm told, and they did look more interesting, than they taste. Down the "pedestrian street" to Durbar Square and the Patan Museum I missed yesterday. Now, I'm charged 500R to enter the square - because I'm pale. At first,
I think it is a hoax, but the guy is quite persistent. Later, I chat with him for a long time. He make 7000R a month, working here, a waiter earlier told me, he made 5000R. I can spend that in a hour!
After I have entered the square, I have to pay additional 400R for the museum and 20R to use my camera. The museum is not big, but the building is astonishing, and so are the few but awesome objects they are displaying. Mainly brass figurines, sorted in gods and gestures, more than time. Here is also the Nepalese thrown from 1666.
Back on the street, I first am amassed of how many ancient buildings here are. It is a majority of buildings around Durbar Square, which seems to be hundreds of years old. Then, when I notes how bad a state they are in, I realises; It is not because the area
is well preserved. It is only because they haven't been ably to renew it. And - thanks to any god - here have never been a serious fire, despite the masses of wood, which have gone to the buildings.
Once again, I am astonished how many temples here are. Both on the street, in courtyards, as entire houses or even blocks. Most have at least two lion-like statues in front, other are only marked by a real low door-way. I make a fast glimpse in to some, but I have had my doze for some time by now. The buildings, the people, the shops with colourful cloth and their cupper and brass is still fascinating, but the sun disappears, and it is time to head home. As usual, a long working evening in the bar, but the internet mail-functions again, and uploading my photos fails. Never the less, I make a slideshow with Patan, the ancient city.
28/12. An early start leads to a sandwich with some sweet spray on, at my usual morning joint, and a run for the bus for Bhraktapur (elev. 1401). It feels like we never leave the city, the neighbourhood just get real lousy in a long stretch. I'm kicked of near the centre of Bhraktapur, and quite soon, I'm at the Ganish Guest House, as planned. Room with bath; 500R, without; 400R. And the view from the room and the roof terrace is magnificent!
The steep streets are sealed with red bricks, the houses are made of red bricks, and it all seems to be rather old. I have to pay a rather steep fee to enter the old part of town; 1500R. It is used to preserve the buildings, and I guess it either ought to be more, or they should get more tourists. It is the old capital, and most of the great buildings was made from 800 to 1500, but it remained as a sovereign state until 1800.
It is still too early for the sun to reach the streets in-between the three or four story buildings, and I figure a milktea will be a nice way to start the day.
When I hit the streets, it is for an overdose of motives. I follow the main street towards the tall Taumadhi Tole; the tallest temple in Nepal. The crocked road is lined with shops. Here are most colourful clothing, endless brass figures, vegetables, pottery, wooden carvings, butchers, convenient stores and much, much more.
Here are only a few tourists, but even the more souvenir-orientated shopkeepers let me in peace.
The Bhaktapur Durbar Square is teaming with life, surrounded by amassing buildings and a truly living museum. I try to capture the fantastic buildings, which is in the sun this morning. Later, I will re-visit to get the others.

The local people is enjoying the sun - unfortunately mainly with their back to the sun. I see the beautiful Ugrachandu and Bharirab statues in front of the art museum, the Golden Gate next to them, the 55 Windows Palace, Taumadhi Square and all the other temples, gaths, stupas and constructions.
I am without any doubt on a straight route to motive-overdose! I head on, and pretty soon, I reach Potter's Square. Numerous clay works, working artists, local people, hens and dogs, pigeons and as everywhere else: Those bloody motorcycles. It is hard to capture anything below second floor without getting several of these modern invention in the frame.
I do some of the backstreets, alleys and even a few farmed fields. Wherever I go, I find more idyllic houses and locals enjoying the sun. Some
time before noon, it seems like all women are gathering around water pumps. Here are several deep wells and gaths, but they don't seem to be in use, despite they do contain water - and other stuff probably.
I se several tight gathered groups of men, assembled around a Ludo game. The older men are just gathered in the sun, chatting, while a few of the older women do some handy work. A few places, building sights can be seen and heard. Several of them involve new buildings, made exactly as the old ones, with the detailed wooden carvings and decorative bricks.
Everywhere are temples and small alters in the street. So many courtyards are a temple, some Hindi, some Buddhist and most mixed. I find the surrounding wall several times, and despite the old city might not be big, it surely contain a lot of old buildings
. I drop my thick jacket when I pass my hostel, but continues. I try to work the side- and back streets, and here are even more to see. Well over noon, I have to take a brake - here is just too much! The city have retained power, and I use it to upload the last three slideshows.
It is now afternoon, the sun has changed its angle, and I head out again. I missed only the Erotic Elephants Temple, but so many buildings have sun on by now, and I can do it all again. I see it all from the eastern Duttatraya Square and Suryamdni to the western Bharwacho. When the sun set behind the buildings, it is almost a relief! No more photos. I slowly walk back to the guest house, and get a nice, warm bath. Then it is time for the 315 photos of the day. That will keep me occupied for some time - if the power returns soon. I eventually end up with yet another slideshow: The ancient town of Bhraktapur.
29/12. It is a bit sad to leave this fantastic city and great hostel, and I leave my bag, just to have an excuse to return, although breath. I find the place to be picked up by to bus for Changu Narayan, a little village on a narrow ridge around ten kilometres north of Bhaktapur.
Pretty soon, we are out in the farmland. Here are vegetables and barren fields, waiting for rice. As we assent, the valley disappears in the morning mist. It seems like I'm the only tourist so fare, and the road leading up to the Changu Narayan temple is still sleeping. I find a few of the shopkeepers, which all seems to sell souvenirs. The wooden masks are made within the shop, the fantastic paintings the same. I wished I could find a place they made the huge brass statues one day. I tell them; I'm not going to buy anything, but they insist on telling me the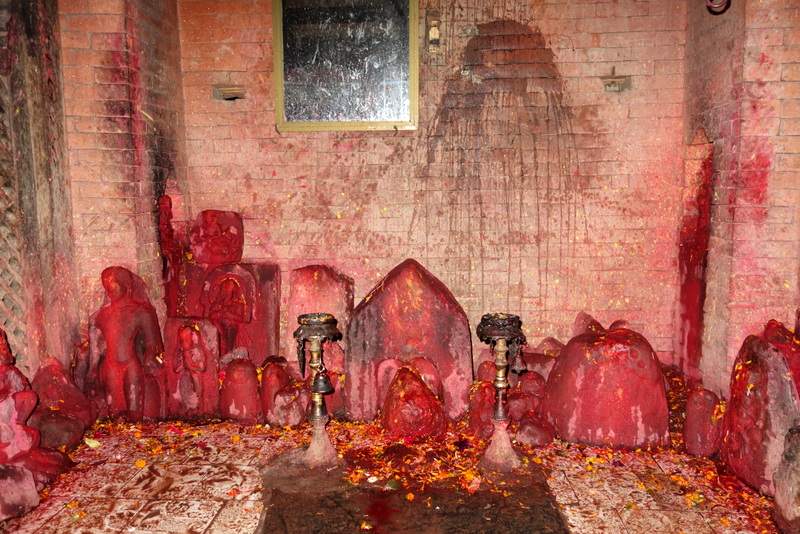 whole story anyway, and it is interesting. Then even smile and wish me a great day, when I leave without buying anything.
I take a peek out to the sides, where goats, fields and misty valleys deep down below can be found.
The temple is not that big, but it has some astonishing stone carvings, some dates back to 464 AD. I try to capture them in the early morning light, but it is hard. It is a bit easier with the figures, and it really works with the dogs. It seems like every surface in stone of wood has been carved, and with a detail richness worth a palace. Many of the figures seems like they are soaked in blood, but it might be red colour - or not!
The school kids follows a path out to one side, and I tag along.
On the steep slope, along the pines, loads of wild plants are found. They do have one thing in common: They are all poisonous or real fault smelling. That is a result of generations of goats feeding on the slope. Here are some great views down to the Bhaktapur valley, and on the back side of the ridge, I find the most entreating village. It is so idyllic, and people so smiling. It seems like I'm the only tourist who ever found round here.
I could spend much more time here, but I will not misuse their hospitality. A bus is just about to leave, when I reach the station, but I let is slip. The road up here looked interesting, and I rather walk down, and catch the next bus. Some eagles and hawks are using the ridge to gain height, while other small birds hunts in the bushes.

Terraces not yet sown, giant bamboo, cattle and goats are only interrupted by a brick factory. It is where the clay is, and it is dug up by hand, formed by hand and dried in the sun.
Just as I reach the flat valley, a motorcyclist offers me a lift. He is an unemployed tracking guide, and try to guide around in Bhaktapur. He drops me off at the gate, and refuses to receive anything for his help. I find my way through town, passing the hostel to pickup my bag on the way.
The bus taking me to Kathmandu's ring-road leave right away, and here, I get the next bus within minutes. It brings me to Pashupatinath, where I dropped off at a World Heritage Site. Well, here is a huge and long fence, but behind, it looks like a start for a
new part of town. I ask around, and one point out the top of a temple, way out in some forest. I finally find the entrance, and agree on paying the 1000R, if they will take care of my backpack.
This is the Bachareshwari Temple, known for its human scarifies. The temple it self is only possible to see inside, if you are a Hindu or Buddhist. Along the river, on the other hand, everything can be seen. Corpses are prepared and burned along the river on ghats, and the thick smoke and smell of burned flesh, thickens the air. I have a long chat with one of the women, selling necklaces, and she give me a short tour, just out of kindness. The entire area is scatted with Shiva shrines - small "huts" made of stone, housing a holy stone to offer on. Here must be hundreds, most around fifteen square meters and
five tall. Many other temples are found around, along with some "holy men", which has a rather perfect pronunciation of "photo". The locals don't pay them any attention, nor do I. The few tourists I see here, might ignore them too. Same goes for the monkeys.
The entire area is scatted with plastic litter, and even the river the burned bodies goes into, has its share. I find a long set of stairs, leading up towards the Vishwarup Temple - I hope. On top of the ridge, a long line of even more Shiva shrines leads one way, while some massive Araucarias form a 65 meter tall alley towards the Vishwarup Temple. Once again: Hindi only - but I'm here all by my self. I do a few circles in the area, before I returns through the Bachareshwari Temple area once again, where the burial fires really burns, and fills the area with thick smoke. I get my backpack, and head on.
I did plan to take a but further on, but it is a long walk up to the busses, and I having a hard time figuring where my next hotel is in Bodhnath or wherever they want to call that town. A taxi driver offers me the tour for 300R, and that is hard to turn down. We passes the rather big Charumati Stuba, which in any other day would be interesting. Unfortunately, he do not know the hotel, and just drops me off at the huge Bodhnath Stupa, the biggest in Asia - they say. I think some of those I saw in Sri Lanka was significantly bigger. I pay the fee to enter the area, and it is the right way to the Pal Rabten Khansar Guest House, but I passes it the first time. On my attempt to find it, I stumble on a pretty nice nursery.
While I desperately consults my bad map, a well dressed woman come to me and guides me. Then she ask - not for money, but for milk for her child on her arm. It sounds like a familiar scam, but I have not meet many here, and I give her the benefit of doubt. We walk to the store near by, she ask if she can take two, and then the smiling shopkeeper ask for nearly 5000R - a whole month's pay. I doubt they look surprised, when I leave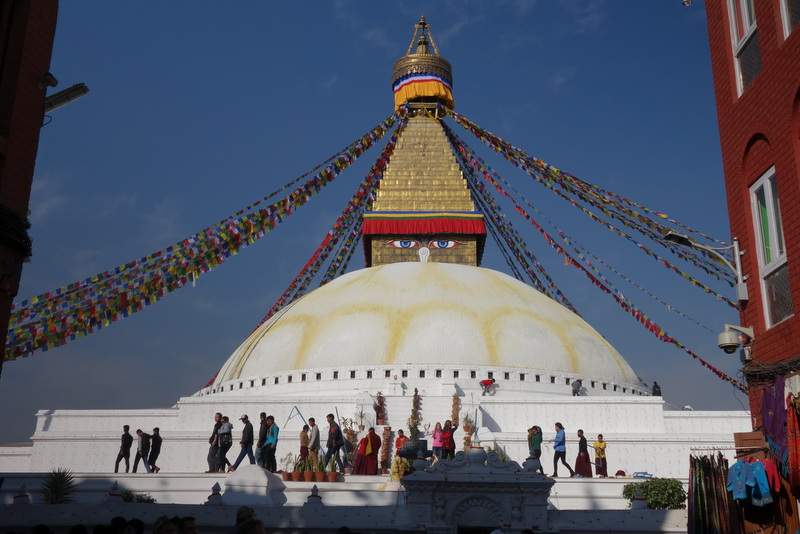 the shop without a word - or paying. Later she try again, along with one just alike. I wonder how many times the same two boxes of dried milk have been sold?
I check in at the very nice hotel, and head out to find Ka-Nying Sheldrup Ling Gompa - I can't recall why: It is half a year since I made the plans, and I failed to read up on that last night. It seems like none know about it. Finally, a tourguide get a bit stubborn - he want to know everything around here, and we find it together. It look like a private gate, but after a closer look, the magnificent building can be seen way back in some trees. The blocks are huge in this town! I make a fast look inside, but the garden I'm here for (I later learned) fails to catch my eyes and interest.
Back at the Bodhnath Stupa to do some clock-vice walks, first on the outside, then on the base of the stuba.
Here are packed with praying people, monks and a few tourists. A large tent on the sidewalk houses a lot of praying people, and they add to the
atmosphere with their chanting, sinning and drumming. It is a annual world peace gathering. I do an additional tour around the stupa, this time to look at the shops along it. So many pretty things, I especially like the sinning balls. They are made of cupper, and a one centimetre chick, 30 centimetre in diameter ball with fantastic inscriptions cost 2000R. But no way I'm going to carry it for six weeks. Further more, I have not room for another toothbrush in my bag, when I reach Bangladesh and the nice, warm climate.
Back to the hotel to pickup the other jacked, and down to the recommended Garden Cafe for supper. Rather dull beef carry, and I have to try a applecrumple next door. Back to start working after dark - wishing the room had a fireplace or any kind of heater. 15C is just too low for me. Someone have taken 250 photos with my camera today. That means; I have to create a slideshow for Changu Narayan temple & village + Pashupatinath with Bachareshwari and Vishwarup Temple and Bodhnath Stupa.
Despite I still roams around in the amassing Kathmandu Valley, I will now start Diary 5