From Diary 1, I now continues in the wilderness of Shitwan NP.
17/12. A good night's sleep for once.
The garden is covered in mist, and it is quite cold. Breakfast containing toast, jam, hashbrown potatoes, banana and a easy-over egg. At eight, we drive to the lodge next-door, to pick-up a small group of noisy Japanese. I went for "shotgun", but the ride is short. We enters the park, and the Japanese are unloaded at the elephant ride.
At the shallow and brownish river, a group of long canoes are found. Each is made by a single stem from a local tree, flat button, but quite stabile. Our "engine" pulls of, and we head down the mist-covered river. Before long, the sun appears, and bring some welcome heat to me and the crocodilians. They emerges from their layers in the banks and the murky waters, to bask in the sun. Some are five meters long, and quite scary, seen from a small, wooden canoe!
The trees are teaming with birds
as well as the side of the river. Different magnificent kingfishers, River Lapwings, Sand Larks, Common Brown Heron, Common Greeshank, Common Martins, starlings and weavers are among those I remember. In the tall trees to one side of the river, some noisy Rhesus Macaws warns about us.
At some rapids, we cross trail with the elephant safaris. Here are a lot elephants, carrying colourful tourists! Round a bend, and we got it all to our self again. Well, except from a Barking Dear and a group of Spotted Deer, which seems to ignore us. I spot several species of orchids in the tall trees, along with other epiphytes like ferns.
After what feels like a long ride, we leave it to the boat-driver to get the canoe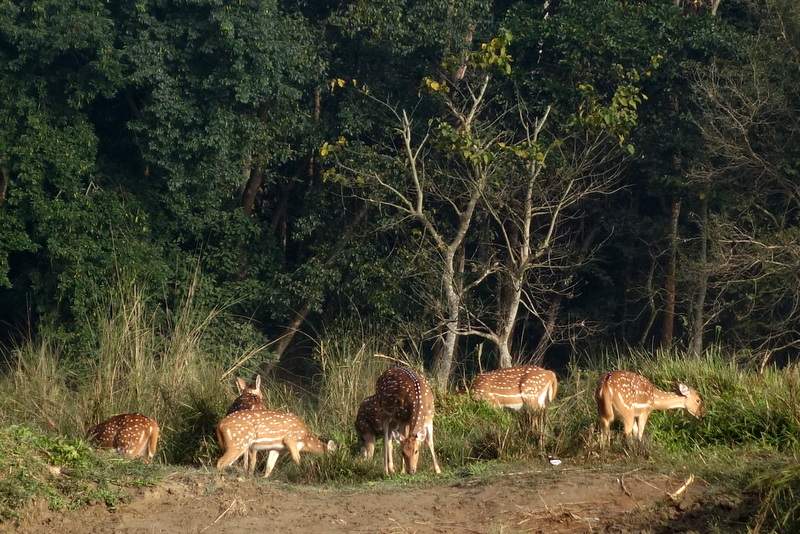 upstream, and head for the jungle. It is fare from dense, but still lush green. The floor is only partly covered sand, and several creeks and swamps crisscross the interior.
Damu seems to be familiar with the area, and we follow animal tracks, not the normal path. Here are the trails of wild elephants, diggings from the Sloth Bear, huge toilets from the One-horned Rhinos and even fresh pore-prints from a tiger near a creek. Perhaps that is why Damu carries a thick stick? The biggest trees are Ceibas, some covered in Strangler Figs, other in giant lianas. It is winter, and only a few flowers are found.
As we passes through different vegetations, we experience different animals. Rhesus Macaws, Spotted Deer, Red Junglefowl and the close but invisible noise of something big. I get close to some orchids in fallen trees and a few insects.

We walk for several hours, and despite Damu don't acknowledges it, I'm sure we are slightly lost several times. I do prefer the off-track routes, but the creeks and swamps are a challenge. It seems like Damu thrive with this little company. He tells me, some groups of tourists, whom he had told to keep quiet, only stop talking, when they burst into sinning. I overheard a conservation earlier: A Japanese woman had a hard time figuring the crocodiles like the sun, and she didn't get the fact, they were cold-blooded.
After several hours, we get out of the forest, next to the elephant breading centre. A short walk to the starting point at the river, and we get a ride back with another group.
I'm still a bit restless, and head out for a
walk. Down to the river, where the mahouts are washing their elephants. I turn into the tourist village - and even spot four tourists - and find a cup Masala: The spiced tea with milk. I meet several horse carriages, used for local transport. It is, without any doubt, the smallest horses I ever have seen. The size of a small Shetland pony, but way more skinny. A few elephants crosses town along with some tractors.
I pass through town, into the surrounding fields, and find a path to the Tharu village. Here are so many motives and smiling faces, but I still feel a bit ashamed to make all the photos I would like to. Never the less, I get one of the water buffalos, some ducks and their small herb gardens.
Back at the lodge, I get a late lunch. It is so delicious, and supper might come rather late. While I eat, two parties with tourist
arrivals - bummer; I liked to have it all to my self. At least, they are young Aussies, and as so quite pleasant to be around.
It is still a bit cold in the shadows, but the sun have gotten the desired strength. Now, the trick is to place my self in the sun, while the computer stay in the shadow. My private porch reach 26C in the shadow, although the wind is cold. I got two hours to spend, before the late afternoon elephant ride. I update data, diary and photos - 120 of them from this morning alone!
At three, it is time for the elephant ride. I get a lift to the park, and share an elephant with three Nepalese tourists. We are part of a small group, mainly with other Nepalese and one elephant with Japanese, recognisable by the four selfie-sticks, sticking out all the time. Must be sad, always to have your back to the motive?
Within long, we reach a big clearing with rhinos. Two mothers with calf and a teenager. The totally ignores us, as we approaches them. I try desperately to get some good pictures, but a moving elephant is defiantly not the best base for that!
We head on after some time, but it is limited what else the jungle will reveal. A big, dark deer, a male peacock, some Rhesus monkeys,
several groups of Spotted Deer and some white herons. We reach the river, and the other elephants enters it. Our seem to have a deep fear of water, and refuses despite the mahout's efforts.
After a good hour, we are back, and I walk back to the lodge. It is through Tharu settlement and some lodges.
I catch some youngsters playing caram/carrom bord, exactly the same as I know as "Bob", just without the sticks. In the fare distances, I see the snow covered Himalayas, and with a goofy smile and the local greeting: Namaste, I enters a farmers yard to get a picture. Walk along with an elephant on its way back from work.
Back at the lodge, I watch the workers
play some caram, mainly because my computer is out of battery, and we having a "brown-out". Supper is a buffet, due to the 16 guests we are by now. Damu claims, it is to get me to eat more - and it does work! Straight after supper, we all walk to the Tharu Culture Programme. Bit like a theatre with a recorded voice announcing each dance. A Nepalese have made a rather brilliant impression of Monty Python's upper-class voice: Hilarious!
We see the traditional Stick Dance, the Festival Dance, the Dance of the Dead, a Peacock Dance, some others, and in the end, every one is invited to the stage. On the way home, one of the girls ask, if she can flash the elephant. It turns out she means taking a picture with flash...
When we returns, the others disappears, and I sit in the restaurant and work, till I'm out of power, once again. A few Common Asian House Geckoes watch me from the sealing.
The usual problem reveals itself: I have so many photos I want to add to the diary, but too little text to mix them into. Tomorrow have half the day off to relax!? I ask for an elephant ride, but it turns out I, have to pay an additionally park fee, and Damu think I will have a better chance spotting animals by my self, following the river. He will also show me his secret spot for the rare Gharial crocodile, of which the park only have 72, after he has taken the other guests for the canoe tour. In the afternoon, he arranges a Jeep-safari - offering a bike safari first.
18/12. After the breakfast buffet, I head up the river. At first, it is quite difficult to get through the lodges on the banks, but then I reach the wild nature. A mist is covering the surface of the slightly warmer river, but the sun appears, and I start to feel alive.

I spot what looks like a Gharial on the other side of the river, but it is only partly emerged. I lay down on some rocks, and wait, dozing off a bit. Then the sun has efficient strength, and it is actually a Gharial which reveals it self from the muddy water. And behold; another one right next to it! They are too fare away for my camera, but for me, it is a great experience to see these odd and rare animals in the wild. Gharial are an ancient form of crocodilians with a real narrow and long snout.
I continues up the river, both sides looking like the park. Here are a lot of ducks and other birds, including a big group of peacocks. A few Mugger Crocodiles bask in the sun, and fish jumps in the river. I see some elephants in the distance, and it turns out, the river make a big bend, and I reach them. It is huge bulls with long tusks, and they are working in the forest for the park administration. I head back, and
pass the Gharials again. Then I reach the town, grab a cup of tea, and then back at the camp. Damu isn't here, and I go for plan B: A bit of non-critical laundry, celebrating the sun and additionally night - it might actually dry!
After a quick but delicious lunch, I head back thought town to see the Gharials once again. They are still there, but the sun is in my face, and I can only see their silhouettes Slowly back through town, checking the side-roads and a single café. I find a souvenir for my mom, get a hair-cut and head back to the lodge.
We all join up in two open Jeeps, and head to the Tinkauli Buffer Zone and the Twenty Thousands Lakes, through a huge plain with rice fields. It turns
out to be a cold ride and even colder return, in the dusk. The area we enters is dominated by broad leafed trees with several green clearings and of cause; small lakes.
Here are several groups of Spotted Deer, a few Barking Deer and some Crested Serpent Eagles, quite close. Just as we returns, several Lesser Adjutant Storks start fishing in the river, and when we stop at a lake, some Wild Boars crosses the road.
The lake is, despite the lacking light, real impressive. Quite big and a complete mirror for the tall trees and the distant, snow-covered mountains. The other car get a "push-push safari", but we don't get to laugh for long: We run out of petrol.
Back at the lodge for supper and work. I guess this will be the last I see of Chitwan National Park, and I make a slideshow: Chitwan NP and Tharu people. Planning tomorrow reveals some scary facts: It is 1.000-2.000 meter higher than here, which should lead to a 10-20C drop in temperature. I have keep to the plan so far, but I might make a few short cuts up there! The cold I got yesterday is treated a bit too good, and it thrive!
19/12. I get
a lift to the village and then the bus, taking me towards the Manakamana cable car. I passes through the large city of Bharatpur, Narayangadh them Mulgin and finally we reach Manakamana. It is a "Tourist Only" bus, but here are one other pale, in a else stuffed bus.
It is an Aussie girl, who is on her way to Kathmandu. We passes through some rural landscape, crosses huge rivers and see the giant snow-covered peaks in the approaching distance. I try to make some photos out through the bus' surprisingly clear windows, but reflections and the bumping-around, make it a challenge. Huge slopes have been formed into rice patches in a few areas. Most of the time, we follow the huge river or one of its just as huge side-arms.
I leave the bus at the huge gate of Manakamana cable car, from which the cable and cars are visible. The line is pleasantly short, and
after been waiting almost to the car, I'm picked out, and guided to the front. Feel a bit embarrassed, but on the other hand; I did pay four times as much for the foreigner ticket. I had expected other pale people here, but none. Some of the Austrian cable-cars are especially made for goats, heading up to the temple at the top, to be scarified. The ride bring them - and me - 2.800 meters into the mountains and more than 1.000 up.
The tour up is real interesting, not only because of the family I'm stuffed with. The altitude change 1.000 meters, and the impact on the vegetation is significant. At first, we ride over broad-leaved trees, then, within a short stretch, it changes into pine trees (one of the plants I'm here to investigate). Here are a few clearings on the way, making room for rice-patches.
At the top is a rather large village. Mainly restaurants and shops dealing with offerings and plastic toy for the
kids, is lined up along the path. It seems like everyone has some live goats or hens stocked away. I start with a cup of milk-tea, before I walk through the busy area. It is a rather large, red and black temple in the honour of Hindi goddess Bhagwati. It is as old as Nepal, and judging from the many hundred meters patient line; quite popular.
I try to capture the magic of the temple, but soon, I'm distracted by the breathtaking mountain range behind. Well, I can't capture it anyway, and I return to the butchers hut. Here, hens and goats are butchered, and their blood lead to the temple.
Around the temple, numerous bells in all sizes are hung up. Butter is burned in small clay things along with "Holy Smoke". Close to the temple, a line of holy men are offering blessings, forehead markings and cotton strings along with flowers. Many pilgrims give each of them a
handful of rice.
The yard is filled with pigeons, which the children catches and releases. The animals don't seem to be bothered.
I grab another cup of tea, before I head back to the cablecar. The queue seems endless, and on top of that, the cable has stopped. Apparently, they make a good, long lunch break. The guy next to me tells me to skip the line, and head right in front. I find it a bit embarrassing again, but others insist. Well, I'm the first one down after the brake. I try to capture the special, changing climate-belt from above, on the way down, but I'm told to take my arm inside. A steep walk brings me back to the main road, and soon after, a bus is heading my way. First to Abu Khaireni, then another bus to Mulgin for a short break and a new bus to (elev. 1135m). It is a long drive through a narrow gorge, way up towards the peaks.
The city is no more than a long line of houses along the road. I find the hotel I had decided on, but it is full. Another have room, but it seems like hot water is not common around here.
It is only an hour till dusk, and I head out for a walk. The village is famous for its place in history: It is here the founder of Nepal was borne. In 1769, Prithvi Narayan Shah unified some rivalling nations into a single nation.
Here are many idyllic looking old houses and a fantastic view. The old royal palace is now a Gorkha museum, but I'll do without. I see the Ratna Temple which at present is without any god.
The women is mainly dressed in woollen and red dressings. Some work with millet on the road, which in many stretches are sealed with natural rocks. I pass a deep concrete pit, within women washing cloth and them self. I do, after all, not take a photo.

I find a path leading up-hill, and a couple of kids tells me: If you survives, you will reach A-something, within some hours. I will save that for another day.
The village is made up by steep streets and even steeper stairs. It seems like the true buildings are only along the road. Up and down, I only find huts. The sun sets, the temperature drops, and I head back to the hotel, which offered food. I order a Dhido Set, which should be a local dish with dahl and mutton. Then they say; In two hours sir!!! Perhaps, I should have eaten lunch after all. I start working - and freezing. I just don't get it: The locals are freezing just like me, but they lack windows and doors - in the restaurant, the entire wall to the street is missing. I would have a huge fireplace! It is not like they don't have forests around here (but maybe they want to keep them?).
Instinctual, I did look for warm jackets earlier, but they only seem to have some small, shitty Chinese ones here.
I get my rather spicy supper, as the shops closes. It is a huge serving of chocolate-brown millet-flower, sticky stuff, dhal with pumpkin and potatoes, green liens-soup, some different red spices and a few vegetables. I'm supposed to eat with my fingers, forming a ball with the millet and dip it. Despite I'm freezing, I start sweating because of the spices. I leave room for a non-spiced pancake with local honey: I sure need fuel for the long and very cold night! To my big surprise, it taste exactly like one at home!
I am so much going to buy a huge jacket tomorrow. My fingers turn num while working, and I can't figure how to talk my self into a bath in cold water. And in a bathroom which at best can be described like a hole in the ground - and without light! I sure hope tomorrow will offer a better hotel. At 20.30, I'm out of power, and no sockets in sight. What to do then? My last act was to find out: Here are no WI-FI at all. The restaurant
, connected with my hotel, closes at the same time, and a short look out into the street reveals: It is the last one to close. I think someone could make a great business, if he started with a good, old stove. My hotel room is 12C when I returns. I guess this is out of the beaten tourist track, at least in wintertime? Don't blame them. But, here are clean bed-lined and a clean towel. Just the shower - and hot water is missing. I strip the other bed for duvet and blanket, and keep my long skiing underwire on. I'm so much not cut out for this!
20/12. After a surprisingly good night's sleep, only disturbed by the removing of the skiing underwear. I should have used the bucket of water in the bathroom last night, when it was liquid. I wake up to a crispy, clear morning. Well, from our altitude and up. The valley below looks like a glass of cold milk. I treat my self with three
pancakes, which turns out to be way thicker than I thought. Then I head up the trail towards the temple on the top.
It is a pilgrims routs for Nepali people, and here are quite a few. The trail is actually one long line of stairs, made up by local slate, and rather rough. It winds a bit through houses, of which many are offering plastic souvenirs along with their farming and animal stock. The sun in combination with the effort warms me up to a point, where I actually end up in T-shirt.
I reach the temple, and find a path leading around it. The other side reveals a magnificent view to the snow covered and quite near mountains. Despite the height, some dade-palms seems to do fine here.
The temple is made by red bricks and has some nice wooden carvings. I enters by a back-door, and walk around outside, between the buildings. I let it to the religious people to enter
the dark doorways and smoky interior. Outside are many modern Nepalese offering flowers and other stuff. A few monkeys keep to the backside of the temple, but the kids finds them, and feed them.
On the way down, the strap on my new day-bag breaks, but within five minutes, I get it fixed by a tailor. I get my big bag from the hotel, and find the bus. I even get to buy a ticket at an office! The bus seems rather empty, and I figure it will take some time before departure. But I don't even get my tea, before I'm ask to enter.
First stop is in Abu Kurintar, but fare from time enough to find a jacket. We drive around in the mist in the valley, and it is strangely enough; cold as milk too. I have to change bus in Dunme, but the ticket boy forget to give me the
promised hint, and it is only because I see a sign outside the city, I get of.
Bandipur (elev. 1.030) is straight up the steep mountains, but I start to walk anyway. Here is only one road, and the bus must eventually pass me. I start botanizing, and look at the tiny farms along the road. I'm able to squeeze in, as the bus passes, almost a hour later. Here are even some familiar faces from last bus.
Bandipur is a real cosy town. It is gently being restored with help from a private company, and its mainstreet is tourists dream: A perfect combination of ancient houses, cafés and small hotels with plenty of local people adding to the atmosphere. I try the first hotel I find; Bandipur Village Resort, and despite the rather high price (1000R), I go for it. It then turns out is has a nice bathroom with hot water, and a astonishing view to the mountains.

I drop the backpack and walk most of the streets of the central part of town. Here are so many motives, and when the sun changes, even more. The locals are drying beans, lenses, rice, chilli and much more on small patches on the street. Some are enjoying the sun, some are playing a Ludo-like game with stick-dices and some just walking. I even see a few tourists here. Right in front of the hotel, a shoemaker have drawn an audience. I get a cup of tea and joins in.
It is still sunny for some hours, and I head out for the walk to the Thani Mai Temple. It is a steep climb, up a limestone mountain. The views are breathtaking - just as the climb. The temple it self is just a few huts and bells. Here are a few flowering plants and even more butterflies. A single
paraglide passes bye, but else, I have it to my self. I returns to Bandipur at four, bit too early, but I have walked my part for one day.
As the sun descents, but while it is still shining at the walls on my room, the temperature drops significantly. I realises I don't have a duvet in this room: Panic! I calm down, when I find several duvets in the empty rooms next to mine.
I get a cup of tea at the hotels restaurant, while I watch the suns last play on the white mountains. I can't imagine how much I would have enjoyed this, if I wasn't freezing? I did look for jackets, but I did not see any. The owner tells me: This is a good time to take a bath, and I go for it. Well, not warm, but not that cold either.
I spend the evening the usual way: Freezing and working. I make a slide-show of the two villages; Gorkha and Bandipur. At seven, I try the local Chicken Biyani, which I will describe as a dark yellow/orange fried rice with chicken and a few cloves, which reminds me of Christmas - not that much of actually.
To my big surprise, this "tourist village" turn dead just after seven. I could understand it, if people had a nice stove at home, but here are not just a hint of fire smoke. I'm the only customer in the hotel's restaurant, and hardly any passes bye, despite of its central placement. The fellow at work hide it well, but I can't help getting the feeling; he could be somewhere else. I let him get away at eight, not knowing what I can entertain my self with - but freezing?
After these small villages, it is time to head to diary 3 and the big city of Pokhara.