From Diary 2, we enters the Christmas month - without noticing it.
12.1. The calendar says Christmas month, but it's really abstract. Wake up after the morning showers, and the
temperature is already up at 30 degrees. I couldn't find my one earplug last night, and since we obviously always live near a sawmill, I'm going to miss it. OK, it's really the noise from the rest of the hotel and from the street that keeps me awake. Ask the "maid" if she has seen it, and she goes out and looks at the hallway. Here I find it myself. Then I can I spend the rest of the day figuring out, how it ended up there and how she knew it?

We have found five dives in, and around the city, that we haven't tried. The first thing we find (it's not always easy) is Front Porch. We'll be a little surprised as we come down: There's no reef! Scans the sand with its scattered coral blocks. Here are fish we have not seen or noticed before. Among other things, a long-nosed one we saw in Morten's newly acquired fishing book last night, and noticed we hadn't seen. It's a Butterfly Fish; Chaetodon, which reminds me of a Woodpecker.

My mask sits perfectly and this is the first dive I have ever had, without emptying the mask. Morten has the exact opposite: Hans is constantly filling, and somewhat reluctantly, he tries a new technique to empty it: Instead of breathing through his nose, he sucks. Well, if it just works out for him ... On the way up, we come across five Caribbean reef squid that evidently always swim in perfect formation. We lie perfectly still and they come very close, maybe 50 centimetres.
We drive a little further up the coastal road to find Reef Scientifico. It turns out that it is in the middle of a huge dive resort and they will have 30 kroner per nose, for us to use their bathing bridge. We're just moving on to the next. It is just behind some containers that rent-out diving equipment, but at least they do not require entrance. It's called Cliff, which is very apt.
We jump in freely, even though the water is no more than 28 degrees. Here are some great jellyfish, similar to hand-sized butterflies, with four brown spots, and no tentacles. As we get down three meters, I get a severe pain in a tooth. There is apparently an air pocket in it, and you can't do anything about it right now. Very carefully I go deeper and deeper, and at nine meters, I can hear the air seeping out. Nice!
We get to a vertical wall that is about fifteen metres high. It is covered with corals and there is a swarm of fish. Even some really big bream. It is teeming with life, but there is a long way between the news. We can quietly swim along the reef to Reef Scientifico. We arrive at the same coral stone beach, but unfortunately at the same time with a few huge waves. I get thrown five meters up, and get a severe blow to the elbow. Oddly enough, the discoloration quickly subsides, and is almost gone in the evening. Might be something with pressure?
A stroll into the supermarket on the way home, where some kid chuckles a few marzipan bars in our basket. Well, it's Christmas, so we'll pay for them. A short coffee break, and then there are new dives to be dived. First, Kalabas Reef just off the town, where we have to go through a resort. Pretty neat, and reasonably easy to get in and out of.
We sneak past our Nitrox pusher to sip a cup of coffee. As we sit on their terrace, every second of the locals passing by on the seafront, greets us. We've been here for too long!
Morten wants to see "salad snails", so we drive up the coast to the Jeff Davis Memorial. There is just only one coral beach and some violent swells, so if they don't have to change their name, we better try somewhere else. It will be Ol´Blue, where a narrow sandy beach provides reasonably easy access. We have been here before, but this time we are wading in the sea-slugs. It is a long dive and darkness in combination with rainy clouds will force us up.
Over Rincon home, and as we head out on the east coast, Morten discovers some huge splashes. We drive all the way out there, and huge swells strike the eight-meter-high coral stone wall. It gives a blowhole effect, and huge clouds of water are pushed into the air fifteen metres high, covering much of the quaint flat plateau. Some really big ones are coming, and I suddenly want to see them from a distance.
It's almost dark, when we reach the city, but we have to hit the harbour. As we drove past, we saw a huge, very modern and white sailing ship with a Danish flag. It's called Wind Star, and is reasonably impressive. There is room for 148 passengers and we are wondering if they are missing a dishwasher or one to flush the deck.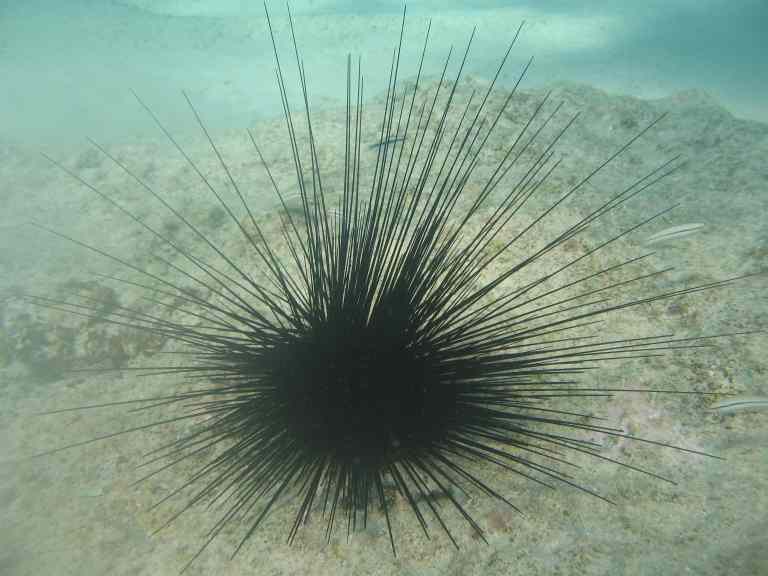 There are many people on the street. Large party tents will be erected on the town squares. It's Friday and maybe something else too? The Christmas decorations gently pops up. Classic Santa Claus figures, embellished Christmas trees and colour lamps. They even have Christmas cookies and pepper nuts in the supermarket. I'm still not in the mood, and thank goodness Morten stopped humming Christmas songs after the morning's rain.
Home and wash ourselves and the gear. There is only six very dark-glowed men, who speak loudly and constantly, moved in stark contrast to the calm that had otherwise rested on the spot. Hope they will leave soon. We rush into town to find some humble supper. The restaurant we had in mind is slightly more expensive than we like, so we browse further. It suddenly starts to rain and we end up with an old celebrity. Morten returns to their excellent ribs, I get an incredibly tender and thick slice of a cow with green pepper sauce.
2. It has been raining tonight and there are black clouds on the horizon. We pick up bottles, and try Windsock, a little south. There
are great swells here, but it is easy to get out on the sandy beach. Unfortunately, the first part is pretty milky, and farther out is not the best either; not more than fifteen metres of sight. Morten has trouble with his fancy bottle buckle, so we drive past the Yellow Sub and borrow tools. He performs a minor surgical procedure, amputating a piece of dead coral, and then he can get it to work again. I sit down with a cup of coffee, and come up with expert statements, friendly advice, and encouraging calls in general.
As we entered the dive shop, it began to rain and it became rather harsh. Now, as we go out, it stops. We drive north to get clearer water, but here the swells are also fierce. It can be uncomfortable and downright dangerous when going beyond a coral reef. Morten thinks we should try Oil Sleak Leap, where it is a ladder you go down, and it goes much easier. The water is clear and we are lucky to see a turtle. Morten's day is made twice, as it swims right over the heads of a bunch of Americans, who have really irked him, without they see it.
It started with they had the same dialect as Bush, they parked in the driveway. They were constantly yelling, they didn't have a good sense of their equipment, they left assembled BCDs standing, they blocked the whole little bathing bridge forever, to try to collect their gear, they totally ignored us.
Morten also thinks there will be good between Little Bonaire and Big Bonaire. It is next to the city and we recycle the Something Special. His feeling was right, and it will be a good dive. We try again south, where we have not yet tried Point Vierkant. Getting across the corals is reasonable and the water is clear. We see, among other things, a spotted eagle ray, that comes flying by, in the deep water. Down in, and around a sea-anemone we find some fantastic purple shrimp and some other brightly coloured relatives. Later we see another fun crustacean. No claws, no antennae and no stalking eyes. It's a "Sculptured Slipper Lobster".
It hardly ever gets sunshine today, and it's a little chilly; no more than 27 degrees. We rinse the stuff at my dive company, and drive home and bathe, drink coffee and get photos and diary. Then we go down to the Swiss restaurant, where there were several exciting things on the menu. Morten grabs a bras, I try a classic Swiss thing, with strips of pork in delicious sauce, both with cheese. We get huge portions again, and again a very small bill: 200 kroner. You should eat here every day, if not just for the amount of lead needed to offset the increased amount of holidaymakers. I have not forgotten, I should have three kilos of lead after three days without dives! But if we just start diving eight times a day ... or twelve, then we can also try their Belgian chocolate mousse, or the waffles.
3. More rain, but we dive anyway. We gas the car for the third time. The gasoline costs 6.56 Kr a litter, and despite the small size of the island, we get to burn quite a bit. It clears up at nine, as we are ready to jump into Petrie's Pillar for the first time. There is said to be two turtles here, but unfortunately we do not see them. We drive further up the coast and try the Jeff Davis Memorial again, where the waves are more moderate today. We are spoiled, and nothing new is emerging. A tiny little bird repeatedly attacks his mirror image in our exterior mirrors. It repeats itself as the next car arrives. Poor Tweet!
We drink coffee at Yellow Sub and change bottles. Then we try Aquaria, which is one of the double reef sites, south of town. We are growing beyond the first, which is reasonably far from the coast. Cruces at a depth of twelve meters to the outer reef, which unfortunately turns out to be a few hundred meters out, and quite deep. Choose instead to return to the inner reef. The visibility is good, there are a great many fish, but again, it is only the usual.
We are a bit worn, and head home for coffee and a break. There is a new shower on the road, but the temperature will not fall below 30 degrees. It is a very Sunday-quiet town. Even the church is quiet. Otherwise there has been worship every day. The church is truly built for this climate. It immediately looks like a regular Catholic church, but the walls are more open shutters than the wall.
As we sit in the yard, the local white-browed flycatchers are beaten intensely. Morten sees a black hummingbird with a blue back, and I sit and scout in vain. Bigger flycatchers, yellow-black starlings, small pigeons and some sparrows are regular residents of the yards large and shady trees.
After recharging our batteries, we choose an easy dive: Oil Sleak Leap, where there is a staircase fully submerged. It is teeming with life, and we see a giant blue-black midnight parrotfish, and an almost as large pale blue parrotfish. Here are also a few other less frequently seen fish, but the light is not optimal. We drive home half past six, flushing the gear and ourselves. This afternoon's somewhat low solar amount does, in fact, I miss hot water. Coffee with an exceptionally delicious cognac helps.
I write the diary and update my dive log. It is now fully completed: a total of 64 dives, of which 34 are on Bonaire. I had 23 hours before, here it has so far turned into 27 hours. Gradually has very good control of collecting gear and coastal dives. Dinner in Spanish so Morten can get red snapper again. They only have two meat dishes: steak tenderleoin and pork tenderleoin, which I have been getting sometimes in this town, so I try the tuna with bell pepper sauce. Next time I take pork tenderlaoin and we have to pay 275 kroner.
4. The weather is perfect, and after the usual preparations, we drive to the south-east corner to try Cai. It is by the mangrove and the huge piles of conch, and one of the only beach dives on the East Coast. We swim over a very long sandy bottom and still do not reach the reef. The current is strong and we decide to turn around. On the way back, we come across an almost vertical wall with huge quantities of fish.
We see a crawfish, which, however, is not much to get out and be photographed. Then I just have to flash a flash into its cave. A short dive, but the strong current on the reef and the fact that we dive on the high seas, make us stop while the dive is good. Across the island to fill bottles, then down to White Slave.
It's called that because there are some tiny little white cabins on the beach where the slaves apparently lived. A couple of swallows are flying around, and I think Danish summer. The weather is wonderful again, the sun is shining and the temperature is at 32 degrees. Here are some big waves and the water is like skinny milk as we come out. Another really long swim over the sandy bottom that is some of the finest and whitest I've seen.
When we finally reach the reef, we have to go down to 27 meters and the current is still really strong, and we actually get nowhere - unless we swim. We drop this place too, it is too exhilarating and dangerous. See a few new fish on the sand, but not much. Home past a new supermarket, to buy toffee biscuits.
I'm hungry and will eat them all when we get home. Deciding it will be much better to buy lunch - just a salad. End up at one of the city's fancy - and only lunch restaurants. Morten gets the house salad with smoked salmon, I grab a Caesar with smoked chicken. 135 kroner with two water. Driving home and making coffee - and I eat the biscuits anyway.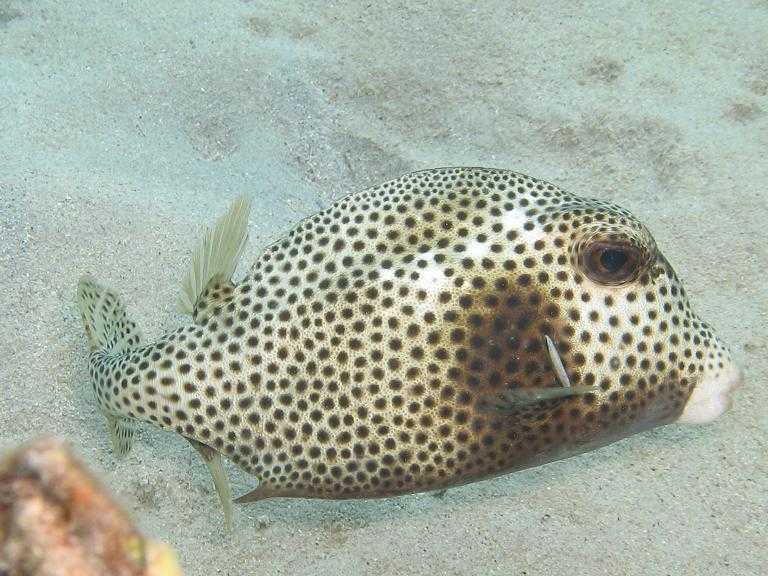 We decide to indulge ourselves after these two physically strenuous dives, and drive far up the coast to 1000 Steps. 65 steps down, and looked out over the rough coral gravel. Morten thinks it is too easy, and painstakingly climbs up once more. It may be because he has changed his mind about not diving with a mask?
Morten catches sight of a sea turtle eating, and we follow it for a quarter, very close. It does not concern us, but rummages around the corals, picking out selected treats. Sometimes it is almost stuck, sometimes it gets an angry fish right in the head, or a camera, and it doesn't worry at all. Really good experience!
On the way home, I give it a try to find the fourth kind of cacti seed for the Botanical Garden. It's a bit late in the season, the few fruits I find are depleted. Finally, I succeed, and I wade through cacti and acacias, wearing only bathing suits, and empower myself with a little eaten seed stand. Slightly bleeding, I get back triumphantly to that car and the lighter head-shaking Morten.
Really wanted to take some time off, but are tempted by coffee and dives at Yellow Sub. There is no more coffee and they are closing, but the water is still there. We encounter several moraines, some of which are quite large. Takes some good close-ups, without losing a finger. Coming up to their room punch party, and thinks it would be rude just to drive. I force a glass down and then there comes a guy with canapés. Graps a few of them too, and then it's home and washing.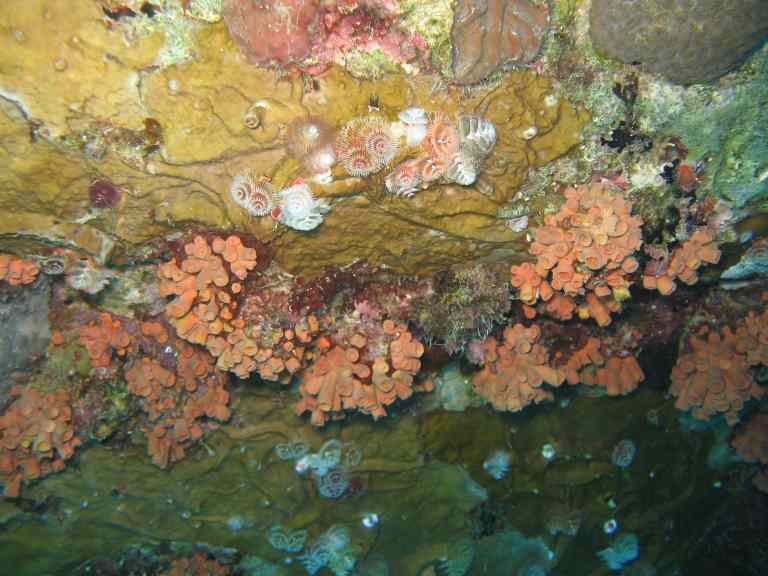 Agree as we have now had lunch, biscuits and chopsticks, we can easily skip dinner. But: The internet doesn't work on half of the island - our half, and I can't stand Morten's begging gaze, so we're heading down to get dinner anyway. Ending up on a Mexican where we both get a huge portion of Mucho Machio Nachio.
5. We are up early and down and get the bottles filled. We are a little naughty and grab four each, we have to go up to the northern end and there is no time to drive down and refill during the day. The last dive should start at 2.30 pm and it will take at least an hour each way.
We land at Bokka Bartol; the northernmost place at exactly nine o'clock. We must reluctantly note, whether it is a boat dive, for men with kevlar suits or at least for a very quiet day. Big swells thunder against the coastal bulwark of old coral reefs, and we would have to squeeze.
Next place; Playa Benge, presents the same problem and we continue south. We have tried Playa Funchi, and turn in to Bisé Morto. It is not marked as a beach dive but looks reasonable. We just need to descend from an almost vertical pile of large coral stones, in addition to the reef, then it is free. We are fine and we see some new animals. Here are small flocks of something that looks like blue herring, but which is probably fly fish, and a somewhat worn reef. There was a violent storm a few years ago and it was really hard at the reef. On the way up, we see what resembles a hornfish in the surface.
Unfortunately, I get the landing with an unusually large wave, and get tossed up by the pebble beach. Fortunately, it hit the hardest on my air tank and I just get a slightly sore elbow. Up by the car we share a couple of apples with the local lizards. The males are really nice, with green or blue spots, the same colour behind the feet and tail. The females are much smaller, and just brown. When tossing a small piece of apple comes ten crashing. Here are astonishingly few insects (with the exception of mosquitoes in the room), even ours windshield is clean. The lizards must live on, among other things, cactus fruits, of which there must be infinitely many at times. I saw a group of lizards sitting far up in a cactus this morning. Didn't see if it was a flower or a fruit they shared.
We botanize a little while we wait, we have to dive again. As our nitrogen content in the blood is reasonable, we jump in at Wayaka. It's fine to get out, but the reef is a disappointment. It has also been hit by the storm. However, there are a couple of great spotings: A blue wrench, perhaps a variation of the curly salad. Then Morten finds a new green sea turtle and we follow it for about a quarter. It also doesn't really care about us. It's really a great feeling to swim with it, never think I'll get tired of it!
Well up, we make the classic "star turn". The car we drive in is incredibly badly under-powered, so a U-turn often becomes a * turn. We come to the yellow houses - the only building in the park - and try Boka Slagbaai. A long swim over fine white sand, but as we reach the reef, the storm seems to be really damaged. Here are very few live corals, but an astonishing amount of fish. However, we choose to swim in again; it is too depressing with all the dead corals.
We have now dived in all available places on the island, except the boat spots, and now know for sure, Kaparta is the best. We turn our noses home and stop a few times to take pictures. For God's sake, I get to see something similar to the Bursera I promised an American to look for. It looks like a lot, and I snap a few photos and a couple of chopsticks from the bottom of the crown. The American confirms an hour later, that's right.
We land at the hotel at four o'clock, trying to catch up on our coffee shortages, and relax for the rest of the afternoon. I have a few different seeds for the botanical garden, I must have arranged, and Morten has a lot of underwater photos. At the same time, he thinks it is necessary to sit down and write completely absurd and grotesque stories about my diving experiences. One would think he had read my diary ???
We decide it's time to return to the Argentine restaurant. We saw a few others served a mixed grill and we will have to try it. We get a large plate of salad, fries, rice and dip, as well as an extra table with a grill on, which has a mountain of grilled meat. Here are sausages, half chickens, chops, pork and cow ribs, ground beef, steak, strange steak, ground beef and some other. The owner was a bit impressed: We ate up and it was a long time since he had seen that. I have to admit, I have peeled chicken nuggets closer, but I had to finish Morten's part too.
Now there is this fantastic concept of "luxury-burning", and since we had started this with great certainty, we could just as well continue with dessert. A giant cheesecake and a chocolate cake. Went a little dead personally in the last quarter of the cake, but down came it. It's only going to cost 330 bucks. The evening got a little short, when I accidentally got to sleep on the bed, as we returned home.
6. Buying air for one more day, then taking the best places from one end. Just past the supermarket to stock supplies - most of it - and then drives down to Hilma Hooker, which is a wreck. Unfortunately, we are not the only ones who have come up with that idea. There are three boats in front and four cars. So far we have been rite of boats, but now you can feel there are many people. Some of them are obviously disabled: They swim without flippers, but with wide gloves. Does not control as well, and in their enthusiasm for "taking over" Morten's turtle, some corals get a beating.
Next to the large wreck stands some very large silver-shining fish at one and a half to two meters. Swim lazily away just before you are close enough to photograph. A footnote: Everywhere we've been is Catch of the Day: Wahoo. One servant admitted it should probably be called Catch of the Year. Morten thinks these fish are wahoos.

We take some surface time at the pink salt lakes, and then head down to Jeannie's Glory. Visibility is great, but there are no big discoveries. Home past supermarket, to get the last thing. For unexplained reason, I take a look in the big trash can outside. At the top is the package that I want to send to the American. Must have fallen out of the car at first visit.
Biscuits and coffee in the hotel, and then we have to dive: It does not dive itself, as Morten constantly says. We head south again, this time to North Belnem, where there may be pike. They just aren't home today, but visibility is over 40 metres, and it's teeming with life. Up and munch on a few apples, then looked out for Alice in Wonderland. Again good term and massaging life, but the only new thing is a big bag crab.
Up on land we meet a couple of Englishmen. A bit of a rarity; we have practically only run into Dutch on land, and an equal distribution of Americans and Dutch on the water's edge. Americans must live and dine at one of the five major resorts.
Recognizing that we've probably just been spoiled by the 40 meter sight, a blanket of live corals and about 300 species of fish and a lot of other living individuals, we stop diving. By the post office to send the package, down and deliver my scuba gear, out and settle the air, and then home and washed.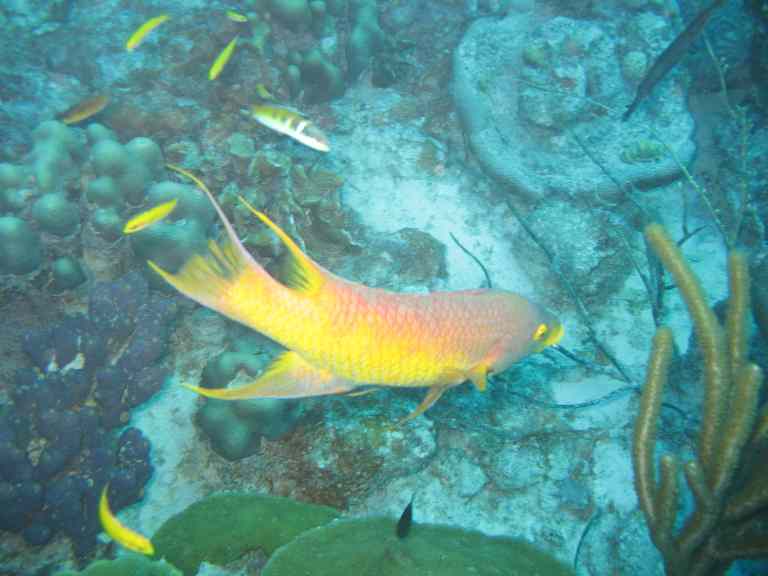 Completing the last of my dive log: In the 15 days we have dived, we have been underwater for a day, ten hours and 43 minutes, spread over 47 dives. It must then be said to be serious enough. Each dive lasted an average of 45 minutes and cost me 66 kroner.
Time for serious dinner - maybe not as serious as yesterday, but still. We have gradually tried all the restaurants we could find and can now indulge in the best in the country. It will be the pirate hut where Morten tries their shrimp with pasta, and I finally find a local dish: Beef Stoba, which just turns out to be a tasty steak stroganoff - with no toasted carrots.
We have repeatedly seen and heard one or two small pick-ups, from which hang a bunch of rasta-dressed guys. The siren and the horn run as they chuckle. There are too few for a soccer team or graduation class, but our servant can lift the veil for this riddle. It's Santa Claus! Some Dutch tradition where you paint some blacks on the face. Here you just paint some whites and ... The rest was a little too Dutch.
7. Morten have, in his wisdom, set the alarm to the alarm very early. Looking out the window: It's blue sky. Ten minutes later it is gray, and another ten minutes later it is hammering down. Bonaire gets 550 millimetres of rain a year, and we get to experience most. The good thing is, the temperature does not drop dramatically. At the same time, these are just some short, intense showers.
Fumble around a bit, and at nine o'clock it's good weather again. Pass by the tourist office to find out how to get to Lille Bonaire. It is a small island two or three kilometres in diameter, one kilometre out in the bay. There is a catamaran ferry sometimes a day, the first at ten. Can't figure out if to make a reservation so that it sails at all, and stands and hops with a smart credit card phone as the captain arrives.
We have 45 minutes to kill, and find a small cafe at the end of a boat bridge. Suddenly it is five minutes to, and when we get to the bridge the ferry was at, it is ten meters away. We wave and he turns. Says he sails accurately, but there are five seconds left as I sit down. A bit up the coast to pick up four others at a resort, then looked out over the bay. We have to pay 90 kroner per nose, but there are no alternatives, if you want to see the island.
We are set off on a deserted sandy beach where the others throw themselves in the sand. We walk up the beach a little. The sand is chalk white and very fine. You can see the coral reef ten to fifteen meters out. The island itself is very flat, and in addition to some large bushes, and cacti on the far end, there are only half a meter high bushes. There are some small birds, some lizards and a lot of small hermit crabs.
The beach ends at the "corner" where larger pieces of dead corals take over. We can't really get into the island without losing the skin of the legs from the knee down, so we turn around. The same pattern repeats itself on the other side, and there is no hint of a path across, but it is probably only the sandy beach that draws. We are ready to sail home as the boat arrives at half past one. Now there are only four people on the island.
On board are a bunch of Frenchmen being thrown down the coast with snorkels. Then they can drift with the current and be picked up on the next trip. We gat ashore, and I say, What are we going to eat? We ends up in the Argentine, and get a couple of 300 grams burgers. But then we should not have dinner ...
Drive up the west coast. I am in search of an Aloe for the botanical garden and one for my South African connection; Maddy, who is just collecting them. I see the first hummingbird, it flies across the road, and directly out to sea! We find the caves we were looking for the other day. Not terribly impressive. We make some trips in the countryside, drive over Rincon, and get out of the car to botanize a few more times. It has rained heavily up north, and in some places the dirt roads have been washed out on the asphalt road.
Morten gets the car through some long and narrow side gravel roads where cacti fences have been planted many years ago. They are now up to eight metres tall, and quite impressive. We end up every time by a gate or a wind-driven water pump, but these are some exciting trips. Morten manages to avoid scratching the layer of mud that covers the scratches we made on other trips.
I find a few "new" plants, including a Bromelia, and Morten discovers, a little to his own (and more to my astonishment), another new plant. We come across one, or rather two flocks of wild donkeys, which come up very loudly and start to fight. We sneak home, and hit the hotel a little to five. Photos and diary accompanied by much needed coffee.
We get a little restless and drive down the city - well, maybe even a bit peckish. Satisfy with the now well-tested Caesar salad, and Morten gets the pasta of the day, which - surprise, surprise - is wahoo. Home and find photos that match the seeds I've collected for the botanical garden. Morten works intensely on his big slide show.
8. Morten starts packing, as I drive out to pay for my diving. Unfortunately, my very good friend is taken home to the Netherlands, so it is the owner I have to settle with. He looks at the table and says 1660 kroner. It wasn't exactly what the 480 that the other guy would have asked for, but I just have to remind him of our first deal of 150 a day. End up giving 1260 with the mandatory 5% "VAT". Lends a snorkel to the mangrove tomorrow.
Pack some more, sit in the room and relax a bit. We have driven on all roads, dived in all available places, got to know most of the locals, tried all the restaurants we can find, can't get browner (outside the wet suite), my toothbrush runs out of power, I have seeds of all interesting plants, the car is scratched done, the visa card looks like a melted summer hat, Morten has photos of all the coral reef animals. Now we just have to find a way to take the climate home. It won't stay in the suitcase: It's stuffed! Haven't bought anything else but a little dime that can say "ding" when you pull it. Sits on the air bottle and is used to contact the buddy with. Then there are a few cuttings and 16 kinds of seeds for the botanical garden. How it can fill so much is still unclear.
Decides to run at the post office as they open half past two, and send an Aloe to Maddy. Then we drive up north, past all the dive sites and up into the very sparsely populated area behind the oil tanks. In fact, there are only two houses along the eight-kilometre road. Fairly close shrubbery all the way, and a good view of a large lagoon and some rugged basalt small mountains.
Around Rincon and gas the car on its way into town. Landing at the hotel at four o'clock - and what should we do then? Make a walk down the centre, desperately looking for something to buy home. There's just nothing from the island, and coloured plastic from China just isn't exactly what we're looking for.
It's finally time for dinner. I still remember the huge Gordon Bleu I got at the Swiss, and get lured Morten. Again, it is perfect. It is Christmas soon, so we have an apple strudel with cinnamon ice cream and whipped cream for dessert. It's awful as soon as you get used to huge portions!
9. We meet up in the mangrove for the booked tour at 9am. Meets the place's owner on the road, and waves. Sitting and staring at the car while a proper bleed comes by. Finally, half an hour late, the car comes back, loaded with very white, very Americans. Not only that, it also has a busload more tow.
The lady looks at us a little patronizingly and says there is no room for more: She has cruise guests. I make her politely aware, I am the Bihrmann to whom she confirmed the reservation a week ago. She says it was then a mistake, there is no room for anyone but the cruise guests. I explain nicely, we have been here for three weeks and to be sure to see this unique nature, we booked well in advance. At the same time, I mention that we have to fly at three. She couldn't care less. If we just want to kindly remove ourselves from her patio so she can serve her cruise guests. I have to go if I'm not going to make a scene! Just make a website that looks similar to theirs but warns against using them ..
Rather steaming, we return to my dive shop and hand over the snorkel. Is a little empty of ideas, but ends with a trip up the coast. Even finds a vantage point over Rincon we haven't visited. Here, I am even lucky enough to find seeds for a very heavy-grained Melocactus for the botanical garden.
Drive around a bit, take a shower and find the airport well in advance, so we can drop off the car. It takes a little longer than expected, as the manager (who was the one who found the hotel for us) can't quite tell how the other one has given us a discount. We ended up giving $ 441, and not the $ 662 we had expected. Maybe it's been NAFs they figured, so it fits? Morten thinks she must be the mother of my first dive-pusher. It turns out, she has only been charging us for a week, and not 19 days. She gets it right before sending the visa card to the bank. We can live with it; the car only cost us 1923 kroner each, for three weeks. We drove 1531 kilometres, which she thought was a record for the island.
We finally arrive at the check-in, and with a boarding pass in hand, we are sent directly into the arrivals hall. After all, where we sit
and glance for an hour anyway. Here is a real Christmas tree! We have a hard time sleeping on the flight: We leave at 15 and land eight and a half hours later in Amsterdam. Roughly the time we usually go to bed. It's just been night, and now it's 5:00 in Europe. Wait a few hours, and is thoroughly checked several times. Landing on schedule in Kastrup, where Morten can see, his diving bag tradition has been destroyed.
Rikke and Birthe receives us, and we drive home in something reminiscent of a good spring weather. Christmas??

Airline ticket: 7300
Diving: 3500 with nitrox satificate
Hotels: 3200
Car: 2000
Gasoline: 500
Food and alike: 3900
One year travel insurance: 1000
Total kroner; 21,400 kroner