From Diary 1 we now find new heights - and debts.
24. Eight hours of sleep doesn't help much, but there are dives that need to be dived. We fill the stomachs and bottles, and head north to the end of the island. Here is the large Washington-Slagbaai National Park, which makes up one-fifth of the island, and an oil refinery. The good thing is, it apparently doesn't pollute, and there's a big dam around, if they should have a leak.
The trip up there leads us across the island, and up to the other city. We sometimes stop along the road, to photograph plants and views. There are some houses, withdrawn a little from the road. They have practically no lot, just the courtyard. The rest is unspoiled nature. The houses are well maintained and in sharp colours. In many places we see cacti fences. A couple of steel wires are pulled up, and then pieces of cacti of just over a meter are placed alternately on each side. They make root, and voila: You have a fence that is maintenance-free and stops both people and sheep. I say to myself every time: Remember to take a photo.
We get to Rincon, which is barely as big as Kralendijk. Here lies the third of the island's gasoline stations and we seize the chance. I have run out of water and ask for a supermarket. It has noon-closing, and will not open until 2:30 pm. That shows me, how far out we are! Fortunately, there is a bar that sells Belgian water for the six kroner bottle. We find out of town, of the road to the west.
We pass the big tanks with oil and get through some rugged small mountains. Vegetation is relatively dense, acacias and cacti dominate. There are donkeys and goats, and different sizes of pigeons from the smallest I have seen, over "bull pigeons" to "pigeons of the forest". Some bright yellow singers, some black / yellow starlings, big flycatchers and some nice birds of prey.
We pass several lakes where it is teeming with pink flamingos. Some of them face the bottom, just like ducks. They seem very confident, but it is also a reserve, or the limit of it. There are various beach birds along the shore, some resembling pickers, grooves and hoops.
There is a corner of the reserve where the oil company is located. It doesn't mean much yet; there is not the big difference between outside and inside the park. At the border of it, we see the only fields. Maize plants stand and shout at each other, and otherwise only goats are farmed. If the construction continues at the speed it has down in Kralendijk, it is probably good there is a reserve.
Today's first dive is called Nukove, and offers a more raw beach than we have otherwise seen. When we first come out, it looks very familiar. It is teeming with fish, in some places of the island's west coast, there are over 300 different species in one place. The hardest thing about diving here on the island, is getting beyond the first row of corals. It costs some skin scrapes in between.
We sit and rest a bit in the car, before driving into Rincon and out to the park itself. We have to dive in a place that is relatively close to the last dive, but it is a long drive. We check into the park, where we show proof of payment and photo ID. Our license plate is noted, and the only grumpy person we have yet to meet on the island, lets us slip in, after healing us through times and constraints. You can only drive 15 kilometres per hour. We must not go the long way, we must not hitch-hike, we must not start diving after 14.30 and ... then he said a lot of others. We head out towards Playa Benge, until we discover it's off-limit. Instead, choose Playa Funchi, which we find without any problem.
The road out there is an experience; here is only one unidirectional, very miserable dirt road that backs off violently. Huge
iguanas and large lizards move reluctantly, and we only see three cars at about 20 kilometres. Can't help but stop and photograph several times, but have to watch out for the time.
Starts the dive at 14.29, and has a less personal hell of getting beyond the killer corals. They continue far out, with disgusting hard and rough bars. The place is supposed to be famous for its special corals, but we see no new ones. There is plenty as we reach over the edge and we swim half way down the wall, stopping at 23 meters. The sight is really good; over 30 meters. There is an amazing myriad of fish, some fireworms and a huge crawfish.
We get used well with air in depth, but still have air left over, as we come up after a little hour.
Take some photos of the flamingos in the lagoon, and then begin to find out towards the entrance. We have to be out at five o'clock, another hour and a half. It seems to be plenty of time, but with the miserable road and all the motives of cacti, mountains, flamingos, birds of prey and more, a little "Baja California race" can be needed. I will also need to gather some seeds of the endemic plants for the botanical garden. Here's something that looks like small apples, but smashes into wild red mash when ripe. The seeds themselves are encased in something bright yellow. There are wild cotton plants, acacias and - some I have to look into.
Somewhere we see a beautiful bird of prey black wings and cap, top and red cheeks sit at the top of a cactus. Another time it flies on the road ahead of us. We drive cautiously closer and it deliberately enters under the bushes. Curiously! We get to investigate out of the park for a little while and drive a detour home to Kralendijk. Drop the equipment in the bath, and then into the room to write the disturbing few memories of an eventful day.
It is half past eight, and we are heading to a nearby Swiss restaurant. Morten gets shrimp, I'm going to order Gordon Bleu. It's big: About a kilo. Rösti and salad, and then I'm satisfied! Home for coffee, more writing and the photo-look.
25. An unusually warm night. The humidity is high in our room: two people, two towels and all the diving gear that provides a great lake on the floor. When our stomachs and tanks have been filled, we drive down to the southernmost point, park in the shade of the lighthouse, and fight our way across corals, through huge waves. We are rewarded with a reasonably good dive, where the highlight is a southern stingray.

There are many beach birds along the water, and new ones are emerging. Today we see an oystercatcher and some small dunlins. After a short break, we drive up the east coast and find the entrance to one of the only two beach dives on the east side. There is just the problem that we have to wade through 400 meters of knee-high water with all the gear. I fill the vest with air, and pull it after me. Not an official tactic, but damn much easier than walking with the 40-50 kilos on my back.
We are approaching the outer edge, on which is a large herd of terns. The water gets a little lower, but the perfect sandy bottom turns into football-sized coral. They are sharp and impossible to walk on. There is at least 100 meters to open water, but here the waves are almost one meter. Will try to swim over, and as we struggle to put our feet on, we are flushed into a colony of sea urchins with 25 centimetres long black needles. A neoprene suit does NOT protect much! After struggling bravely for a while, we have to give up. Then there is the long walk back to the car.

Morten has lost some of his lead again, but this time I am not looking for it! We drive home to Morten's dive shop to get more lead and a cup of coffee. They have previously been lured with a Nitrox certificate and I'm game. The course does not start until a few hours, so we decide to take a dive first. And this time we want to treat ourselves: We've heard there's a place where it's really easy to get out: Oil Slick Leap, so there we go.
It true; not only is there a nice platform with a staircase in the water, it brings us directly to two meters of water. Excellent corals and loads of fish. Splashes around for a few hours, and then I drop Morten off with most of the equipment at the hotel (he dropped some lead again) and drive to school. Learn about the advantages and disadvantages of oxygen-enriched air mixture and the usual rules and procedures.

Home to the hotel for a well-deserved cup of coffee and write down some of the foggy and fragmented day memories. Dinner, where we swap pig side and Caesar's at a "recycled" restaurant. Home and write a diary, see each other's sparse photos and wash clothes. I'm starting to digitize my dive log: Enter it into a spreadsheet.
26. It's Sunday and the city seems astonishingly quiet. Only a few cars pass by. By the way, their cars are a strange mix. Quite a lot of four-door pick-ups for the diving tourists, big fancy Americans, most sports cars, a single Hummer I and a II, mini passenger cars, small and large trucks, unidentifiable wrecks, a Volvo, Japanese and small minibuses. In common, they are strongly labelled by the ubiquitous salt. The speed limit is 40 in the cities and 60 on the major highways.
Here are just a few mopeds and a few superbikes. Looked at renting a few mopeds, but one costs the same as a car, and now we can have six air tanks. It is now also nice to rest in the car, after a hard dive, and it gives better shade. This is our last dive day this time around, and we would like to reach some.
We start with 18 Palms that is really easy to access. Just down a boat ramp, and through the hole in the corals. From the sandy bottom, and beyond the edge of the reef, it is teeming with life. We make a big loop and come up after about three quarters. We swap Morten's tanks, but my company is not ready with air. Never mind; I can use Nitrox now.
South to Bachelors Reef, where a staircase leads down to the water. There is still little coral to be defeated, but it is almost sea-level, so it is easy. Again a great experience and we will be down for almost an hour. My first Nitrox dive, but I can't really feel the difference. They say you don't get tired in the long run, and that could be nice.
Morten's bottles change again, and I get three new ones as well. Home and drinking coffee, and rest a little, before heading up the coast to Bari Reef. We have been there before, but we did not find the alleged seahorses. Easy access along the old pier, beyond the sand, and down the wall to fourteen metres. Finds the old barrels, but no the seahorses. There are many other things, of which I can only name a very few: Spotted Crab, Spotted Eel, Ribbed Butterfly Fish, Blue Striped Grunt, Small Mouthed Grunt, Slim Filefish, Spotted Mare, Caribbean Reef Squirt, Schoolmaster, Scorpio Fish, Soldiers Fish, Creole Brasse, Gray Sea Sausages, Spotted Sea Sausages, Three-Colored Parrot Fish, Blue Parrot Fish, Trumpet Fish, Gobi, Yellow-tailed Moths, Blåringet Flatfish, Hedgehog Fish, Yellow-striped Wheatfish, Conchylies and about 250 other species of fish and a myriad of blue and hardy fish . Inland we see a medium sized kingfisher.
Confident by our success in getting out and in easily from the reef, we decide to take a few more dives. Heading up the north shore to Weber's Joy, also known as Witch's Hut. Stairs down to the water, and reasonably deep right away. When you think of all the dives where most of the energy has gone to get out into the open water, and put your feet on, and then back in, this is "pure beach holiday". Again a nice place, with plenty of versatile life.
We stay only half an hour, because we must also reach a praised place, even further to the north-west: Carpathian. Just as easy access as the last, but shorter ride over the relatively low sand. We round the edge of the wall and it becomes absolutely amazing: the sight is 40 meters to the side, and 60 meters down to the sandy bottom where scattered coral columns can be seen. The wall curves, which contributes to the fantastic. A true jumble on the wall, which in turn is completely covered with coral. Unfortunately, we have to swim up after half an hour; I have to hand in my gear.
I'm a little excited about how it will work out: We have made a real good deal, so they will probably find some fees and additional services. Have expected2340 kroner, but we get another discount: He only takes for a guided tour, even though we were two on it. He does not take the 150 kroner for park access, and completely unsolicited he goes from 150 to 60 kroner a day for my gear and does not count the first day. Ends with 1100 kroner. Nice guy! I'm not entirely sure it will be wise to rent equipment here for part 2 of our diving adventure. His boss could see that settlement.

Dinner at a Mexican Cantina where the waiter has taken an overdose of happiness pills diluted with coke. The food is fine, but he is just over the top. Home to write Christmas cards and diary accompanied with coffee and local room. Taken into account, of today's five dives, I am astonishingly fresh and the time is almost 23. Nitrox rocks!
27. Our first day off, where we don't dive. We just need a few other things: The post office, withdraw money, deliver nitrox tanks, get my nitrox satificate, I must have trimmed the beard, the car needs refuelling and emptying before we hand in / renegotiate it, we need to go to the supermarket and have some food and more, and we could use a network cable so we can back-up each other's photos.
We have noticed, most cars are rented at ABCarRentel, which is local and the largest. Ask at their airport office what they can offer a car for. We can save 180 kroner a week. Avis should be allowed to match, but they only come down to 120. That discount
will also apply first week, and then it's a mach. We will pay 1458 a week / 210 a day, and we can live with that.
We get all the other shoppings done by twelve and grab a brief siesta, before heading out into the countryside, along the north-east coast. First there are acacias and column cacti. And hot! We walk a bit around in the bush and make some photos. Drive a few kilometres and repeats the procedure. Somewhere there stands twenty barrel cacti Melocactus macrocanthos, and as I reach them, a huge area is covered with them. They grow in very eroded and extremely sharp limestone from an ancient coral reef.
The plan was to heal a little after a week of diving, where the dead corals at the beach have left deep marks. Then I step up a very large thorn in one foot and then amputate the front of the big toe on the other. Return to the car to pick up the shoes that are brought for exactly that reason. It helps a lot, but the thorns also go through the leather. It is worth it! Get some great photos and find out they are both found with red and yellow thorns, among each other. On some of the "hats" also covered with thorns.
Suddenly, and very unexpectedly, a hermit crab comes around. There is a small kilometre to the sea, but it has a nice conch for housing. We continue up the coast, and get to new areas with column cacti. A little inland, I find a new species. It is more hairy, and somewhat lighter and slimmer. The fruits are wider than tall, and unlike the other red ones, they are green. It's a Cereaus, but which I wouldn't guess at present.
We get to some caves, where the ceiling is covered with Native American drawings. Red ochre on white limestone. We look for bats and they are there. Little cute animals flicking around a little scared as we pop a flash or two off. The lizards on the empty parking lot are used to being fed, and this allows for good close-ups. They get some biscuit crumbs as reward, which starts a wild fight. The sun is very strong and we only get sun on our stomach for ten minutes. My lower legs are plagued by surface swimming and are now covered by a thick layer of factor 30. Quickly a litre of water is gone, but we have extra bottles ready in the car. They are almost as hot as coffee, but they are great.
We end up right at the entrance to the park and quietly returns home. I have noticed some red-stemmed trees in the past, and they turn out to be the expected Bursera bonairiensis ~ simaruba, of which I have an American friend who will be very excited about a few cuttings. Landing at dusk, making coffee for diary writing.
The hotel staff were short here, when we were home for breakfast. The big key bundle hung in our open door. Then they disappeared and they have not been left, while we have been driving around in the wild. Good thing we locked and threw their keys under the office door - but was it locked?
Dinner at an exceptionally good French restaurant, where we get tuna and pork schnitzel with mushroom sauce and cheeses grated potatoes. Twice as good, and only a third more expensive. We have to drop 275 kroner with a beer and a water. We usually give 200 to 210 kroner.
28. Morten has, for unexplained reasons, set the clock to seven. It is perhaps very good, as we are going up into the nature reserve and all the way around the northernmost coast. As usual, we are sitting in the yard eating breakfast. There is a pleasant concert of songbirds in the shady trees above our heads, and the city begins to gently wake.
We start with a quick visit to the post office to send some cuttings to an American friend, then look up the road leading north. There will be a quick shower as we drive up there, and it binds the dust, creating some great rainbows. It has not rained in the park.
We check into the park a little passed nine, with a somewhat more charming guy than the last. We review the map that has been handed out, where all the sights are listed in order. We pick half of the places and throw ourselves into it. As mentioned before, it is a poorly maintained dirt road that winds through the park, but it is clearly one of the charms.
We first drive through up to ten meters high column cacti and acacia scrub until we reach the water. It becomes more open and the barrel cacti appear. Then it almost becomes golden as we get to the sand dunes. Here, only the dune flower Suriana maritima can handle the climate. Playa Chikitu is an amazing sandy beach, but a whiteboard is worth noting. The seriousness of this message is emphasized, the board is in bronze, and under the ban it says it was erected in memory of a 19 year old American, who drowned here.
Next stop is Boka Chikitu, an ancient coral reef plateau, where you can still clearly see the corals. The upper ones are heavily eroded, standing as razor-sharp saw-toothed predator teeth thirsting for blood. We look down into a ravine where large waves rage in. Morten finds some snails that look like sea snails, but they are alive and there are several hundred meters to the water.
We'll have to see Supladó, which is a blowhole. There is not much action in the sea, but it does gasp a little. We drive a little inland, to see Pos Mangel, which is a tiny freshwater lake. Unfortunately, there are some goats, but they are shy, so we have the duck-weed-overgrown hole alone, along with a large thirsty iguana and a bunch of different small birds. There are forest spruces, white-brown flycatchers, black / yellow starlings, various pigeons, something similar to gray cardinals and a number of other unidentified feathered creatures.
Malmok is not a cruel animal that scares young children, but the northernmost point of Bonaire. Here are the remains of a lighthouse and research centre. Great views from the tower: the sea to one side, pillar-lined hills and small mountains to the other. In the parking lot, we are greeted by a large iguana. We have been repeatedly forbidden to feed them, and it makes sense, as we see this one giant come tumbling over to our car. If everyone fed them (and they are just like the lizards: they eat
EVERYTHING!), It would probably be scary to be met by such a crowd every time you stopped.
We drive down the west coast and find some easily accessible dive sites, which we can try next week. Stops many times to photograph views and plants, and then cruse home. I'm spotting a tree that I think is what my American friend is so interested in cuttings from. It is huge and can easily do without a few "chopsticks". Some large branches have been cut, and the goats are taking their share.
Elsewhere, I find an epiphyte I have been looking for: Tillandsia recurvata, which is a bit like a tot grass, but is related to the pineapple. It should only be photographed. Here are actually astonishing few different plants. I had checked the park's website, listing all the species they had listed. I thought it was a very incomplete list, but here are no more than about 20-30 species. I find a single cactus that does not look like some of the others. Probably an hybrid. It is most similar to a (Ritto- / Steno-) Cereus griseus, but the thorns are much closer.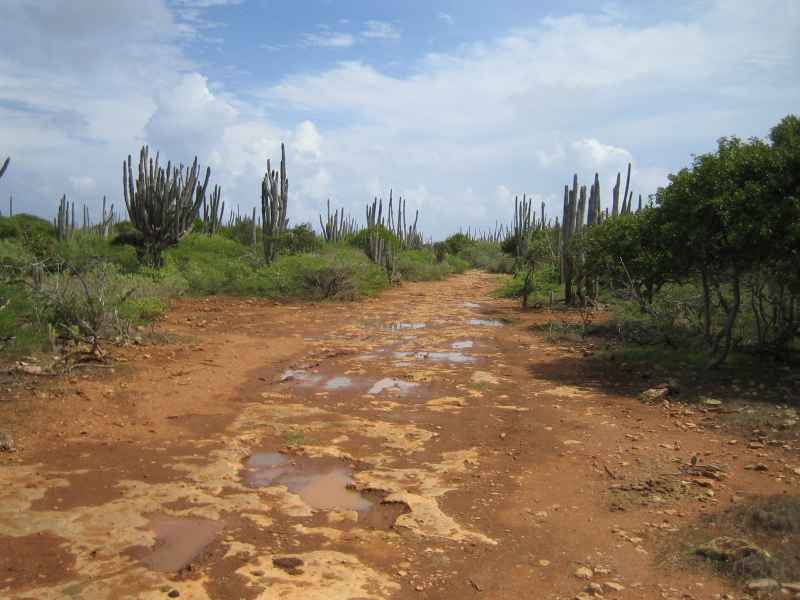 We have come all the long way around the park, and are heading home. We are well worn, as we hit the town at 3am, but drive right past our supermarket and test a few of their cakes. They are almost as dull as expected. Only Danes really understand the pastry mystery.
We meet a funeral procession similar to something from an American gangster movie. Big fat guy goes in front and stops traffic. Following is a large black American caravan. Then comes the crowd trotting. All the men in dark suits, oil in the receding hair and mirror sunglasses. It doesn't help, two of the front ones have scarred faces. Later, we meet most of the men in the open bar, which is next to the church - during the service.
Now that we're in town, it's time for a couple of considerations: There are incredibly few children and we see almost no schools. Here are no visible poor, have not seen the hint of a beggar, nor is there a single hustler or street vendor. Not that I've missed a single one of the these groups. If I haven't mentioned it before, I'd like to replete: There is virtually no waste anywhere. The only thing is plastictrash on the coasts, and that's probably the amazing Americans.
We make a short stop at the hotel, with coffee and cake, and then head down town. We have not spent money for several days in a row, and I need to get the beard trimmed. Both parts can be done, even at once: 60 kroner for a machine cut. Morten finds a fishing book, which can help find the names of the fish we see during the dives.
We walk along the pier, and discover some great parrot fish just below us. They graze on the top of the wet bulwark. Later we see a chain moraine scouring the holes in the concrete truss for crabs. It takes it very calm, when it repeatedly beaches on a wide edge. There is always a wave ...
It is time for dinner, and we find a Dutch restaurant, where we get a side of pig and three chicken skewers with a really delicious sauce. It is not even expensive, with two beers and two water, it will be no more than 200 kroner. Home for photo viewing and coffee as well as the mandatory diary.
29. Upgrades room, now with bath and internet, and the smell of newly refurbished room for the same price. Today's plan is two hours of kayaking in the mangrove, which we find in the first attempt, five minutes early. There just isn't an eye, if you don't count the ten dog eyes. Walk around a bit and find a board that says: Full booked. Here is not a car, but lots of kayaks. We must try to book a tour for tomorrow.
Drive to the end of the road and ends at three houses located on the perfect sandy beach in a lagoon. There is a sign saying that you must not collect conchs (they are, after all, protected), and then there are six or seven mounts with these magnificent snail houses. There are about 500 cubic meters, so there is someone who has gathered a little once. We dip our toes a little, and look at
the mangrove.
Home to reorganize and empty an ATM on the way, so we can get paid for the hotel. Plan B will be some Native American cave paintings on the eastern corner, where we have not yet been. We huddle a bit in finding the little insignificant dirt road that leads out there. The first one we find from the south, ends in a large landslide. Then we just take the trail around the central part of the island and fumble around a bit.
Finally, we succeeds and it is a fantastic path. Two wheel tracks that in some places are reasonably dissolved by the heavy rains of the morning, in other places are quite unbelievably uneven, natural coral reef. We drive between the sea and a ten meter high vertical coral reef, where there are masses of caves. We scout in vain for a small sign, but on the other hand, not many tourists dare to take rental car out here.
As we reach the closed lighthouse, which marks the easternmost point of the island, we must admit we did not find the paintings. Not that it was a bad trip: It was interesting, both in terms of botanical, enduro and pure survival, and we saw a few thousand lizards, some big green iguanas and some more wild donkeys. Morten showed what he can do in a rear wheel-driven truck, without much grit, on brown soap-like mud.
After this "near-death experience" there is nothing stopping me from going up the seven floors of the lighthouse to enjoy the view. You can see half of the island from here! We haven't seen a soul in the last couple of hours, and it seems totally surreal as two nerds come biking, with bike helmets and new polished hiking-boots in this outing. We don't have to talk to them to figure it out, it's Germans.
Now that we have to drop Plan B, we are lucky to have Plan C: Three caves located on the other side of the island. We just have to go the same way back, and then up to Rincon. Things are going very well, but figuring out the right path in Rincon is not that easy. We fumble a lot around. There are quite a few street names and we have a nice map with the same names. Unfortunately, they just aren't exactly in the same direction. End up asking a few guys living on the road it should be. They come up with endless solutions, where their final bid is, to drive back where we came from.
We try to catch the road from the west instead, but on the way out of the city, I spot the correct road name. However, we end up with the same guys, and drive down to the west coast, to make our way up from there. There is just the small problem, the road is unidirectional on the piece we should have been the other way. I can see that it is easier to let tourists drive down and see it with
their own eyes, and drive there 25 kilometres the other way, than mark it on the tourist map!
We're just launching Plan D or is it E? A small dirt road leading parallel to the coastal road, but up in the hills. The map just isn't quite accurate and we end up on the back of Rincon. Maybe on the path we were originally looking for? We drive out of the reasonably well maintained and extremely wide dirt road. Get past some huge radio masts, and get a fantastic view of Kralendijk, totally dominated by today's cruise ship. At least eleven stores. We end up on the coast road again, at Oil Slick Leap. Here another dirt road leads back over the hills and the caves should lie on it.
This road is shown a service road for the electricity and water supply to Rincon. And it's been a long time since they've used it. Like so many other roads on steep gravel slopes, it is somewhat marked by the small rivers that occasionally crash across. Morten is giving up several times, but managed to get the car through. However, without finding the caves that are definitely not marked. Not surprisingly, we end up at Rincon - again.
Shit, we have a Plan F, K, P or whatever .... we are now at: Home and drinking coffee! On the way home, we find a computer shop we have been recommended. Must have a network cable, so we can back up each other's photos. Morten fixes the tech while I run a batch job, see photos, arrange seeds and then it's suddenly dinner time. Drive 500 meters down to the seafront and select a Spanish restaurant where Morten gets a whole red snapper, and I more modestly settle for a piece of a cow. Grilled potatoes, great sauce, but must also have to pay 280 kroner.
30. It rains heavily during the night and results in power failure in the morning. Fortunately, the hotel mutter has a gas stove, so the morning coffee is saved. Morten become into the Christmas mood of all that rain. It stops before we eat breakfast, but the power takes longer. Maybe because their power plant is a completely open construction. Only a small wire fence shields it from the rage of nature.
We have gradually seen all the plants described from this island. We've been out in every corner, battling our way through all the small, abusive, washed-out, miserable little trails, and we've seen the other city. Agree, it's time to dive some more. I gamble, and rent gear the same place as last. They are just twice as expensive as Morten's Nitrox pusher with the gas, so I buy it elsewhere.
I have obviously gained waight the last three days and should have had some more lead. Here is more currents than we have otherwise experienced. At the same time, I forgot to shave the top of the moustache, so the mask leaks significantly. It's going to mean my anniversary dive number 50 will be an uncommonly bad dive on North Belnem, south of Kralendijk. We see an octopus, otherwise I either hang my head down and swim like a madman, or else I have my head up and empty the mask as I shoot to the surface.
A quick stroll home, so I can smooth the upper lip and get a few extra pounds in the pockets, and then we drive far north, where we try our favourite place: Carpathian. This folded wall, with the huge species variety of fish, mushrooms, corals and other animals is again amazing. For the first time around Bonaire, we see a sea-slug. Morten discovers a strange member of the genus. It looks like a small pale green mug salad. In English it is called Lettuce nudibranch, in Latin: Tridachia crispata. Unfortunately, it's too fast for Morten, so we don't get a photo.
It is really funny, with all the people here from other parts of the world, that we have not seen any other snails, no dragonfish or clownfish. Home over Rincon, and into Morten's dive shop to get him a lead-brick (once more), and a cup of coffee. They've got their PC running, so we can fill out the papers that give us the right to stock Nitrox.
We sit on their terrace and look out over the sea. There are some sailboats lying on the pale blue, still sea, and we agree to look at the underside of them. Yellow Sub House Reef is actually an amazing dive. You do not feel at all, you are in the middle of the island's largest city.
Home and turn, and looked out for Hilma Hooker, who is a wreck from 1984. It's a little down the coast, but access is fairly easy. The current has lowered, and we are again getting a great dive. Quickly finds the wreckage and takes a tour up it. It is just about overgrown with corals, and being integrated into the reef. It looks completely intact, but must have hit the grate and sunk.
It is getting dark soon, and clouds are drawing in from the east, where the wind apparently always comes from. We have seen trees standing far inland, but are whipped completely flat and crooked by the wind. Home and update the log and diary while Morten browses his 263 underwater photos from today. I've taken a photo: A couple of parrots sitting on the power cords in front of my dive shop. We see and hear them constantly, but they fly amazingly fast, can hear far away, and are quite shy.
Morten has found a place where he can buy T-shirts for 20 kroner. I wash my hands painstakingly. Dinner at a pirate restaurant. Incredibly efficient service, and Morten's mixed fishing plate and my tornadeaux are quite excellent, but the price is also 275 kroner. Home for coffee and PC. Morten complains, I've come to Nitrox. I'm more fresh and quick in the reply tonight, than I usually am. He is not ...
Even more experiences await in Diary 3