MY ACTUAL PLANTS - THROUGH THE 20 YEARS
2003. The collection is growing fast. Extra window sills are needed.


Spring 2003 in window 1. Spring 2003 in window 2.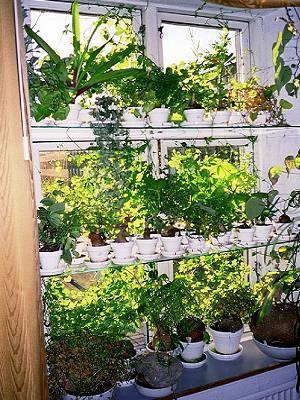 Summer 2003 and a bit crammed. W1 Only two rows - yet... W2 Left unattended for a month, and you got a mess! W2

Winter storage. Can't get light enough, and the humidity are getting above 100% if they are aloud to grow.

2004. The envelope is pressed!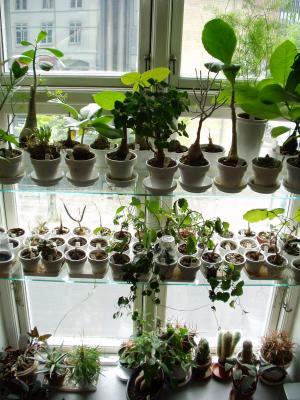 Window 1, early summer 2004. Window 2, early summer 2004. Window 3 out of 2!, early summer 2004.

2006. Reduced to one or two members of each family. On the other hand; I still find new families...

Window 1, spring 2006.
Rikke and some of the plants have moved...

Window 2, spring 2006.
-and many more has come

Window 3 out of 2!, spring 2006.

Window 1, summer 2006.
Again this year, it seems a bit crammed.

Window 2, summer 2006.
But then again: Here are 87 different families

Window 3, summer 2006.

Winter 2006. This is not for the fainthearted: Due to my half year in South Africa, I had to put all my plants into the Botanical Garden of Copenhagen.

2007. Returning from Africa, I choose only to have a few plants, the rest donated to Copenhagen Botanical Garden. Now, I only have five huge caudiciforms and the Taxonomy Collection.


Summer 2007. A slightly change in the type and amount of plants, after the half year in South Africa.

2008. Start the year with a complete Taxonomy Collection, but cut down to the five huge caudiciforms and a mixed pot during the summer.


Early summer 2008. Only 7 pots to maintain: Two Taxonomy Collection and five huge caudiciforms. Kind of get enough working in Copenhagen Botanical Garden...

The Taxonomy Collection - just before it got slaughtered.

Kedrostis africana, Dioscorea mexicana, [Podocarpus falcatus, Isoetes lacustris, Xanthorrhoea quadrangulata, Welwitschia mirabilis], Fockea edulis, Stephania venosa and Pyrenacantha malvifolia.
Summer 2008. Only 6 pots to maintain - at home.

2009 Not much new this year, but some details from the mixed 17 centimetre pot:


This small caudiciform is, I believe, a Avonia dinteri. Worlds smallest bulb: Drimia uniflora
I'm was not sure what it is, but something seem to grow fast below .
Was flat two months ago, now it is raised four centimeters.
Turned out to be the Kedrostis seedling.

The tall grass-like one is Xanthorrhoea quadrangulata, with a small "home bred" Kedrostis africana.

Nice Tillandsia ionantha, which get some nice purple flowers. One of the easiest plants: Welwitschia mirabilis. Got it as seed.

This is an Avonia, but is it Avonia dinteri? Does not look like the other above.

Avonia papyracea, growing several centimeters in two months. Ever flowering - and spreading Dorstenia foetida.
2010. After eight months in Ecuador, Indonesia and Galapagos, my caudiciforms are taken out of dormancy 13/5 - and look as usual.


The Avonia dinteri? flowers for an hour in a mid-June afternoon. Both my Kedrostis africanas are flowering in abundance. They are both males.
| | |
| --- | --- |
| Even though it have been stored away in a dark closet, the Cyclamen hederifolium start flowering in late July, just as always. | The male Dioscorea mexicana start flowering in August. Not that impressive. |
August 2010. While working in a lab attached to Copenhagen Botanical Garden, I got the urge to challenge my gardener skills back, and started up my Taxonomy Collection once again. Pretty much the same plants as last - even some individual plants - but I chancing into the smallest members of each family. The entire 22 classes of Plantae stuffed together in two pots! Well, the Gingko and Gnetum still misses: I work on rooting them at work.
| | |
| --- | --- |
| The wet pot contains Psilotum nudum, Equisetum arvense, Huperzia squarrosa, a new Isoetes velata, Berberis thunbergii, a new Taxus baccata, Azolla filiculoides, Selaginella kraussiana, Peperomia retusa and the five mosses: Andreaeopsida Anthocerotopsida, Bryopsida, Hepatopsida and Sphagnopsida. | The dry pot is stuffed with two Welwitschia mirabilis, Ephedra gerardiana, Stangeria eriopus, Gyrocarpus americanus, Avonia dinteri, Ginkgo biloba and Gnetum gnemon. A Dorstenia foetida, Avonia papyracea and Avonia sp. have joined the Taxonomy Collection. |

Dioscorea mexicana Adding significantly to their caudex again this year. Pyrenacantha malvifolia.

Fockea edulis More controlled - they are big enough as it is! Stephania venosa.

2012. After five weeks in Vietnam, my Xanthorrhoea quadrangulata have died, and I decides to drop the Welwitschia mirabilis in the same pot. While it is still winter, the Kedrostis africana, Pyrenacantha malvifolia, Stephania venosa and strangely enough; the Cyclamen hederifolium are dormant. The Fockea edulis keeps the leaves, and the Dioscorea mexicana grow strongly. First of April, the Pyrenacantha malvifolia is showing new strength: 26 vines, and a new sort of flowers: Now in clusters. The Stephania venosa and Kedrostis africana are watered for the first time, and the Dioscorea mexicana sets out a new branch along the old one. Even the Fockea edulis set out new vines. The Stephania venosa however, is delayed.

The new clusters of flowers of the Pyrenacantha malvifolia. After a highly needed re-potting, the Kedrostis africana thrives.
I the autumn, I figure I will be traveling quite a lot the next half year or more, and all plants are places in my office at the university. Nice and warm with sufficient light and people to care for them. I just cross my fingers... The Dioscorea mexicana completely covers a four square meter window with several layers of leaves. The Stephania venosa on the other hand got a late start, and haven not gotten its usual size. The Pyrenacantha malvifolia have reach a size where it still can be lifted - barely!

Realizing my windows did look a bit barren, I bought four cacti at Kakteen Kohres:Turbinicarpus lausseri, Ariocarpus kotschoubeyanus v macdowellii, Gymnocalycium anisitsii ssp. volkeri and Gymnocalycium ragonesei ssp. lausseri. They are nicely arranged in a wine glass. They should survive my negligence during winter. (and yes: The windows still look kind of empty... )

December, and the plants are forced into dormancy due to my Chile/Argentina/Bolivia tour.

2013. Considering I only got the vine glass with some small cacti at home, predictable little is happening. The Ariocarpus kotschoubeyanus v macdowellii don't seems to have made it through winter, the Turbinicarpus pseudomacrochele is only adding to size while both the Gymnocalycium anisitsii ssp. volkeri and Gymnocalycium ragonesei ssp. lausseri. are flowering:

Kedrostis africana Pyrenacantha malvifolia
Meanwhile in my lab at the botanical garden, my huge plants fills the 3,5 meter high windows.


Stephania venosa Dioscorea mexicana Fockea edulis

2014. My collection have now been cut back to a single, but rather big plant: Pyrenacantha malvifolia. The skinny winter-growth is cut back, and watering started on the first of April. It is grown in my lab at the university. Too big for my windows at home, and someone will take care of it ,when I abroad. The other plants have been adopted by very skilled friends.

My only plant; Pyrenacantha malvifolia. I was forced to cut t back in the spring. It did not really grow as mush as usual, though the caudex did add ten centimetres in diameter, from 30 to 40. Watering stopped 15. of October.

2015. My collection have not grown in numbers, just in size. This year, I didn't cut back the winter-growth of the Pyrenacantha malvifolia, and it formed a nice mat in the huge window. The diameter of the caudex are getting close to 50 centimeters. I wonder what would happen, if I didn't cut it back every year? Or gave it some soil? It have 1/4 soil compared to the volume of the caudex.
2016. Where the plant use to be stored during the winter at my warm office, it remained at the cold "barn" this year, around 12-15 C. The caudex remains at 50 centimeters in diameter, and heavy as a similar sized rock! Where there use to be one meter shoot at first of April, it remains dormant - I thought, but when it got warmer, it turned out it was rotting. Apparently, it does not appreciate a cold winter storage - unless it was the water my colleague gave it, despite my clear demands NOT to.
2022. Well, that was my most recent plant collection. Now, I have none, except a couple of Beaucarnea recurvata seedlings in my kitchen. Well, they were seedlings in 2006. Now, each caudex measure 25 centimeters across, and they get pruned way back every year.