This large South African nursery lies in beautiful surroundings known as Kokerboomkwekery.
It was started by Buys Wiese, and is now owned by his son; Danie Wiese. I visited in 2005.

It is large, and mainly with Aloes and other succulents

Large seedlings/cuttings areas for production.

Seeds are from Buys Wiese succulent-farm Quaggaskop.

One large shadow house is the display of Buys Wiese private collection.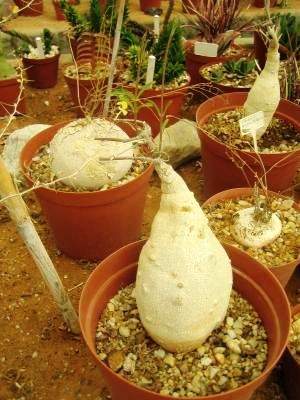 Here are some large caudiciforms.

But also all kind of other interesting plants.

Sesamothamnus lugardi.

Pachypodium sandersoni.

Cyphostemma cirrhosum.

Lots of Aloes!