Large complex of heated houses. Due to the cold Danish climate, there are several and very large glasshouses. These are just some. This is around 2010.
In the Botanic Garden of Copenhagen, 21642 living specimens are representing a total of more than 8677 species from 285 families (2012). In comparison, the total flora of Europe numbers some 11 thousand species, and the total world flora of higher plants is estimated to be between 260 and 300 thousand species. See the slide-show with 20 photos from inside the glasshouses. And Photos from the database.

Some houses are not opened to the public, but they contains huge, old collections which can be seen from outside.

House 1 contains the most humid and hot climate.

A small part of the 50 meter bed in the cacti & succulent house.

The rest is from the large beautiful and well maintained garden.

A central rock garden contains among others,
a wide representation of central European plants.

It is build on the old fortress of Copenhagen, which gives some interesting layout.

The rock garden, containing mainly European plants.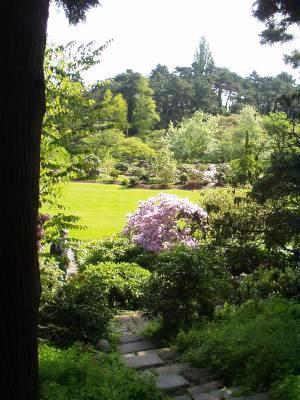 Almost every single plant have a sign showing collection number,
origin, family and of cause Latin name followed with common name if any.

A large section of the garden contains Arctic plants.

I have to admit the garden is best enjoyed in summer.

Early morning, before opening, the temperature extends 20oC and not a wind.

The mirror pond lives up to its name.

On the other hand; it is real idyllic with a dash of snow, an other early morning.

The old botanical museum still contains a amassing herbarium.