Photo by Sokolkov, Inaturalist.

A huge area with the plant by Serhii Koniakin, Inaturalist.

The male flowers by V.S. Volkotrub, Inaturalist.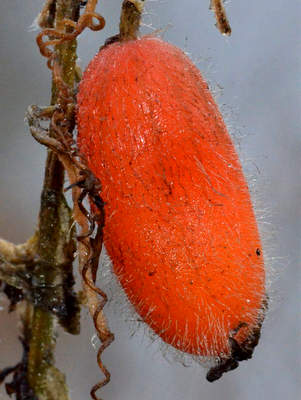 The fruit by Thomas Strid, Inaturalist.
Author:

Alexander A. von Bunge, 1833

Family:
Origin:

China, Korea, Mongolia, SE Russia

Soil:

Anything

Water:

Medium

Sun:

Medium - Maximum

Thickness:

12 Centimetres

Height:

2-8 Metres

Flower:

Yellow

Propagate:

Seeds/Rhizomes

Names:

Manchu Tubergourd, Red Hailstone, Golden Creeper

Synonyms:

Gymnopetalum horsfieldii, Miq., 1856.
Gymnopetalum piperifolium, Miq. 1856.
Thladiantha sparsiflora, E.H.L.Krause.
This dioecious member of the Cucurbitaceae family was given this name by Alexander Andrejewitsch von Bunge in 1833. It is found in China, Korea and south-eastern Russia, growing in anything but prefer a well drained rich soil with some water and some to lots of sun. The caudex can grow to twelve centimetres in diameter, the entire plant from two to eight metres in height. The flowers are yellow.
The genera name from Greek thladias; 'eunuch' and anthos; 'flower', referring to the suppressed stamens suggesting they had been neutered. The species name from Latin; dubia; means 'doubtful' - as it might be a eunuch? Well, the American seems to be, as only males are fund here.