31 year old bonsai by Lennard, Ibonsaiclub.forumotion.com.

The leaves from Bee-paysage.fr.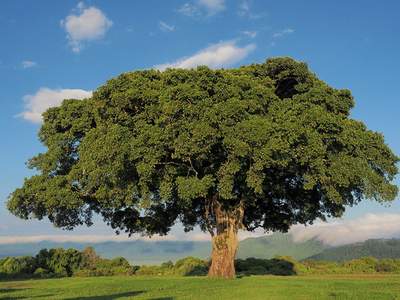 Another huge tree by Alain Loss, Flickriver.com.

The fruits by Xesko Wikimedia.org.
Synonyms:
Ficus acrocarpa (Miq.) Steud. ex Miq.
Ficus annobonensis Mildbr. & Hutch.
Ficus basarensis Warb. ex Mildbr. & Burret
Ficus bequaertii De Wild.
Ficus bongoensis Warb.
Ficus burkei (Miq.) Miq.
Ficus butaguensis De Wild.
Ficus chlamydodora Warb. ex Engl.
Ficus cognata N.E.Br.
Ficus crassipedicellata De Wild.
Ficus cyphocarpa Mildbr.
Ficus dekdekena (Miq.) A.Rich.
Ficus dinteri Warb.
Ficus dissocarpa Hochst. ex A.Rich.
Ficus dusenii Warb.
Ficus erici-rosenii R.E.Fr.
Ficus eriocarpa Warb.
Ficus galpinii Warb.
Ficus goetzei Warb.
Ficus hochstetteri (Miq.) A.Rich.
Ficus iteophylla Miq.
Ficus kagerensis Lebrun & L.Touss.
Ficus mammigera R.E.Fr.
Ficus medullaris Warb.
Ficus microcarpa Vahl
Ficus neurocarpa Lebrun & L.Touss.
Ficus persicifolia Welw. ex Warb.
Ficus petersii Warb.
Ficus phillipsii Burtt Davy & Hutch.
Ficus psilopoga Welw. ex Ficalho
Ficus pubicosta Warb. ex De Wild. & T.Durand
Ficus rhodesiaca Warb. ex Mildbr. & Burret
Ficus rokko Warb. & Schweinf
Ficus ruficeps Warb.
Ficus rupicola Lebrun & L.Touss.
Ficus schimperi (Miq.) A.Rich.
Ficus schinziana Warb.
Ficus spragueana Mildbr. & Burret
Ficus tropophyton Lebrun & L.Touss.
Urostigma acrocarpum Miq.
Urostigma burkei Miq.
Urostigma dekdekena Miq.
Urostigma hochstetteri Miq.
Urostigma schimperi Miq.
Urostigma thonningii (Blume) Miq.
| | |
| --- | --- |
| Author: | Carl Ludwig von Blume, 1837 |
| Family: | MORACEAE |
| Origin: | Angola, Benin, Botswana, Burkina, Burundi, Cameroon, Cape Verde, Caprivi Strip, Central African Republic, Chad, Congo, Djibouti, Eritrea, Eswatini, Ethiopia, Gabon, Gambia, Ghana, Guinea, Guinea-Bissau, Gulf of Guinea Island, Ivory Coast, Kenya, Liberia, Malawi, Mali, Mozambique, Namibia, Niger, Nigeria, Rwanda, Senegal, Sierra Leone, Somalia, Sudan, Tanzania, Togo, Uganda, Zambia, Za´re, Zimbabwe |
| Soil: | Anything |
| Water: | Maximum |
| Sun: | Maximum |
| Thickness: | 2 Metres |
| Height: | 6-21 Metres |
| Flower: | Green |
| Propagate: | Seeds/Cuttings |
| Names: | Strangler Fig |
| Synonyms: | Many, see below.... |
This member of the Moraceae family was given this name by Carl Ludwig von Blume in 1837. It is found in the Tropical Africa, all the way down to South Africa. It can grow in most kind of soil with quite some water and lots of sun. It might start out as an epiphyte. The stem can grow to two metres in diameter, the entire plant to 21 metres in height. The flowers are green.
The genera name originates from the old Latin name for Ficus carica which was from the Persian word fica. The specific epithet is in honour of Danish plant collector Peter Thonning,1775-1848.

A large tree - or two by Malcolm and Amanda, Flickr.com.

As so many other epiphytic figs, it form a nice caudex at first. Photo from Uhlig-kakteen.de.

The stem of a big tree by JMK, Tropical.theferns.info.