This is one of my first caudiciforms.

This is a photo from Copenhagen Botanical Garden, which have a really big one.

Wild ones from Clanwilliam, South Africa.

Hiding under bushes.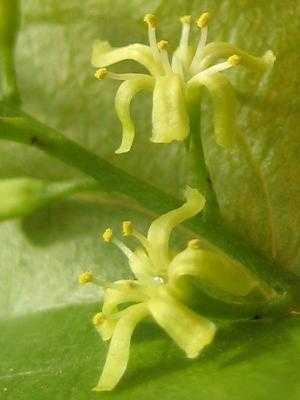 Male flowers.

Female flowers.

Female flowers.

And wild fruits from Clanwilliam, South Africa.
Author:
Heinrich Gustav Adolf Engler, 1908
Family:
DIOSCOREACEAE
Origin:
Southern South Africa
Soil:
Rich Mix
Water:
Medium
Sun:
Medium - Maximum
Thickness:
1 Meter
Height:
5 Meters
Flower:
Pale Yellow
Propagate:
Seeds
Names:
Elephants Foot, Hottentot-Bread.
Synonyms:
Testudinaria elephantipes, Salisb/Lindley, 1825.
Tamus elephantipes L'Héritier, 1788.
Rhizemys elephantipes Raf. 1836.
Dioscorea montana Spreng. 1927.
Dioscorea elephantopus, Spreng.
Dioscorea testudinaria, R.Knuth.
Rhizemys montana, Raf.
Testudinaria elephantipes f. montana, G.D.Rowley.
Testudinaria montana, Burch.
This beautiful member of the Dioscoreaceae family was given this name by Heinrich Gustav Adolf Engler in 1908. It is from southern South Africa, where it prefer a slightly rich but well drained soil with some water and some to lots of sun. The caudex will grow to more than a meter in diameter, the vines reaches easy five meters. Both male and female flowers are pale yellow, and the seeds the only way to reproduce.
Dioscorea is named after Pedianos Dioscorides, a Greek physician if the 1st century A.D. The species name means 'elephant foot'.
My plant is dormant from time to time! It seems like it will never learn to live in the northern hemisphere. The caudex must be kept in shade.
I have heard of one, who had sown three seeds from the same plant, in one pot. One of them was a winter-grower, the other one a summer-grower and the third from time to time - in the same pot still!
This is the record of dormancy of my plant. It did not get out of the last one.

It's a dioecious caudiciform, I got two, but I haven't seen them flower.
This is male-flowers from Copenhagen Botanical Garden.

Fruits from and by Enrico Santimaria.

This is fruits from Copenhagen Botanical Garden.

And from Copenhagen Botanical Garden.

Not the most nice Origin! Taken over by a dumpsite.

Seen to the other side, it is lovely.

Tend to be like this, when it is grown real rough, like in nature.

Female flowers.

Female flowers.