For many years, I have heard of the fantastic Singapore with its clean streets, Botanical Garden and ZOO. Strangely enough, I have never passed it on any of my many tours to the Asian, but now, on my way back from Sulawesi, I finally do.
SOME FACTS. [Jump to Diary]
The Republic of Singapore is a city-state (like Monaco, San Marino, Andorra and Vatican City) located 137 kilometres north of equator at one large and 58 smaller islands just south of the Malay Peninsula, covering 710 square kilometres. The population is a little less than five millions, mainly with Chinese background (77%) some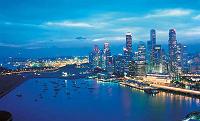 Malays ( 14%) and Indians (7%). The living standard is high, the GDP is among the highest in the world. Half of the landmass is urban, 40% parks, reservoirs, military and farmland. Only 4% of the originally vegetation have been preserved, most of this is squeezed in in the centre of the island at Bukit Timah Nature Reserve.
It is tropical climate, ranging form 20C to 30C with a humidity around 75%. There are, more or less, only one season in the year, although I arrivals in the wettest with 250 mm rain a month (180 mm in the "dry" months).
The earliest known settlement is as late as the 2nd century AD. The following years, it was an outpost for the
Sumatran Srivijaya empire. Between the 16th and early 19th centuries, Singapore islands was part of the Sultanate of Johor. Meanwhile, in 1613, the settlement was set ablaze by Portuguese troops who held the island until the Dutch took over in the 18th century.
In 1819, the British East India Company, led by Sir Stamford Raffles, established a trading post on the island, and it became the hub of British power in Southeast Asia. It was captured by the Japanese during World War II, but got back under British flag in 1945. It 1963, the city merged with Malaya, Sabah, and Sarawak to form Malaysia, but on the 9. August, 1965 it got its independence, but remained a member of the Commonwealth.
Although it is a rather limited area, there are several sights I would like to see: Singapore Botanic Gardens covers 67 hectare and includes the National Orchid Garden, which has a collection of more than 3,000 species of orchids. Singapore Zoo is a resort compared to most zoos. It covers 28 hectares, containing 2500 animals from 315 species.
Then there are the wild nature which can be explored in Bukit Timah Nature Reserve, MacRitchie reservoir park and Southern Ridges. In the urban areas, Little India with Mustafa should be worth seeing.
If the time allows it; Jurong Bird Park with its 8000 birds from 600 species and the nearby Reptile Park along with the Chinese & Japanese Gardens, Mandai Orchid Gardens and Chinatown might be options. Besides from that, I have to admit there might not much else to see, given the limited time, unless you are a compulsive shopper.
THE DIARY.

On the way back from a diving vacation around Bunaken and some adventure in northern Sulawesi, Morten and I make a two day stopover at Singapore. We land late in the afternoon, and take a taxi straight to the booked Backpackers In Chinatown, due to the amount of diving-gear. It take less than 20 minutes from touch-down to we sit in a taxi, 30 minutes later, we are in our little but new and clean room. The city we passed through was real modern and still with a lot of construction going on. There are even a giant "Eye of Singapore".
I have made a appointment with a fellow-caudiciforms-enthusiast in at the hotel, and we stay there till he shows up at seven. We drive along with his friend to a restaurant where they invites us to a real tasty Indonesian meal from another part of the country than we have been in. Here, I get the prepared seeds of Gnetum gnemun, which are rather delicious, with their significantly bitter taste.
Cosy chatting, and then of to his friends place, with the biggest collection of ant-plants I ever have seen. Numerous plants from around the world, from the tiniest seedlings to huge plants, all in perfect condition. Along with them are other interesting plants, and that leads to more plant-talk.
Then we are invited to a café for coffee and Indian pancakes. The drives though town reveals a real clean,
but also green city with surprisingly many open areas. Many parts reminds me of Melbourne, just even nicer. Other of a reconstruction of a cross between Amsterdam and Venice - just with way less canals. The exotic road-trees are covered in indecorous epiphytes.
It is getting close to midnight, and we are dropped of at a MTR station - with money for the ticket. Unfortunately, we are just a bit slow figuring how to get the ticket and find the train, and the last train have just left. A bit re-organisation, and we get the 147 bus, and jump off a single road from "our" MTR station. Doing an hour working at the hotel, but then I have to give in: It has been a hard day!