I had an invitation to visit a project in South Africa, I have done some pro-bono work on in the past. Now, it should be launched commercially, and I'm asked to give my input, and
hopefully work on it, in the future. Realising how little I actually know about South African highland and tropical plants, I figured I might do a tour around the premises. Where others bask on the perfect and endless beaches, I head inland along the Limpopo river.
While studding the flora, I will try to sell some assistance to the parks I meet on along the road. I also hope to be able to collect material for DNA-tests for Dr. Tanja Schuster, who is mapping Oxygonum. I will visit the wild and unspoiled nature scattered around this area. I plan to do a quick tour from South Africa through Lesotho, Swaziland, Mozambique, Zimbabwe and Botswana.
Some facts about the country. (Jump to diary)
Republic of Mozambique is a rather large country in south-eastern Africa. It is bound by Swaziland to the south, South Africa to the southwest, Zimbabwe to the west, Zambia and Malawi to the northwest, Tanzania to the north and the Indian Ocean to the east. It covers 801,590 km², measuring roughly 1000 times 2000 kilometres, and it feels significantly bigger, driving its roads!
The country is divided into two topographical regions by the Zambezi River. To the north of the Zambezi River, the narrow coastal strip gives way to inland hills and low plateaus. Rugged highlands are further west; they include the Niassa highlands, Namuli or Shire highlands, Angonia highlands, Tete highlands and the Makonde plateau, covered with miombo woodlands. I will only go through a small part of the the area, south of the Zambezi River. Here are lowlands are broader with the Mashonaland plateau and Lebombo Mountains located in the deep south. Despite a population of more than 25 million citizens, here are quite some nature. Christians made up 56.1% of Mozambique's population and Muslims comprised 17.9% of the population. 7.3% of the people held other beliefs, mainly animism, and 18.7% had no religious beliefs.
I find it a bit worrying, the flag includes a AK47 assault rifle, but it is said to be calm enough by now.
MONEY: The currency is Mozambican Metical (MT). 1 DKK=6MT. 1€=45MT.
CLIMATE: Mozambique has a tropical climate with two seasons, a wet season which I hit, from October to March and a dry season from April to September. I guess April-March would have been better. Climatic conditions, however, vary depending on altitude. Rainfall is heavy along the coast and decreases in the north and south. Annual precipitation varies from 500 to 900 mm depending on the region, with an average of 590 mm. Cyclones are common during the wet season. Average temperature ranges in Maputo are from 13 to 24 °C in July to 22 to 31 °C in February, which suits me perfect.
ANIMALS and PLANTS:
Due to the share size, but also the altitude and climatic variations throughout the waste area, animal and plant life is numerous. Huge, semi-un-disturbed areas and national parks offers rich opportunity to enjoy it.
The plants in Mozambique I especially want to find, beside from the Oxygonum are the numerous caudiciforms and terrestrial orchids found here.
DIARY
1/1 2016. Entering from Swaziland in Namaacha, this
actually causes for a celebration: It is the 50. country I visit, for a rather extensive exploration (and 66. in total). It is a bit of a slow start. The officers at the border is slow and don't hide it; they don't give a dammed. When I ask, if I actually could have obtained a visa here, they say yes, no problem. Strange their embassy insist they are the only one capable.
While I wait for one of the officers, a guy with a ID card around his neck, offers to help me with the mandatory insurance for the car. It take me some time to convince him; I got what I need. Then he ask for a gift from my country! I surely must have something, a bill or something? He get a wide smile.
I have worked my way down from the high altitude in Lesotho to the water level, and that can be felt on the temperature! High thirties during the day, slightly less in the night.
The border city; Namaacha should be a cool town, with flowers and so. I actually thought of spending the rest of the day
here, along with a night. That was before I discovered, it look like the remains of a civil war - the loosing side. I don't even feel like getting out of the car! The GPS leads me to the centre. Or is it a dumpsite?
Next site is the capital; Maputo. I have been out in the wild for a long time by now, and skipped the last three capitals. It is only 80 kilometres, and I go for it.
It is amassing how big difference the border have done. Here are not just grass, here are tall grass and the even higher fruit-stands from last year. And here are not a single goat, cow or sheep. Just huge, un-populated hills with grass and herbs. I do a few stops to botanize, but decides to save that for later.
As so many other big cities, Maputo start fare out. And it does not look good.
Trash, wrecked sheets, huge amounts of charcoal and firewood. A bit further in, big blocks with no paint reminds me of Moscow meet Rio - in the bad way. It somehow seems like Mozambique is more modern that Swaziland and Lesotho - and way more poor.
In the back of my head, all the scary stories of the corrupt cops and other scams are loud. An officer will ask to see you driving license, and you don't get it back, before you have paid 2000 MZL - negotiable down to 200 MZL, if you are good and have a lot of time. Or lame people, pushed out in front of your car, calming they worked before you hit them. Even the officer at the police station in Swaziland told me some!
I drive right to the booked (from tomorrow) Base Backpackers - except the GPS want me to drive the wrong
way through the last two one-way streets. I get a dorm-bed, and have a long chat with a Norwegian, until the Indian restaurant on the other side of the road opens. I am not in the mood for Indian cuisine, but it is apparently the only open restaurant around her to night. It is run by Indians, and the taste is real authentic.
Back at the hostel, I start to work with the day's photos and impressions. Here, they do drive in the wrong side of the road, but the power-plugs are the small ones. It is an old Portuguese colony, and that shows in many ways.
While I'm at it, I check to see, if there are anything I should look at, while I'm in Maputo. It is limited, and the railroad stations architecture and the Municipal Market might be it.
2/1 It is Saturday, and the city is almost soundless. I sit at the porch
and chat with a Romanian and long time with a German oceanic scientist, who now work as a science journalist. A bit before ten, I figure there must be some action in the centre, which is just around the corner.
It is truly amassing how much trash is laying around here. Everywhere! And waste water and leaking water pipes add to the mess. I walk Av. Vladimir Lenine and Rue Ho Chi Ming, cross Kim II Yung and Karl Marx, just before Olof Palme, and pass a statue, fitted from the Soviet area. Then the old fortress, build by the Portuguese in the 19. century. I guess it will look as any other fort inside. It is an active fishing harbour, but closed to the public, it seems.
Most shops are closed the entire day, but outside on the sidewalks, many small
vendors have found a spot. It does look like they are there every day, and not just Saturdays. I pass the ministry of justice, and it does need paint for sure. So does most other buildings, older than a couple of years. One of the few building who is pristine, and with a clean sidewalk, is the mosque.
The station building is a fine example of the Eifel-school architecture, and from a distance, it look brilliant. A huge dome in cupper and some smaller roofs in iron-work. There are no trains at the platforms, and no people within the building - except the security guards, found everywhere. The hostel I stay at, with room for around 20, has it own, the pizzeria have, the shoe-shop and so on. Most are fast asleep, and no wonder: It must be so boring!
The Municipal Market is just around the corner, and it is surprisingly clean -
compared with anything else. Not everyone is keen to have their photo taken, but some don't mind that much. It is the familiar fruits and vegetables.
The streets leading form here are packed with street-shops. Mainly cloth and shoos, but also cell-phones and other small electronic equipment. My coming co-driver is keen to be able to hear her music in the car, and I find a gadget for that. A tire-repair kit would be neat, but those shops are all closed.
When I finally find a café, it is Italian owned and could be in Europe. Round the corner, a whole line of cafés are found. I return to Base as the shops are closing, and despite I'm quite close, I ask a police woman for directions, by asking for Av. Vladimir Lenine. In quite good English, she say "I can't help you, I only speak Portuguese". What she meant was "Fuck you".
It is the next parallel street with the one we are in.
Back at Base, I start working. A long chat with Japanese girl, who have been teaching in a remote village for quite some time. She is constantly fighting the public offices, to get her volunteer work done. She have to pay!
Despite I can't upload, I finish up the photos from Swaziland.
At four, I set out to find some non-Indian food. A tour round the block is an hour's walk, mainly because it is made up by the slope; Jardim des Professores. It sound way more appealing than it look. It is just another city-dump, and I fare from feel like entering it. Too few others are.
The block also consist of huge hotels and the started construction of even more. But the sidewalks are for the most part gone
or filled with trash, just like the rest of the city. I still have to find five meters of sidewalk, not smashed in some way - or one meter without trash.
I see way more security guards, than any other people on this tour around the block. The few hotels which have a restaurant, are way too step for me, but a cafe offers light meals, and I will return to it later. A burger and some cups of thai later, I return to work. Unfortunately, I have no internet, but the Japanese girl offer to share her. I get to pay way too much WAT for my company, make my own salary for the month, and sort the rest too. Boring, but nice I can do it form here.
While the day have been partly cloudy and pretty cool - not more than mid thirties, the evening feel actually warmer. And the humidity is 80-90%.
Apparently, I'm the receptionist, when a large group of mixed French, Japanese and Romanians arrivals after ten. Well, how hard can it be, when you first get the Portuguese in the guest book? It is not that fare from Spanish, in writing. And no, there are no Wi-Fi. At least, we get the three cars parked in the right order for tomorrow's use. At midnight, I have had enough fun for one day.
3/1 It is a nice and sunny day,
and until six, I don't have anything else to do, but relax. I clean the car, and prepare the music-gadget, and do laundry, and re-organise the car, and fine-tune the route and... The city, on the other hand, does not really draw. It is, after all, nothing more than an overfilled and badly maintained trashcan, and the shops are closed. But the Natural History Museum is 600 metres down the same road, and its architecture is "Manueline" - and I have to find out what that is! Of cause, it is Portuguese late Gothic, and not that impressive. Further down the road, the City's Garden are found along the water, and I start with it. On the way, I see one of the rather large greenish Calotes, roaming the sidewalks. In a narrow area between two roads, one of the Convulvaceae parasitic plants have found foothold.
As no really surprise, the City's Garden is just part of the city-dump. It stinks, and
is hazard to walk through, due to the trash. I make it down to the coastline, which apparently should be some kind of marina. Things are falling apart, and there are litter scattered in a thick layer everywhere. The railing have rusted away, and a solid drop of ten meters await the unlucky pedestrian. A few, small speedboats are found in a locked up area, which they share with some old cars, half rusted away - and a lot of other trash.
I make it back to the café at the same round-about as the museum, and considered my anticipated late dinner, I get a pot of tea and a Caesar Salad. Then the Natural History Museum is open, and I pay 50 MZL to enter. It was build in 1913, and nothing have changed since, I think. OK, here are some interactive computers in each room, and a few works.
The exhibition is somehow impressive.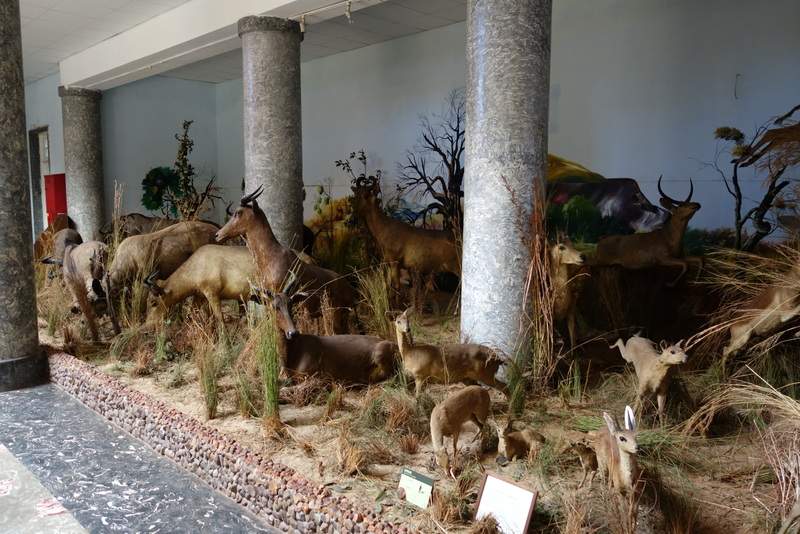 Numerous stuffed animals in kind of natural setups. The centrepiece - literally - is a waterhole with elephants, lions, waterbucks, impalas, ducks, giraffes and much more. At the entrance, I'm told not to touch anything, but someone must have. It is not only the elephants, rhinos and hippos that lack hair.
Other rooms display fish, reptiles, marine animals, insects and general evolution. Part of it is closed down, and have been so for a long time. It must content of birds at least.
Two other rooms have ethnic collections from not so long ago. Wooden figures, but with pipes and guns. Outside is a small garden with mainly trees and bushes, many with nametags.
It make me occupied till a bit after noon, then I walk back to Base. Hopefully, it will be
great to leave this city, and get out into the wild and country side. I have seen trash enough for a real long time by now!
Somehow the raw photos managed to use 45 GB of hard-drive space, and I need to remove Lesotho and Swaziland from the computer - but not without making a secondary back-up! That keep the computer busy for a hour.
My double room is ready, but despite the price of 1500 MZL a day, it does not come with towels. Mozambique is significantly more expensive, and with a clear lower standard, than the other countries I recently have explored. I actually have to go out and find an ATM, and while I'm at it, I also try to find other restaurants. It seems like the main street is parallel with the one I live in. Here are three open pizzerias and a restaurant quite alike. Every thing else is closed.
On one of the trees along the road, a Agama with a real bright, blue head don't get away before I get a few photos. Back to work until five, when it is time to pick-up my co-driver for the next five weeks at the airport. She is on scheduled time, and pretty fast, we are back at Base. Dinner at a local pizzeria and then catching up the rest of the evening.
4/1 An early start to reach the Maputo Elephant Reserve,
also known as Maputo Special Reserve (after most elephants have been killed). The GPS leads us down to the coast, and apparently; want us to take a ferry across the bay. I thought the 80 kilometres sealed road sounded way more appealing.
Well, after 35 kilometres, it turns into a gravelroad, and as such, it continues for additional 90 kilometres. And it is not a smooth and neat one. It might have been sealed in ancient time. Some small parts have around 5% remaining sealing. They do not form pot-holes, they form table mountains.
The fields along the road is with way more stock, then I have seen in Mozambique earlier. And the grass has gone, only the Acacia bushes remain in the dry landscape. Not really a botanists dream. We only do a few stops, and fail to find anything interesting. Most of the
rivers we cross are dry, except the Rio Maputo. It is filled with chocolate brown water.
We se many carrying or wheelbarrowing water along the road. At one point, we pass a huge gathering of people and way more yellow and white plastic containers, around a well. Another time, we pass a gigantic cement factory in the making. Huge area with green lawns, romantic director's mansion, funktiolistic headquarter and city with three story blocks for the workers. Even a forest have been made for recreation. But the road to it is just started being measured up.
It is passed then, before we reach the Maputo Elephant Reserve. My co-driver; Gry, have done a bit on reading on the subject in a brand new guidebook. They have changed the name from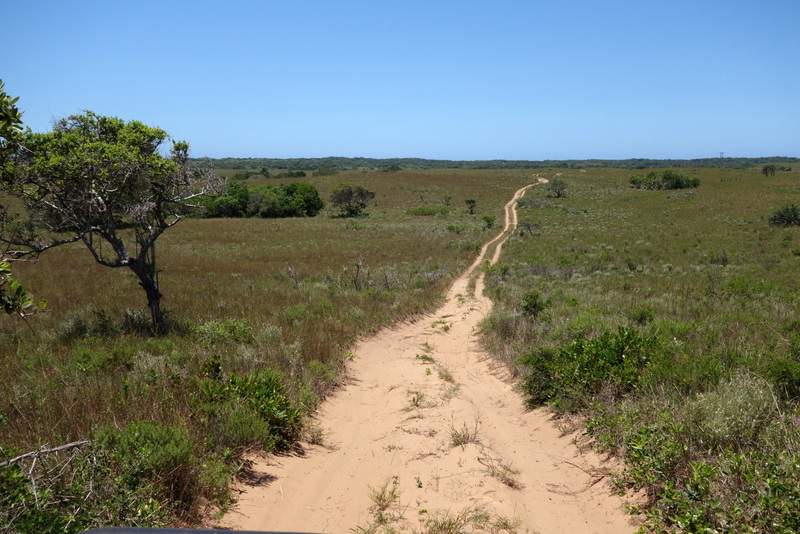 Elephant to Special, because most elephants were sniped. Here are only 180 left in the massive 30 km2 reserve. And now she tell me, AFTER I have promised to show her the first wild elephants!
The entrance take a lot of paperwork, and we have to pay 400 MZL for each of us, including the car. Four times more, than the guidebook claims. Before we have driven long, on the white sand that make up all the roads, some Kudus stand in the shadow of a tree. Then and old giraffe with a small calf have found their shadow. The grass does not look like here are any animals, and only a very few trails crosses the road.
We stop a few time to get a closer look at plants, but the main target is the elephants. We did not get any map of the area, and have to relay on the
GPS dot in the middle of a white area. And the roads are few but winding. Further more, the white sand is real soft, and in many places, the car sink 20 centimetres down into it. I have to engage 4WD and go down in 1. and 2. gear. Further more, I have to keep a high tempo, not to sink deeper in. Lowering the pressure in the tires is last resort.
We make some huge loops, almost covering the enormous park. When we stop at a big lake, we see elephants! Three big tuskers and a suckling are bathing with much enthusiasm. Right next to them, three hippos watch rather nervous. Despite we are watching them for quite some time, Gry's face keep cracked with a wide smile.
It is getting late, and we have a long tour home. The lack of map make it a challenge. Despite we drive roughly the
right direction, there are no connection roads, and we have to turn round at a rangers station. When we get back to the big lake with the elephants, they have just left the water, and that calls for additional pictures.
We are running late, but I have to stop for some monkeys, fantastic red flowers and a huge dung beetle. In the tall grass, huge flocks of sparrows swarm around.
The exit finally turns up, and we have driven 80 kilometres in the loose sand. Now 90 kilometres of rough gravel road lies ahead. I drive significantly faster than the few other cars - except when we meet the convoys of trucks. The dust cloud are immense, and remain for a long time. The trucks tend to drive in our side of the road, but I just turn on the light, and keep to my rights.
We need to do some shopping, and my guess about Spar will close at eight sticks. We get there quarter to, in the dark night, but when Gry jumps - well rested - out of the car, a big Danish Chocolate-bar have gone liquid, and she is covered in chocolate - along with her bag, car and sidewalk. I was aware, she got scared a few time, but not that bad!
We get into Spar, and get the shopping done. Back to divide Gry and chocolate, then out to eat. I am quite used after twelve hours of concentrated driving, but the server works again, and I can upload, and many emails demand an answer. Then there are the photos and diary, and it gets beyond midnight for me.
5/1 I get to work a bit in the morning, before we meet to breakfast. While I pack the car, I discover one of the milk cartons have leaked. The other eleven are soaked along with the inside of the fritz. I leave all the milk to the cleaning lady at the Base, and clean the fridge.
At nine, we find our way out of the city. Well, kind of. The GPS leads us through narrow streets, through busy business areas with primitive stands and a lot of trash and sandy streets, which always make me get the truck stopped. It would be embarrassing to get stock in the streets of a capital. Then again, how many capitals can you do that in? I don't think the GPS is leading us bad roads - I just think this is how the city is.

A stop at a gas station results in a long preach about knowing Jesus. I'm told, I would get a better life, if I know him. I say, I have a great life, and I think, it is about giving other people better a life, that matters.
More sandy roads and primitive shops and then a concrete tile road. After a long time, we finally meet asphalt, but the GPS wants to go through another narrow street with shops. Overruled, and quite soon, we find a brand new, perfectly sealed four-lane road, heading all the way North we want to go - unknown to the GPS.
379 kilometres to next turn, and Gry get appointed DJ. Some of hers, some of mine - little in common.
Here are radar controls for each 15-20 kilometres, but we get through the first nine.
Number ten stops us, demands a "high-five", and want 2000 MZL, because I drove 80 in a 60 zone. He is knowing, and I know he knows, which he do know, it is a 80 zone. I have kept my cash down on around 200, which I'm told should be acceptable, but I got 320 today. He settle for 300. When we drive on, I ask my co-driver to put additional 200 MZL in my purse for the next corrupt cop. I am glad I did my research on the subject.
We start driving through bush savannah, but after some time, it changes into way more lush green forest with coconut, papaya and bananas along with natural occurring trees. Here are small huts and small villages, all the way up the coastal road, and not really any interesting places to botanize
Along the road, firewood, charcoal, peanuts and fresh fruits are offered all the time.
Half way up to Inhambane, we drive right through the rather big Xai-Xai. A short stop at their mall to stock müesli and other food. Soon after, we actually see the sea for the first time. Ox carriages and ox ploughing seems to be quite normal, but here are still very few goats, sheep and cows.
A tea break in the afternoon, then further up the coastal road, passing a line of radar controls and check points - unattended. We reach our goal; Inhambane after six, and watch the sunset over the bay. A bit down the coast, a flock of white flamingos are foraging.
We find a local hut which sell food, and while we wait for our food, an Englishman ask, if he can join in. Apparently, he have been missing someone to talk with, and it seems like we are the only tourists in town. I had anticipated this to be a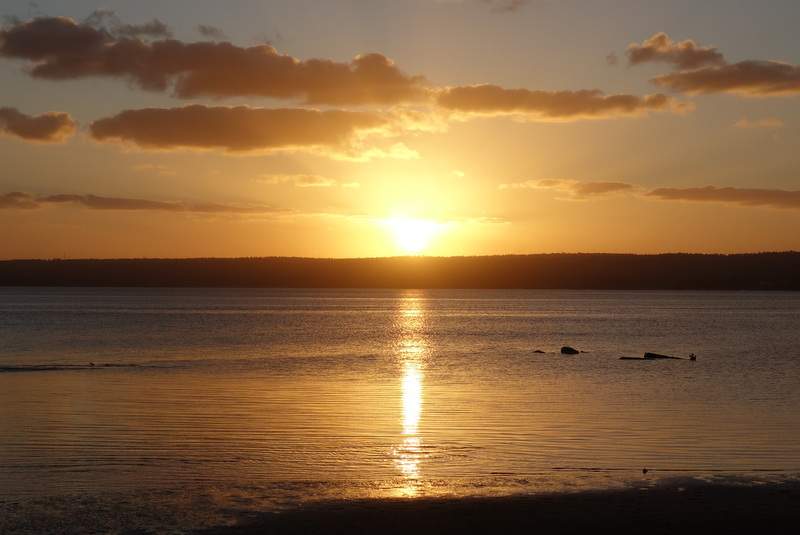 tourist of surfer town, but it is far from. We have not seen anything indicating tourism at all!
We passed a sign to a campsite ten kilometres before town, and head back for it, after dark. From the sign at the main road, additional 25 kilometres down a gravel road leads us to a big, rather dark resort. A charming, tiny guard call for an English speaking friend, and we are guided to a camp-site. We can hear the ocean close bye, but are locked in. A cup of tea, and I work, while Gry organises her stuff in the car, along with the extra stock of food.
Some almost white geckoes are found in the light from the toilets, and huge hunting beetles roam the sand. Crickets, waves and a star-packed sky make a good atmosphere, after the 500 kilometres driving of the day.
From here, we head even more north in Diary 2