It is cold, damp and disgusting, so we will have to leave Denmark for a while. Plan A is northern Indonesia where the diving is amazing. Unfortunately, it is in the middle of the rainy season and the waves are too high and the water too cloudy. Plan B is Namibia, but it is just before the rainy season, and everything is, if possible, sweated more than usual. Plan C is the Netherlands Antilles, located north of Venezuela in the north of South America.
I succeeded in luring Morten along - or was he the one who lured me? The planning is almost as intense as for Madagascar (where we flipped a bit in the book, on the plane down there. This time we just don't have a book!). Bonaire is part of the Netherlands Antilles, known as the ABC Islands. It is 285 square kilometres, exactly the same as Langeland, and the population is 13,000 (15,000 at Langeland). Unemployment is great, but then the similarities hold up.
The official language is Dutch, but the most common used is local Papiamento, which is a confluence of Spanish, Dutch, English, French and a little Portuguese, mixed with Native American and African. So is the population. The religion is mainly Catholic, the currency unit Netherlands Antilles Guilder (NAf), which is worth about DKK 3.26.
The island has been occupied by the Spaniards, the English and most recently the Dutch. They were first a trading station, then a salt extraction site, and now they feed on tourism, mainly diving. Washington-Slagbaai National Park makes up 20% of the island. Bonaire Marine Park covers the area from the highest water level, to 60 meters depth, all around the island.
October 19th. The clock rings; it's two o'clock. Rolling something confused out of the feathers, and turning a few laps around myself before Morten comes by and picks me up. Good time at the airport, but with the new security rules, it's a good thing. All liquids in a one litre zipper bag, off with jacket and waist belt, the PC up from the bag, and then we are through the first hurdle. We go through this routine three more times before we are done. Almost with the same frequency and enthusiasm as the Muslim prayer.
Sleeps when we are not eating, and after close to three hours in Amsterdam, it fly west. Morten sits next to a fresh Englishman, heading for a tour around Peru. He just has to stop in on Bonaire. I sit next to a German lady who has come to Bonaire for a few years, and then sold her trucking business and moved to the island. Now she sells ice cream from a car. Earns three to four times as much as others, in a third time. Care to travel first class, with that was sold out. She tells a lot about the island, and gives some good advice.
We land at half past four in the afternoon, Morten gets all his diving and kite gear, and then we go out to rent a car. I had found a cheap one on the web, but the office is closed. There's a phone on the counter and I'm trying to redial. Turns out, I'm getting hold of Avis a little further down the line of shops. We go down there and a fresh woman finds a "good" price for us; 20% discount. It is 227 kroner a day, and we will probably just go to the capital; Kralendijk, today (We actually end up giving only 132 kroner per day, don't quite know why).
She offers to drive us in if we want to rent a car from her tomorrow. The B&B my flight-neighbour recommended is fully booked and so are the next places. We are recommended somewhere up in the hills, but it turns out to cost close to 500 kroner per night. The Avis lady thought it was too expensive, and we were driving down to town again. Several sold out hotels. She calls her husband, and in the end, we find a pretty place: The Lodge, at 450 kroner per night. Here is perfectly clean, fridge, safe, kettle, air conditioning, hot water and one can drink the tap water. It is purified seawater, and tastes excellent.
A little hassle with getting on their wireless networks, so we can tell folks at home; we have arrived well. After it gets dark, we walk the ten minutes to the centre of town to raise money and find some dinner. Not surprisingly, it's sea-food it's all about. Morten gets a fillet with mushroom sauce, I a huge dish of shrimps with pasta. A couple of beers and a coke will be 330 kroner. Guess that is the price here, when you have to sit on a terrace beyond the coral reef. Sitting and calculating a bit: Renting diving gear, car, room and food will be about twice as expensive as I had expected.
It is 21, local time, and we have been up for 24 hours. Have a little trouble concentrating around the diary, and the calculations with x 3.26, x 6.00 and uh ....
20. Ten hours of deep sleep, we're about to work. Days and nights are hot; from 26 to 34 degrees, and rain is something you try to explain to young children. I repack my suitcase. From home it was half empty and I threw in an extra knit sweater, some thick T-shirts and a few other superfluous things. I regret that now, where shoes, fleece jacket, long legs and more are stuffed back. Sorts 2/3 pieces from, which be stored away in the small bag; then the last thing can be in the hard suitcase and jerk around with the PC. The usual 1.5 kilos have this time has grown to eight kilos. Of course, this is small compared to Morten's diving and kite equipment.
The day starts with bird singing and the hunt for breakfast. Our hotel serves it quite big for ten bucks, but I just need a bowl of oatmeal and Morten skips. It's definitely not worth the twenty bucks! We head down town to find a breakfast snack or a grocery store, where we can supply. It's just not open anywhere. They obviously close early, but open late. Good life...
Ends at one of the larger hotel's waterfront cafes, and has to drop just over 65 kroner for four mirror eggs and two large mugs of coffee. There is a bit more life in town, and we try a couple of diving shops. It seems that 150 kroner is the absolute minimum for a day's rental of equipment. A tank of air costs 60 kroner. A discount can be obtained by taking a week and unlimited - if you dive enough.
We have traveled enough, and can feel the strength of the sun. Get to see a little green iguana, a bunch of giant lizards with turquoise tails, some yellow birds, small pigeons, a frigate bird, some pelicans, black and white spotted birds of prey (eagles), a few flamingos, a hummingbird and some exciting plants. I'm not sure which ones are local and which ones are imported. Here are some oilseeds (Riccinus communis), small-flowered passion flowers (P. suberosa) and one with larger flowers: P. foetida, columnar cacti (Cereaus), Turkish hats (Mammillaria), acacias and many more. Looking forward to getting out and botanizing.
Head home to The Lodge, and check right next door on the road. The best offer on scuba gear so far. Calls for Avis car hire and gets picked up at the airport shop by a sweet girl, who rents us a four-door pick-up for about 1,600 kroner with everything, for a week. Then we drive to the first B&B we were recommended and which should be one of the cheapest. Get a bargain without a private bath down to 270 kroner per night. He also has a room, car and dive package, but it's a little late. We book from tomorrow and save 500 dollars a week.
A little more around the small cozy and very relaxed town to find a supermarket. We buy Nescafe, sugar, milk, pear, apples huge plums, a few litres of water, deep plates, spoons, oatmeal and muesli, and have to pay the same as the breakfast at the hotel would have cost. There is a definite advantage to not travelling fast, as we usually do. We just slip a bottle of local golden rum with, just in case ...
Home to book a guided dive with the neighbour this afternoon. The guide is expensive but for the first dive it is very nice. Morten picks up Nitrox bottles for the dive: oxygen-enriched air that make him less tired. I do not have the license, but can take a 1½ hour course for 450 kroner. Worth considering. Morten has the lodge's key with him, so I'm locked in the yard. It takes 1½ eternity before he comes back, but they are still fresh on taking us out and diving.
We have to buy a one-year subscription to the national park, which surrounds the entire island for 150 kroner. I get some good stuff delivered and then our guide drives us to Oil Slick Leap. Here are just 20 Americans jumping in.
He has a plan B, but we end up with a plan P or something like that. There are some who have built a few hundred posh villas along the coast, and the fine yellow rocks, marking the well-known 60 dive sites have disappeared. The roads end in turning places, surrounded by gardens with small walls around. Eventually we succeeded, and we stand by the car and pull on all the equipment, except fins. Goes beyond the corals at the water's edge, and swims out to five to twelve meter's deep. The visibility is fantastic, at least 20 meters. The temperature is 29 degrees and it is teeming with life. In addition to the countless brightly coloured fish, there are quite a few barracudas, a sea turtle, a swimming octopus, trumpet fish, parrotfish, trunk fish, hedgehog fish, brushworms, sea cucumbers and a lot of corals, both soft and hard.
We'll get up after three quarters and I'll have air left! Actually 90 bar, which is nine times more than I average end with. We are usually dragged into the depths by our instructors, so we consume a lot of air, but he obviously didn't care. In fact, he was not worth much, and certainly not the 150 kroner we have to pay each. This is the last time we pay for a guide here on the island.
Home to make a cup of coffee and find the next dive site. It will be The Lake, just outside of town. We get there just over six , and must be up after a quarter, as it gets dark. Very fast even. It's night, when we reach home. The equipment is rinsed in fresh water, and so do we. Takes the car down to the city to find a restaurant. We end up with a half pig, which they call spare-ribs and a dish of full Caesar salad. It comes with drinks, and cost 200 kroner. Food is not very cheap here on the island, but it is huge portions they serve.

Home for the coffee, and a taste of the 65 kroner golden rum we bought earlier. It is called San Pablo, made on the neighbouring island of Curacao, and is quite gentle. It can be enjoyed neat and will be quite excellent to mix drinks with. Diary and some planning for tomorrow.
21. We enjoy our own morning complete, and check out of the first hotel. It was 900 kroner for two nights. Drive into the Bonaire Inn, also known as the B&B. Get a room without a bath, toilet, fridge and TV, but with two beds. Here we have to pay 272 kroner per night, so we save about 3500 in total. We live right behind the yellow church that may be the cathedral. By the way, they have an astonishingly relaxed relationship with religion; though most are Catholics, I have not seen a single beating the sign of the cross. I've never liked it, when the bus driver or scuba instructor starts the ride with it.
We still have some air left from the evening dive, so we head a little north, to the "1000 Steps" dive site. There are 65 steps
down to the sea, but they feel like 1000, when after a dive you walk up with your 40-50 kilos on your back. Fantastic place. The visibility is up to 30 meters and it is teeming with life. Spends a small hour emptying the air tanks, and then tows us to the car.
Stays a bit in the area; here are cacti and other exciting plants. I photograph the pillar- and barrel cacti as well as the big lizards with turquoise tails. We also see a nice speckled Anolis males. There is much more, but there must also be something left for botanising days. Inside the city we are stocking gear yet again. Must have a kettle and some cups, a battery charger and some other little things. In the acacia above the car, I spot a large green iguana that only unwillingly is being photographed.
We drive past my dive centre to buy a week of unlimited air for me for 600 kroner. Then we just have to dive! Now it costs me 250 kroner a day, so the more dives, the lower the dive price for each. Three a day is probably realistic. Fortunately, the vast majority are in so low water, you do not have to worry about getting the bends.
We were recommended a dive by some we met out at the 1000 Steps, and decide we must try Red Beray. It is south of the city, just behind the airport. Get the turn a little wrong, and get to drive across the island. Exciting landscape: Very reminiscent of Baja California, with acacias and columnar cacti spread over an otherwise golden, red soil.
Stopping several times to photograph a new colon cacti, some Aloe barbadensis? and a bunch of flamingos. A huge iguana disappears in the swamp where at least four different herons are fishing. Various small waders dart around quickly, but not right in my camera angle. We pass a few wild donkeys and a few tame goats. They are found in such small numbers that they do not significantly affect nature.
We reach the coastal road, just before the huge salt lakes. They recover salt from the sea, and the low and heavily pink lakes are surrounded by white deposits and white foam. A few huge mounts towers in the otherwise flat area, and a large conveyor belt ends in a tower, far out in the sea.
We find Red Beray. Delicious place where some spotted eels provide great entertainment. Here are also a myriad of other small and large fish, purple chimneys, fan, brain, deer roof and what-do-I corals. Use incredibly little air, but there is not much currentsy, and we are no deeper than three to nine meters most of the time. After a few hours, we have seen the area and are heading home.
It's not entirely wrong what it says on all the license plates: Divers Paradise. There is good visibility, the temperature is at 29 degrees and there is a nice coral reef on at least half of the island's perimeter. They don't have the big numbers on the license plates: A B followed by one to four digits. We drive past the big supermarket to get the things we didn't get last. Grab a couple of sausage horns and eat them with a cup of coffee at the hotel. It is just past four o'clock, and we can just reach one more dive.
Takes one of those in the middle of town: Something Special. The sun disappears, but it is amazingly beautiful. Here are the spotted eels again, and Morten is spotting a nice shrimp while I find two unusual separate shrimp. So, in photos, the dive was "eel & shrimp". We head up as the light disappears completely. Showers to us and stuff, and then look a cash machine and some food. Ending up at a French restaurant, where we choose chicken with exciting accessories. Nicely arranged, good accessories, but I make chicken better!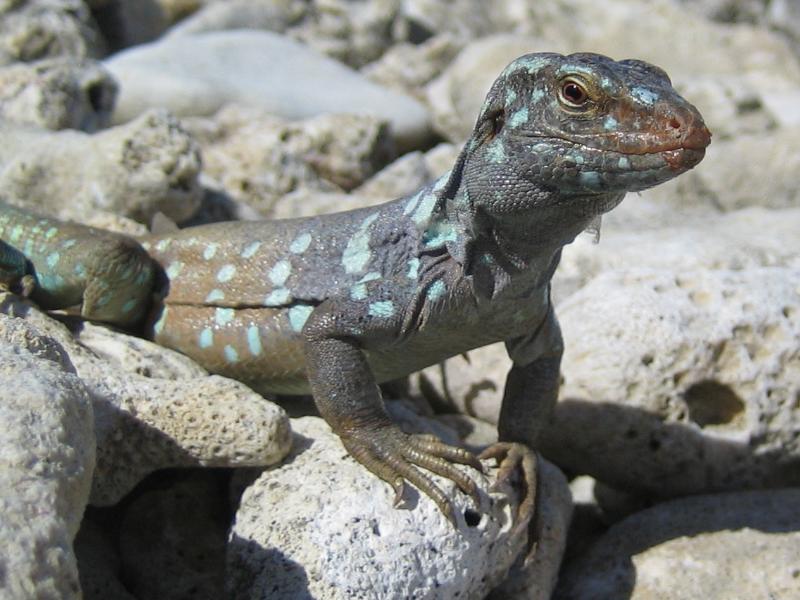 Home to write the diary and look at photos. It will be 23 before we are done - done! The only activity detected in the room is the small but unreasonably fast mosquitoes.
22. The alarm wakes us at seven. Quick breakfast and then south to Jeannie's Glory, which is a dive site. It is located off the huge pink salt lakes and the sea water is also very salty. We are in the water before nine, and are rewarded with an incredible amount of corals and fish, but it gets better: An eagle ray that is incredibly happy with us hunting around the bottom, between the corals. We dive on the edge, which runs from four to 40 meters, on most of the west coast. As we enter the lower parts, we are greeted by twelve tarpones; fish over one meter, that are completely metallic. Then there are nine Caribbean reef squid in the middle of the open water. They are completely parallel but facing both ways. They respond to us and a great colour show starts. Down on the bottom is a 20 centimetre worm. It looks like a velvet animal, and is very keen on getting up. It's a fireworm, an animal I've never seen before.
Home to get an apple and a cup of coffee, as well as some more air. I buy a plastic ball in a rubber cord, that I can cling to my tank and contact Morten. I happen to mark something he also wants to see (and I have a photo of). Then we head south again, to dive at Tori's Reef. We intentionally take a detour that will take us across the island and around the southern tip. First through the desert with acacias and colon cacti. Some endemic parrots gnaw in a cactus. The parrots are the size of rosellas, bright green with a screaming yellow head: Yellow-shouldered Amazon parrot;Amazona barbadensis. We hear them often, but rarely see them.
Then we get to the swamp, with its herons, waders and flamingos. The coastal road is almost a very low dam around the huge salt lakes. There is a natural wall of washed-up coral blocks and driftwood toward the sea. Here the waves are somewhat more violent than on the inside of the island.
We arrival at Tori's Reef, where we follow the channel of the salt lake out to the reef. We try something new: Not only do we lock all doors this time, we also roll up the side windows! Here is also a lot of life, but the only new thing is a giant tuna. We are down for an hour, and have plenty of air left, as we have scrambled the area thin. We have been searching the area where the huge legs carrying the conveyor belt that carry salt out to tankers are placed. They are overgrown, and provide new opportunities for the animals.
Our tailgate lacks a bolt and it would be a good fit to use when loading or unloading. We pass the airport and both girls are in the Avis office. One guides us out to a workshop, in the middle of a scrap yard. They take two men a little half an hour to put the bolt in, but then it works.
Home to Mortens Dive Shop, which provides coffee, and far north, right up to the national park. There is a one-way road around the island, and there are still many marked dive sites. We have chosen Rappel, also known as Boca di Tolo, located right on the border of the park. You no longer have to rappel down (and not least: Up!). Again a delicious dive, with masses of fish, animals and corals. Nothing new, but really nice.
Is up after just over an hour, and takes advantage of the last hour of daylight to hit this part of the island. First, I spot some groups of medium-sized Agave vivipara, which must be photographed on occasion. Then comes huge quantities of column- and barrel cacti, and some rocks that seemed taken from the Coyote and the Roadrunner. They will be exciting to explore one day.
We get home and relax with photos and diary until it is time for some dinner. We have to go out into the hallway to catch the wireless internet, and here I meet a small bat. My first thought is to open a door so it can come out. Then I see one of the many mosquitoes, and the bat must stay and do its thing.
Dinner will consist of a small side pig and fish of the day. Morten gets a beer from the neighbouring island. Pilsner with a little sweetness. Home and clash mosquitoes, and write a little more diary. Oddly enough, we get the mosquitoes that are fat from our blood whipped on Morten's bed. It looks like something from the Hotel of Evil.
23. I'm pretty sure Morten has set the clock wrong: It can't possibly fit I've been sleeping over eight hours. After breakfast we drive out to Alice In Wonderland, but many others have come up with that idea. We would have dives next door, but just change. Angel City is a diving site by the double reef. The first is similar to what we've dived on before; it is teeming with life. We cross the 30-40 meter deep and 30 meter wide gab between the reefs. The water is so clear, you can easily see both of them clearly. The corals almost cover the sandy bottom, but are quite close to the sides. The outer reef is overgrown with large columns, three four meters high and two to three meters in diameter. These are completely different corals than we have seen otherwise.
Morten has found a fun game: He drops one of his lead weights and I look for it, while he is resting on the beach. He can do another too: He leaves the dive computer and compass in the car, and swims in after that. Then there is the one where he does not open to the air, or take a camera without power to dive. Since Morten does not keep a diary, I can emphasize with serenity that I NEVER make mistakes ...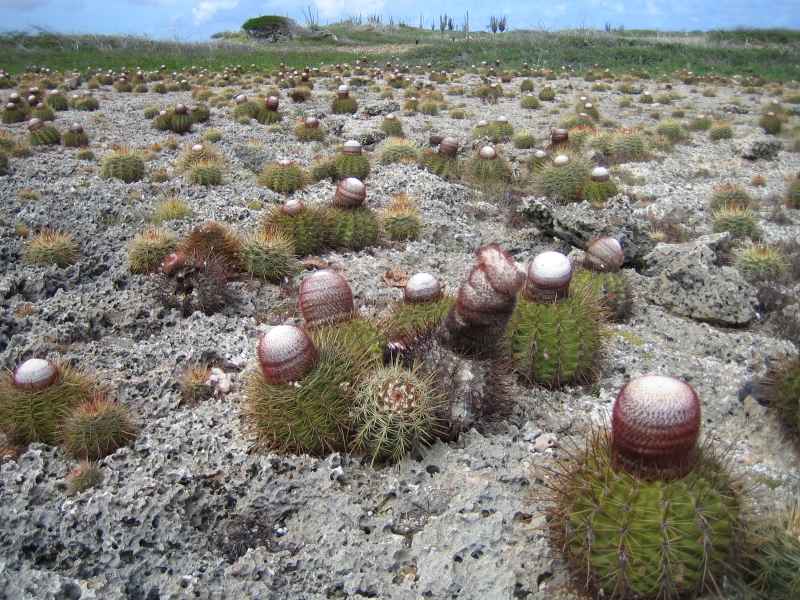 A recital or two: There is almost no waste anywhere. There does not seem to be any poor population here. Most - except the mechanic - speak English. There must have been a large population immigration in recent years. Most people we come in contact with come from other countries. If they did not have the diving, there would only be work for about ten or twenty in the salt resistance area.
We sit looking blankly out over the sea after the dive, gnawing an apple and a pear. Then we drive 100 meters off the coast road to Alice In Wonderland, where there is now better space. Again fantastic reef, and we see the first crawling octopus. After a few hours we have had enough and fight our way across the belt of dead corals at the coast.
Past the supermarket where we buy lunch and more breakfast. New air and nitrox bottles, and then home to a cup of coffee, and a little more empty stare into the air. However, I am awake enough to discover we are sitting under some official Guaiacum trees. They do not have their beautiful blue flowers, but then I can find seeds for the Botanical Garden.
It is one o'clock and we have gathered energy for yet another dive. We have been looking for Bari Reef in the past and since it is # 1 Caribian Fish Diversity Place. It turns out, the yellow stone that marks the spot stands a little further out of the road. And it faces a huge resource. We sneak in and find out it's actually outside. We jump in at the old quay, and after a lot of sandy bottom we reach a nice reef. Had heard of some big seahorses by an old barrel, but we can't find it.
There are a lot of other things; horned green trunk fish, the amazing blue small fish with metallic blue spots, a black fish, with neon yellow and blue stripes I have not seen before, and a whole lot else. There are some streaks of deer-angler corals, and there is a dense cloud of fish around them. We follow the wall down to 18 meters, and the corals and fish continue unchanged even deeper. In many places, despite the 30 meter sieve, we cannot see the bottom.
We could e
asily reach a few more dives, but it is bursting with energy and enthusiasm. Will instead take a break and then run out and botanize. We end up sitting for a few hours, talking with our neighbours. A quirky couple; he is from Germany, she from Ecuador. They got married in Denmark. She has travelled extensively and, among other things, lived in Israel.
It's past five before we roll out, north of town. Finds a ravine buried with Acasier and Cereus. I just say: Hope it is solid gravel before we are almost stuck. Push Morten out to push, before we are buried. I forgot my shoes, so it's about treading carefully. Acasia and cacti towers go like nothing through the soft soles of the clippers.
We walk in an arch over the slope as the light disappears. Finds Pilosocereus lanuginosus, Subpilocereus repandus, some yellow-tailed Melocactus macrocanthos and Opuntia wentiana with very powerful thorns. Reach the car just before it gets dark. Drive into town and find Casablanca, an Argentine restaurant in the Netherlands
Antilles. Morten thinks the waiter is American. I only settle for a Caesar salad that is not impressive. Morten gets a very large dish of fish with shrimp, cheese sauce, rice, fried potato slices and salad.
The neighbouring tables get a mixed grill for 150 kroner. It's a couple of chops, a side pig, a half chicken , a T-bone, a beef steak, some sausages and a few other pieces of meat from the grill. About one and a half to two kilos per person. The place is filling up quickly and the waiter who asked, if we had booked obviously didn't joke.
Home to write a diary and read photos. I'm sure it's eleven, but it's not even nine! Diving life is tough.
The diving and adventure continues in Diary 2