My dad wants to go toCuba; Castro had been to Roskilde, so he thought we owed a return visit. My mother is of course keen on the idea, and Jesper can be persuaded. Me? - I've been home for 10 weeks, so I have an excursion.

8.6 1997. Jesper's mother drives us to the airport, all works well, until we find our seats. After calling Spies 25 times to book extra leg room, I am told that the plane is in the US for having removed some seats, so it can handle the long flight. Therefore, there will be enough leg room for everyone. The seat we get is just smaller than even those in front and rear of us. I just can't be there, and as we have to pass Stockholm and pick up some Swedes, the flight will be 13 hours. Complain to the stewardess, who finds some empty seats between smokers and non smokers.

A stop in Stockholm, and then over Iceland, Greenland (then we've seen Greenland), Canada and down over the United States. Landing in Varadero Internationales at 15, local time. Music (salsa) with little dressed dancers and mobile rum-bar at the airport. One can easily feel welcome. Finding the bus and head towards Havana. We make a single stop at Cuba's highest bridge, where we admire the vultures. They are everywhere, and in considerable quantities. We pass numerous working oil pumps, which pollute much less than I had expected.
In Havana, we book into Hotel Plaza, right in the centre. We get some late dinner, and Jesper and I head out into the rather poorly lit city. First around "City Hall Square", some hookers & hustlers, but not really strenuous. The surrounding streets are very dark, but just before we return to the hotel, we see an illuminated street. There aren't really any shops in the 3 Km long street that ends down at the harbour. This does not mean that there are no business people, a small group of people accompany us through the street. They are 15-18 year olds, very beautiful girls, who say something with "amory" and "won dolar", we say "NO!", But they have a little bit of difficulty understanding. With one of them under your arm, you can keep the rest at a distance, so that they are allowed to accompany us. We buy them an icecreme at the end of the street, and returns They are very difficult to get rite of at the hotel, but when we finally make an appointment tomorrow night, they leave (then we are in Vinales).

9. We drive through the beautiful landscapes to an ecological village, where we mainly visit artists. The city itself is in a very beautiful valley, which I get to explore a bit.
We continue to the only preserved old-style coffee plantation. There is no coffee, but drying places and others are restored. The main house has been transformed into a restaurant, here we get salted chicken.
We head on to a cigar factory which unfortunately has closed due to the rain. (We get 3 days of rain, otherwise sun with some heavy showers). Instead, we try a liqueur factory. We see the barrel hall and the bottling room, get a taste and crawl back into the bus.
Late in the afternoon, we arrive at the hotel in Vinales, which is located on a mountain top with a fantastic view. It's dark for a while, so we throw away our (only) shoes and walk down the soaked slope in front of the hotel. Mimosas known as "don't touch me" should be called "don't step on me", as they have thornes. A small stream has devoured deep into the clay, forming a gorge. Down in it, there is a frog's
concert, and we crawl up through the river, interrupted by 2-3 meters high falls. Back out in the field we come across the local farmer. He invites us home, since I'm not particularly interested I make a deal for manjana, as I figure it's something for my mom (that was it!).
After dinner, Jesper and I arm ourselves with flashlights, and head down toward the city. It's black night, but with the help of the hearing (and the flashlights) we find giant playing grasshoppers, scarabs, frogs, cicadas and geckos. Suddenly Jesper sees a 5-6 cm large firefly. We observe it deeply fascinating, along with its companions for a long time. I find another, 1 cm firefly from another species. Back in the hotel we sit with a glass of rum, listening to 5-10 species of frogs and 4-6 species of chicadas / grasshoppers. Like all other places in Cuba, there are masses of bats, some only 4-5 cm tall.

10. While we wait for the rest of the company, we can enjoy a small busy hummingbird swarming from flower to flower. When everyone has arrived, we walk down the road to Vinales, which is a large village. The others stay in the centre, where some single dollar stores are found. Jesper and I, walk down a small street and end up on the other side of town. Along the way we must photograph an driveway with horse, pig, chickens and goat.
The only thing missing is an old American car. About half of the cars we saw were cruisers from the 50s. Other common means of transport include oxen carts.
The bus picks us up and we drive to the Native American caves, which are very large limestone caves. Seeing a single tailless scorpion in the cave. A sudden power failure reveals that I'm the only one carrying a flashlight.
We head further into the cave. Now it is a 180 X 120 meter painting, which depicts the evolution of snail (early squid; ammonite), over human to dinosaurs. Watching the painting, shovelling some food in his head, and walking along another rock wall, where the diversity of nature really shows up. On the way back, we pass some haystack-like limestone formations, and come to an old lady's "botanical garden". Diserpointing!

Back at the hotel we rent some horses. These are real cowboy horses with Texas saddles, and one-handed handling. Rides a very beautiful ride through the lush countryside. Jesper, who was otherwise a bit reserved, acknowledges that riding is great. When the tour is complete, a shower starts, and we seek shelter in a tobacco-dry barn. I pick up a few leaves from the ground, roll a cigar my way, and smoke it successfully. I learn afterwards how to (also) roll them, and get a big one home at the hotel.
Back at the hotel, I see a very small frog jump over the terrace. Before I get a closer look, it gets eaten by a hen. The chicken and its day-old chicks get chocolate biscuits, to save a little on the frogs. Our exceptionally good guide Marianne says the next morning, there might have been some frogs in the room. No, the chickens ate it, says Jesper.
After dark, we are back in search with cameras and flashlights. We hear bull frogs and see 5-6 cm large ticks. Back at the hotel, we are strengthening ourselves with some 7 years of Havana Club and freshly made cigars.

11.
3 hour drive back to Havana (ZZZ ...). We start down at the harbour and walk through the old town to a colourful square, where tourist things are sold. These are actually pretty good things, and almost all of them are made by hand from natural materials. We visit one of the few churches, which are not very impressive, either inside nor outside. But what, it's only when people have a bad life, they use churches, and people have a fair, not to say good life, it seems. Nobody is rich, but nobody is missing anything. Few convenience-beggars, no malnourished or dirty or lousy. There is a lack of transport, but then you just drive with each other, or you can also talk. Until about 1960 they got cars from the US, then they got from the USSR, now they do not get, so they maintain their cars even better than taxpayed Danes.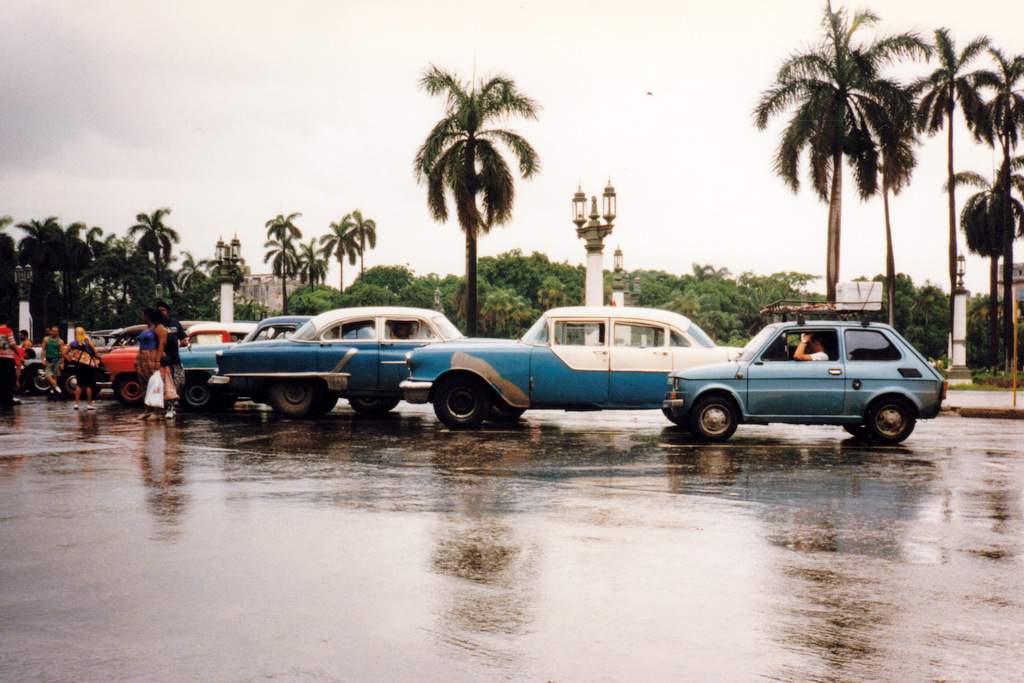 We find the bus and drive to Havana's finest eatery. We arrive in worn summer clothes, where tuxedos would have been a little more appropriate. The food tasted just as good for that reason. On the way back to the hotel, we pass Castro's Yacht "Grama", which he (and Ernesto Che Guevara etc.) entered Cuba with, at the start of the revolution. We go for an afternoon tour, and get a "shot" of a "camel". Their biggest buses are built on extended trailers. We come across another means of transport down the pier. Here, one of the anglers has set up his homemade "ass-pushing" of the bulwark.
As we walk, we are sometimes harassed by hustlers. Their entry's reply is always: Hey friend, where are you from? They give up quickly when ignored, but Jesper wonders what they really want. I respond to the next one. He hears a little about us, tells us he is a musician, and has been abroad (hence his rare English), gives us a coin each, so we remember him, talk a little more about Cuba, and want us to join us at the coffee shop. We say nice no-thanks, and leave him. We got our first hosels plated! OK - only two coins, but that's a start then. Next time we flatten it, is only a drying cord, but we will enjoy it a lot.
In the evening, the whole company takes on Tropicana. Old cabaret with very nice show, a´la Molin Rouge.
The big company continues in Diary 2