From Diary 3, and the great Sundarbans Mangrove, I'm now heading on north.
22/1 Breakfast in my usual joint;
three roti and this time; an omelette without the chilli surprise. Like last time; I pay 27 Taka - €0,27. The original plan was to spend the entire day in the busses, heading straight up north. However, there are no busses running to day, I'm told, due to one more strike. Plan B is to find a train or a local bus to bring me to the next larger city north of Knulna. Shahadat had something he wanted to show me, and I head bye his office after breakfast.
Unfortunately, he is not there, and I head on to the station. I ask around five times, and all agree; I'm on the right trail. Then some policemen correct it, and I more or less walk back on a parallel street. That calls for a trishaw, and I get to the station quite fast.
There are no vacant trains to Natore before nine in the evening, and I'm not keen on yet another night in the train. It is boring, and I can't see the countryside we passes through.
Within a hour, there is a train for the next big town; Jessore, and I got a feeling, I somehow can get further on the trail. None know if there will be busses tomorrow, but it is weekend, and I'll like to move on and get something out of my time.
I feel bad leaving without saying thanks to Shahadat, but I hope he will except the 32 USB memory-stick he got pictures on last night, as a compensation - I will sure miss it.
I sit a enjoy a du-tja and tell a lot of people, I'm from Denmark and so on. I look at the railroad tracks in Track 1, and it is a miracle it have not broken. It sure is a bumpy ride. The train is only ten minutes delayed, and I get a nice window seat, thanks to my new friends.
We drive out through Khusna for a long time. The trail is lined with small huts
and colourful clothing. It seems like the biggest home-industry is cows dung. Dried, it is used for the cooking fire. Here are lots of ponds and more and more rice fields.
It is a local train, calling every station on the way. Slightly annoying, but the motives are great. If there are more than two sets of trails, they are used for all kind of production. Cow's dung drying, making baskets, drying laundry, washing, drying crop, playing cricket and much, much more.
Then we reach the true countryside. Endless rice patches, but also a lot of other crops. Here are mace, tobacco, barley, bananas, coconuts, sugar cane, cabbage, beans, other vegetables, cotton, some I don't know and some I have forgotten. The rice is mainly just prickled, and the fields are light greenish and flooded.
A constantly stream of vendors passes through the train. Like last time I drown with the train, the other travellers buy a lot! Peanuts, spiced beans, cookies, biscuits, sliced vegetables, stuff I can't recognise and much more.
In Jessore, I find out, I can remain in my good seat, and go all the way to the little village Poradaha, where the trail splits up.
Several people have told me, I have to pass through the larger Kushtia to get to Natore. My map does not agree, but it is kind of the right way. We have driven around 60 kilometres in two and a half hour, mainly because we only have done real short stops at each station. From here, it is around 150 kilometres to Poradaha, and I ought to reach it before dark.
More fields witch is a strange patchwork of all the crops mentioned above. Flooded rice in one, tobacco next to it, then mace and some fruit trees in the forth square, meeting in the corners. I doze off several times, but feel safe for my self and my bag above. I even leave it once, when I buy a bottle of water on a station. People are so nice and treat me as a precious guest.
We reach Poradaha at dusk, and one co-traveller leads me through the station and down a narrow street in a busy business area. Here, he advises me to take a electrified tuck-tuck, working in a steady route, as a bus. It is a real long drive to Kushtia, through massive big rice engross companies and other industry. The around 10-15 kilometres take almost an hour, but I only have to pay 20 Taka.
It is black night, but my new friend tells me: This is the area with lots of hotels. I find one quickly: Hotel Ratul, and get a real nice room. I had not expected this standard in such an area - but the price is equalled: 1500 Taka. We agree on 1000.
I head out to find some supper, and
get some spiced chicken, boiled and fried vegetables, a wet cake and a cookie with dub-ta, but it is only 130 Taka.
It is getting late, and I have to return to work without seeing much of the city. It has not been the most exciting day, but I have quite some distance up to the Indian border, and little time and sights on the way.
I am several mugs of tea behind, and head out in the dark city to find them. Despite all the hotels, I have a feeling of, this is not the centre of town - the shops are way too small and the sidewalks too destroyed. Never the less, people are friendly, and I can't be aloud to pay for the tea myself.
The big busses are starting to be gassed, and the doors are open, but the word on the street is; they are not going to drive tomorrow. I might have to find a way to reach Natore by train.
23/1 I'm up early, but at eight, I have to give in: No busses will go to Natore today. I head back to the train station, and learn the first vacant seat will be at nine in the evening. Not that appealing! The roomers have it, a train should come bye around ten or eleven, heading north. The problem is that the trail split up, both to west and to east before the northern Natore.
I walk around the station for some hours, talking to quite some people - none in English. A few trains passes southbound, some filled with people outside too. Some time after eleven, the train finally arrivals, and to my big joy, it actually go all the way to Natore (I thought, it was Rajshani).
I cheats a bit, and enter on the uppersite side of the platform. That means I get one of the vacant
seats, while the other waits for the arriving passengers to disembark. At the next station, I get the perfect window seat. We stop at every station until Paksey, then only one big before Natore (I thought!)..
Around Paksey, we cross the mighty Ganges, and here, it look more like a big fjord. Then, the landscape changes a bit, and the rice give room for more trees, some in fruit plantations.
When we pass bus terminals next to stations, they are stuffed with parked busses. At the station in Kushtia, and big and very loud argument took place at the grounded busses. I have a hard time figuring how one think you can become popular and win the next election, fucking up the country with these strikes?
Despite it is Friday, many farmers work, and even the railroad is being worked on, a single place.
We reach the new and huge Natore station (I thought!). Around two, and despite we are around 1000 passengers or more, there seems to be enough trishaws, tuck-tucks and other alternative transport enough. Somehow, none have sold my a ticket, and I have to cheat a bit to exit the station. Not that I won't pay the approximately 50 Taka, I just don't have the hour or two, to get it sorted out!
A few busses might work, but most are parked and empty. I walk a bit around, but I seems to have forgotten to scan map and sights. Anyway, here wasn't much to see, and it is a huge and modern city anyway.
The busses to the way smaller and more interesting Puthia are at strike, but
I share a electrified tuck-tuck the first 16 kilometres, then I get a seat in a tiny lorry for the rest or the tour. It feels weird, driving in a silence tuck-tuck, and further more: On a almost vacant country road. It also feels strange paying 20 Taka for an hour's drive. We passes several companies, drying different kind of crops. Some turn the seeds with bare feet, some have dogs playing in it. I think I will start washing my rice in the future...
Puthia is a cosy, little city. The first man who greets me, ask for my country, and if I'm going to see the temples. A couple of dus-tars, and I'm ready. Here are idyllic ponds, country side cosiness and few people, most being Hindi.
When I reach the first temple, a well dressed man introduces him self as a representative of the government, museum and more like that. Further more, he is son of the person
mentioned in the Lonely Planet Guide. He is the only one with a key to the interior of the temple and so on. I tell him, I'm only interested in the exterior. Soon after, I get exactly the same story one more time. A bit later, a man in police uniform try the same. They are not really persistent, but my attitude let it clear, I know I'm being hustled. I guess they do get tourists here at some point?
The temples and the large palace are pretty impressive, and I spend quite some time walking around in the historical town and the nature around it. I find a interesting parasitic Ipomoea sp. but nothing else. The sun start to descent, and here seems to be no hotels. I better find my way back to the bigger Natore (I thought!). Most of the shops along the mainroad are closed, and the village seems pretty dead this Friday.

As I reach the mainroad, a bus passes. It seems like the local have started to work. I wait while I talk with many locals. After a while, I'm picked up by a big racing bus. The speed is insane, but somehow we reach Natore (I thought!) without killing anyone - I think.
Considering I'll be heading on to Bogra in the early morning, I find a hotel right next to the bus terminal. Hotel Haven might not live up to its name, but it is not the worse room I have had, especially not the 180 Taka considered.
I head out to find some supper, and right around the corner, a restaurant have some delirious looking filled and fried things. I get one of each, and they are real great, but actually a bit too much. I finish with a du-tar and have to pay 26 Taka. That must be a fault! A few loops around the train and bus terminals don't give much, but closed shops and a promises of; there will be busses tomorrow.
I return to work in the sound of at least five mosques. The photos from the last days will be in Up north, Puthia ruins, Rajshani.
24/1. I check the busses, but they are all stationary this morning. On the station, a gathered group tells me, the train for Bogra left an hour ago, and there not any other before tomorrow. That do sound odd in my ears, but it is Bangladesh, and other confirms it.
Alternately, I can join a electrified tuck-tuck to Natore - and that sound even more strange, considering I thought I was in Natore! I even came back yesterday afternoon, and found a hotel. Perhaps it is just to the other side of town? I jump in, and we go cross town, and then out on the countryside. Several features seems so familiar, and I surely recognises Puthia.
It is a problem all signs only are in Bangladeshi - their own letters. My map is in Latin letters, but I finally conclude: I spend the
night in Rajshani - a large city out west. That explains the huge station and size of what I have noted as a village. I'm glad I didn't spend any time finding "the right hotel"!
We drive 50 kilometres in this open and rather cold vehicle, me squeezed in next to the driver, and a woman in the back with lots of parcels. She is dropped at a private house, while I'm kicked off at a bus terminal. It swarms with all kind of vehicles, capable of carrying people, and soon after, I have a motorised tuck-tuck. Natore is a bit more as I had expected it to be - compared to Rasshani - but not interesting enough to investigate further.
The next 80 kilometres are equally cold, but I manages to sit in the middle in the back - slightly shielded. We drive through endless patches of rice fields, most being worked on this spring day.
We drive through several
small villages, each having a marked. One with potatoes and red onions, one with bananas and other with vegetables. Each village collect a tax from our driver.
Once again, I'm kicked off in the outer corner of Bogra town. I figure which way to walk, but not how fare. I get a trishaw to drive me to the hotel - or one that have a similar name, is same area. Well spend 20 Taka! He asked for 10, but I figured he deserved 20. Bogra Boarding is simple, cheap and right in the centre of town. My kind of hotel.
I throw my bag at the bed, and ask for directions to Mahasthangarh. Something about ten minutes walk to the site where the shared tuck-tucks can be found.
Somehow, I actually find them - after haven
driven with another, bringing me there. Bogra is an interesting city with loads of traffic, plenty of people and shops, but still cosy.
In the village of Mahasthangarh, the tour ends, but the driver offers me to go all the way out to the archaeological site for additional 50 Taka. I got a feeling of, this is a bit steep, but I'm not going to waste several minutes finding another transport for half an Euro!
He drop me off right at the entrance to Mahasthangarh. Here, four people inside the fence tells me: They having lunch break, I can return after two. I check the fields on one side of the site, then returns to the endless wall on the other. Here, I find a path into the area, and check it out.
Mahasthangarh is the oldest city in Bangladesh. The ending: "-gath"
means fortress, and it sure is impressive. The at least five meter brick wall measures 1525 metres times 1370 metres. Within it are some nice gardens with pretty flowers and huge patches with corn, rice, fruit, potatoes and other vegetables. The fortress dates back to 500 BC, and have been used for many years by different rulers. I find a single, unknown Solonaceae, and admire their watering systems. Young couples are sitting in discrete places, cuddling, probably Hindi.
I walk one of the sides, and head back to the entrance. It turns out the entrance is merely for a small museum and a beautiful collection of pretty flowers. Some nice founds are displayed in a museum, looking way more worn-down than the fortress.
On the other side of the road, the Govinda Bhita temple are found. Another entrance fee to pay, and even more of a hoax. Same walls, nothing else to see. Well, except a Bombax ceiba tree, which I have failed to get a proper photo of until now.
I get a cargo bike to drive me back to the village, and share a tuck-tuck to Bogra. I have to find my way back to the hotel, and I might not have paid attention enough to the surroundings on the
way out. The traffic is still a nightmare, but the main part is of silence vehicles, and I take it as a treat.
The crossing railroad trails open for a marked of some sort. The first part is the madras makers. Coconut fibres, cotton and stripe cloth and handy work. Then the usual fruits, vegetables and butchers. Strangely enough, the butchers are the only ones who refuses to be taken photos of - then again, I experiences this all over the world. Not that I would be proud of a shop like that, but? It works so much more easy with i.e. the black smith, selling hand tools.
I find back in the sowing-machine street and then my hotel. Here are at least 25 shops, repairing old-school sowing machines, and several selling new ones like Singer. Almost all are non-electric.
Empty my bag and bring it to a
tailor. It have started to open at the strips, and I better have it fixed as soon as possible. I have only had it for around 20 years, and are not willing to give it up this soon. While they take it apart and re-sow it, I head for the Mohammed Ali Palace and Park. The former prime minister of Pakistan (which Bangladesh once was part of) should have a nice garden. He might, but it is not here! Concrete animals, a train-ride for kids and a few dusty plants, hidden under huge trees.
I head back out in the town, looking for interesting motives in the low sun. A river cuts through, but unless you like trash, it offers nothing interesting - that should be the pig with piglets living there. On my way back to the hotel, I pick up my bag. It look like new, but I have to pay 50 Taka. I am sure I would have to pay 100 times more in Denmark,
if I manages to find someone to do it. Back at the hotel, I do some work in the dusk. Then it is time to track-down supper.
I get a mix of fried filled dough, some strong, some stronger. Well, for half an Euro, you can't be peckish. Then I make some loops in the now black city. Black, but fare from dead. Actually, what I thought was a little village centre turns out to be one of the major trading areas I have seen in many years.
All the shops are open, and the streets, alleys and back alleys are packed with people and a few vehicles. I first visit one of the sowing machine work shops. One of the guys are working on a more than 100 year old machine, and it is a delicate job. He make pieces of raw iron, and everything is a perfect fit, when he is done. A true craftsman!
The next shop I enter
is a pharmacy. All are stocked in old, brown bottles with ancient labels. I guess the placement is the key? Endless shops of whatever, the cloth market, the floweriest, food, all in-between, still vegetables on the railroad trails, and then I enters a huge, indoor mall. Gold smiths, cloth, perfume, spices, fishing nets, religious decorations for Hindi, tons of sweet stuff, a fish market, chicken market, eggs, beans, rice, sugar, flip-flops, shoos, belts, cell phones, TVs, several streets with mainly remote controls, lamps - all imaginable and in huge numbers.
At eight, some shops start to close, and I better get home to work. The hotel owner tells me, the busses will be on strike for additional two days, making my life harder.
I only have one more planned site to visit: Parhapur, then I ought to find a train straight to India, although I might have to make a stop in Saidpur. That reminds me; I have to pay attention to my money - else I will have to change back! More than half the money I have spend was on the three day Sundarbans tour. It seems like Bangladesh will cost around €14 a day, but the missing busses have added considerable to the expensive. €10-12 is probably more realistic for a day in Bangladesh as a tourist.
25/1
The city is quiet this morning - real quite! I later learn, it is a public holyday, which might explain the frenzies last evening. I have to walk a real long way to find anything useable for breakfast, and then only three rotis. Well for 15 Tara, what do you expect?
The town reminded me of Roskilde Festival last evening, and it is just the same this morning. Only a few awake, dealing with endless mounts of trash, and a hint of "after-party".
I have to walk all the way to the improvised tuck-tuck stand - where the busses probably use to stop. The first tuck-tuck bring me by the familiar road to Mahasthangarh, then another tuck-tuck to Shibganj. Today, it is just as cold, but I am prepared, and I am the least freezing on the tuck-tucks.
Out on the open country road, an elephant suddenly appears. The first I have seen, and I don't see much of it, as we race bye. A new walk through town to the other end, where a real
old tuck-tuck is loaded for the stint to Kalia. People are real helpful everywhere, when someone break the English barrier. Within minutes, 20-40 people are gathers, and most have an opinion on, how I should go on. I tend to stick with the well-dressed and slightly English talking gentlemen.
In a fog of burned and un-burned petrol, we slowly reach Kalia. Here, I'm guided to a trishaw, but ask to leave it, when some huge petrol-tank trucks swiftly and real dangerously blocks the road around us. It is a miracle none was hurt! Yesterday, we passed a bus down on the side in a drench. I understood something about not being on strike, but I now realises; It might have been forced of the road. The trucks soon leave, and I walk to the other end of town to catch yet another old banged-up vehicle. It is not filled though, and apparently, I have bought most seats on this stint. In stead of the usual 20 Taka, I have to pay 100. If I alternately should have waited an hour, it is fine with me!
Right out of town, we turn left on a mainly gravel road, and drive through tiny villages in a nice landscape. Tiny cows are dressed in potato sacks and resting in the shadows.

A new transfer in Jaipurhat, and I know the drill. I had originally planned to find a hotel in Parhapur before I continues, but the friendly driver offers to drive me all the way out to the archeologically site - for 50 Taka. Through a smaller village and then a tiny one.
We reach Pahapur Monastery or Somapur Mahavihara at noon, and I walk back a bit to get some tea. The six guys at the entrance want 200 Taka (50 for locals), and when I have paid, they tell me it is a public holyday, and the museum is closed! Well, then I have to do with the garden and the ruins outside.
I start with Satyapir Bhita next to the huge monastery. It is a rather big complex with main chamber, hall, a ambulatory passage around and 132 votive stupas. All build in the 8-12'th century AD.

Well, it is a collection of half to one meter tall brick walls in a grassy area.
I head into the garden of Pahapur Monastery. Not what I had expected, but if you like figure-cut bushes and colourful flowers, this is a place for you. On the other side, the giant UNESCO site is found. It is the largest known Buddhist monastery south of Himalayas. It was build around 800 AD. The outer wall is 280 times 281 metres. The wall is made up by 177 cells for monks, and within the square, many other buildings are found. The central temple is massive and despite it is slightly broken down, one can imagine the greatness of it in the present days.
I do some rounds on the massive wall, check out the heavily grassed area within, and some of the reconstruction going on on the remaining walls. The warnings about work going on, bear Danish flags by some odd reason. I find some Oxalis sp. and a
little white flowering plant, I can't put a name on. Could be a terrestrial orchid for the matter.
The inner temple was nicely decorated with figures in the bricks - none real Buddhist, I think.
Outside the area, a restaurant with room for an entire tourist bus and the first souvenir shops I have seen in Bangladesh, are totally vacant. I find some dus-chai in a local place, and the owner offers to drive me to the little village. Here, I find a shared cargo trishaw with electric engine to Pahapur. I do some walks in the two villages, but is seems like I have seen, what rural Bangladesh can offer this time of year. I could book in to a hotel in Pahapur, but I'll check the trains first.
It turns out, I can get a seat in a train for Saidpur within an hour, bringing
me half way to the Indian border. It is a long drive, and I'll like to cut it in half. While I wait, I talk to a young rice en-gross salesman. He also want to get me up to speed with the political system in Bangladesh: It is ruled by a minute over-class, and the two families fighting for power now, with strikes and alike, are just as bad. Private interests and corruptsy is their only interest. Can you call it a democracy, when only the extreme rich have the money to get elected? I get a seat next to a real pleasant post officer and his daughter.
We drive close to the Indian border - within meters actually. I guess the railroad was made before the border? At the train-station, I head for the ticket office to get a ticket for tomorrow. I ask for one to the border, but the price is only 50 Taka, and I might not make it all the way? The ticket is only in Bangladeshi - not helpful at all, but I know the scheduled departure is at noon.

Due to the delay of the the train, we reach Saidpur after dark, but I know my way around Bangladeshi stations cities by now. I just can't find a hotel! Two young men walks me to the other end of a long trading road, and here are the nice Hotel Amzadia. Pretty fancy with own soaps, toothbrush and alike. They just don't have hot water at all. Newer mind, I can make my own.
I head out in the rather dark Saidpur, where many shops are closed. Either due to the publish holyday of just the time? One restaurant is stuffed, and I rather sit alone eating here. Another look fine, and I just ask for something to eat. The old waiter start bringing me dishes, and I just eat. At some point, I figure he is not serving one setting, but the entire menu card. Well, it taste great, and I get through it. The bill on 470 Taka is real high, but I did eat quite some. I can hear their gasp, when I head into the bakery next door.
Armed with some cakes, I head back to the room to work. I also have to find passport, tourist tax receive and alike for the crossing tomorrow. I'll wait with the slideshow, for the photos in the morning in Saidpur - if any.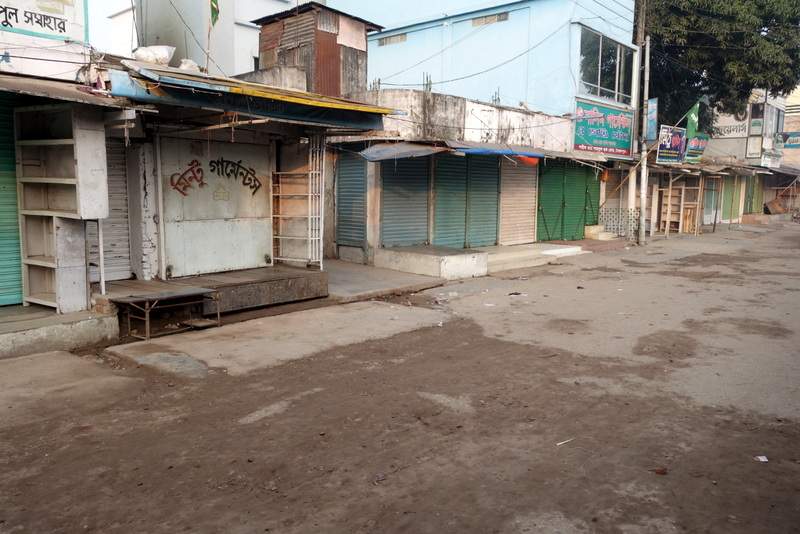 26/1 Apparently, the transformer to my computer was overheated last night, despite I was not loading camera or anything else. It works fine this morning, which is a big relief! I hit the town way too early, but do manages to find rotis and dur-ta.
When the town is not ready for me, I start on working. The last slideshow from Bogra, Mahasthangarh and Parhapur. And The Essential Bangladesh. Then I try the city again, just before ten, and despite fare from almost all shops are closed, I find some motives. The area is huge and host endless small shops, dealing with all the things I don't need, but which is essential for the Bangladeshi. Well, some do have dub-tar.
I find the
furniture makers along the trails, the farmers'- and fishermen's market, some real old-school blacksmiths, and even the butchers ask for photos! Slowly, the town awakes, and at eleven, I head for the station, walking slow through town to suck-up the last impressions of Bangladesh. It is by fare the warmest day, and for once, I'm not spending it in a open tuck-tuck.
As no surprise, the train is a hour delayed. We drive through huge rice fields and two small villages. The walls are used for drying "cow firewood", so are all other flat areas. It is apparently a huge industry.
It is a slightly misty - or dusty day, and I'm in the wrong side of the train. The rice is in a long stretch exchanged with tobacco, which still is small plants.
The platform in the villages is at least not used for drying cow's dung, but rice. At half pass two, I finally made it to the border town. I'm told, it is only two kilometres to the border, but the
next group I talk with tells me: The border crossing is closed! I have to get that confirmed several times before I believe it.
The ideas about how I make it to India are numerous. Some say "Airport", some the huge city south; Rangpur, some say tuck-tucks from Nilphamari 60 kilometres south, but I rather try Domari, only 25 kilometres back. At least, I catch the returning train.
Outside Domari station, three trishaws are waiting. When I ask for tuck-tucks, they make me understand; here are none. I get back in the train, and try exactly the same in Nilphamari. Then I can't come up with any other idea but Saidpur. Bit annoying, spending an entire day, accomplishing nothing but finding out an essential border crossing is closed! I do not have days to be wasted!
Despite
I really can't afford it, I head back to my hotel. I ask for help, but a combination of bad English and the eager to please, give me no solid information. I experience it time after time. If I ask, if the station is to the left or right, even ´pointing, then they say "yes" with a big smile.
I walk down to the bus terminal. Within minutes, I have gathered 50 men and boys. All have their input, none seems to now anything. The general idea at the hotel was that the busses would work tomorrow, here they say no.
As I see it, my alternative to busses/tuck-tucks are the train to Rangpur, two other lines and then the tiny border at Burimari. Some say it is open, but accordantly to my map, only the railroad and some minor roads reach on each side. And it will most likely be three day journey. Considering my limited visa, I would like to leave...
On the way home, I find a little restaurant and get some great tasting small
breads and sauce with mutton and a du-tar for only 35 Taka. While I eat, two guys are eager to become my friends. After the meal, they insist I visit them at their office. It might be a driving school, but besides from they drive, I can't really figure what they do in that warn-down room. They are brothers in law, I meet an older brother in the diner, and their mothers husband is sleeping in the room.
I also passes some groups of people, smashing bricks to gravel. I have seen it many places, even at bigger roadwork. In a country without proper gravel, anything is useful. But I can't imagine a simple machine would not earn it self in, considering I have seen 50 men and women sitting with each one hammer, bashing away.
While I sit struggling with checking borders opening status and roadmaps, the transformer - or computer, first refuses to load, then it starts and stops again. Not really an issue
I need by now! At least, I got some extra days in my visa! Else, I would have to panic, and fly to anywhere.
The best plan I can come up with, is hoping for busses tomorrow. If that fails; tuck-tucks and other interimistic means of transportation. I gamble and aim for the Panchagarh-Banglandha border crossing, near the Indian city; Siliguri. If that fails, I have to use the days mend for India, just to get here! Or go south to the Hilli/Hili crossing, but then I have to travel in India for days to reach my goal. While I struggle, the brothers from the diner pops bye to drag me into town. It is a bit hard to hide, when here is only one hotel! At least, they buy the story about I'm working. I sneak out for tea and cookies later, hidden in the dark.
Besides from the lack of power to the computer, lack of busses in Bangladesh, lack of working border crossings, lack of time in general, I am bothered by a coming lack of clean socks! I have heard nothing ever dries in that part of India I'm heading, and I will not have time to stay in the same hotel for two days, I think.
What I feared about exit-tax from Bangladesh, expiring visa, exit port, entering visa for India and alike, seems so distant at present time.
At nine, I give in, hoping for an early start in the morning - without breakfast if necessarily.
27/1 Up 5;30 after a night mainly spend with worries. The day turns out to be describable in one word:
FUCK!
In more details: I first take the long walk to the bus terminal -
well, some kilometres, then I catch a ride. The guys here discuss a lot before they agree: I have to drive to another terminal. Here, they apparently do not know the idea of shared tuck-tucks. At first, they want 1500 Taka, later, they can do with 800 for the short drive to Birgani - a fifth of the way. Considering I only have 580 Taka, and it would be around 30 in yesterday's prices, I decline.
A truck is unloading further down the road, and I give it a shot. I'm in so much luck; they are going to Thakurgaon, a third of the way. We are five, sharing the drivers cabin, but considered the pea-soup-like fog and 11C, I think it is a fantastic idea.
They do a single unloading on the way, and drop me off near the busses. I give the driver 100 Taka in tips. I find the auto (electrified tuck-tuck), but despite it has two passengers, we wait forever to fill up. Somehow, they agree on paying the remaining seats, and they get filled soon on the road. The driver agrees on driving me all the way to Panchagarh for 250 Taka. Bit steep, but I do not have many options.

Here, he find another auto, and he find me a real, big and operational bus in Baruabara at noon. Here, the sun starts to chase the fog away, and things start to look a bit more bright. I have checked with every one; the border I'm heading for, is actually open. I might even make it to Darjeeling late in the evening.
This area have one thing I haven't seen before: Gravel industry. The river must have some rolling stones, and they are grinded in machines all along the road. Here are also a few tea plantations, but nothing big.
I have to change bus in Tetulia, but that is swift. Two kilometres before Banglandha, I have to start walking. It is exactly 24 hours since I was bounced at the other border. The Bangladeshi border control refuses to let me through. There are no immigration on the Indian site, and I will not be let through! It takes me half an hour to let them give me a chance at the Indian site.
The no-man's land is rather busy, mainly the gravel industry, but shops and farmer
s. When I reach the Indian control, they are pretty sure: I can not enter, as they have no immigration. I try every trick in the book, but I'm bounced by the officer in charge. Well, he is just doing his job, and he is kind enough to change 1000 Rupee to 1000 Taka. That way, I have money to travel back. I was down to 50 Taka, which would have been great - if I was aloud to make the crossing. I got within three meters.
An auto is waiting, and I share it with another guy. We have to go all the way to Tetulia, but here I find a south-bound bus. It connects with another one in Baruabara and somewhere along the line, I only have to wait shortly for a third, taking me all the way to Dinajpur. Enough time to get a tea and a packet of bisquits. It is completely dark, but I rather use I'm on a role with working busses, and Dinajpur is a rather large city, which should have a hotel.
The driver is a bat out of hell. He overtakes trucks, busses and pushes
everyone out of the way. It is pitch dark, slightly misty, a narrow road and filled with dark autos, trishaws and pedestrians. He zigzags and the bus feels like a ship in high sea. I got front row, and spend most of the two hour drive sleeping.
I'm kicked off at a gas station outside Dinajpur - I hope. A fellow passenger give me a ride to a nice hotel: Hotel Park, and I find a pair of rotis for supper.
I am now 28 kilometre from where I started this morning, after have been driving 300 kilometres. Only accomplice one thing: I know of yet another closed border. On the positive side: While I was looking for my gloves, I find two pair of clean socks. I have to settle for small things...
Hilli border crossing is around 50 kilometres south-east, but then I have to drive all the way up north again, and in a rather big circle around Bangladesh - 440 kilometre at least. I sincerely doubt I will be able to make it to Darjeeling tomorrow, despite India ought to have working busses. I have to face it: I have lost yet another national park.
28/1 No reason to get up too early; none else are. An old fart with a trishaw apparently know where the terminal for the Phubari busses is. Newer the less, we end up in front of some big gates. The guard get the idea, and guide the old fart to the bus terminal. All the busses are here, but none else. I find some roti and a dy-thai nearby.

The entire crew guesses, and I'm advised to take an auto to somewhere else. Here, all the autos are gathered, and I get a seat in the one for Birampur. It take half a hour to get the last three seats occupied, and then we are off for two hours real cold tour. In Birampur, I don't even get time to pull up my hat from the bag. In Hili, it is just a short walk through town to the border. Today, I have seen the first two normal, private cars in Bangladesh.
I get a last cup of dus-tja to calm the nerves. The border on the Bangladeshi side is in several small huts, scatted around the area. I get to fill out several forms, all with exactly the usual information. Mean while, some officers do exactly the same, based on my passport.
Unfortunately, they are not used to tourists, and none have ever seen a Visa On Arrival. The expect a big sticker in the pass, not a smutch stamp. After half an hour, I get them convinced, and cross the railroads, hoping India will let me in! I can't go back, as I only had a one entry visa, and it is cancelled by now. And I even got 160 Taka left!
The photos from the three desperate days I tried to escape Bangladesh is in its own slideshow.
The best photos from Bangladesh are in this slide-show.
The huge number of smiling faces, the perfect climate and the endless green landscape is priceless - and cheap. Taken in mind, I did have insurance, and I just flow in from Bhutan, but the lack of busses and especially Sundarbans on the other hand, I still find the tour real cheap: 5250 DKK - €600. The Sundarbans do count for a lot!
BUT! I will advise people to wait with a visit, till the great people of Bangladesh have made a revolution. With the current government, tourism is so much a hazard, it is not worth it. And a fluid Bangladeshi languish would come in handy!
EXPENSES:
DKK
Euro
Flight from
Bhutan
1.400
187
Hotels
750
0
Transport
500
67
Entre i.e.
100
0
Gear
0
0
Visa
700
93
Sundarbans
1.500
200
Food i.e.
300
40
5.250
587
It is now high time to leave Bangladesh and seek in to India's Western Bengal, way up north.