The flowers.

The caudex.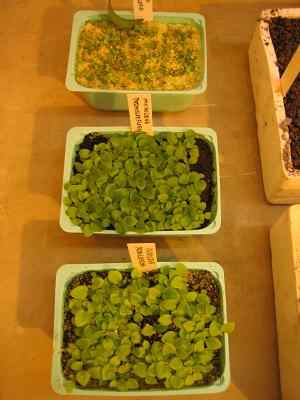 They made this test: Above; grit. Middle; sphagnum. Bottom; mix.

In the bottom of the small pot was a nest of common garden ants. Might be a coincident, but it is an ant plant.

Author:
Joseph Dalton Hooker, 1870
Family:
MELASTOMATACEAE
Origin:
Northern Brazil, Colombia, Costa Rica, Ecuador, Panama, Peru
Soil:
Mix - Epiphytic
Water:
Medium - Maximum
Sun:
Medium
Thickness:
20 Centimetres
Height:
30 Centimetres
Flower:
White - Pale Pink
Propagate:
Seeds
Names:
Ant Plant
Synonyms:
Bertolonia primuliflora, Dombrain, 1870.
Monolena primulaeflora, Hooker, 1870!?
This member of the Melastomataceae family was described by Joseph Dalton Hooker in 1870. It's found in northern Brazil, Colombia, Costa Rica, Ecuador, Panama and Peru, growing in a well-drained soil or as an epiphyte with quite some water and sun. The flowers are white to pale pink, and it can only be reproduced by seeds.
The genera name from Latin: mono; 'single' and lena; 'seductress' for the single stylus. The species name means 'having flowers like a Primula (primrose).
Frank Omilian has this tip: Sprout the seeds on long fibre sphagnum, kept moist.
This is one of the ant plants. There are members in the Apocynaceae, Fabaceae, Melastomataceae, Orchidaceae, Polypodiaceae and Rubiaceae families. I actually got an ants nest in one of my plants. Newer had it before in any plants, but it might be a coincident. Photos in the bottom of the page.
Some claims this plant needs temperatures over 25 C, but mine are doing fine with 20 C.

The fruits.

The tiny seeds. Grit is 5 millimetres.

Bruce Brethauer send a lot of seeds to Copenhagen Botanical Garden.

Bruce Brethauer's photo from Missouri Botanical Garden. 20 centimetres in diameter.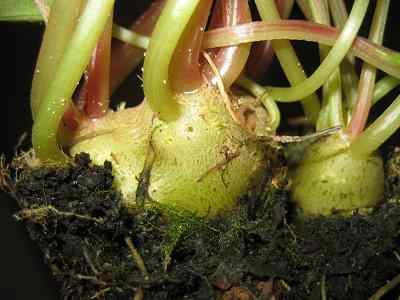 The caudex evolves on even small plants.