A plant with exposed caudex by Loraine van den Berg, Ispotnature.org.

The leaves from Worldofsucculents.com.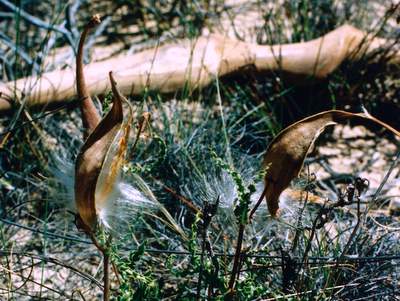 The ripe fruits by Mary Stobi, Ispotnature.org.
Author:

George Claridge Druce, 1917

Family:
ASCLEPIADACEAE*
Origin:

Namibia, South Africa

Soil:

Mix

Water:

Medium

Sun:

Medium - Maximum

Thickness:

15 Centimetres

Height:

40 Centimetres

Flower:

Greyish - Green

Propagate:

Seeds/(Cuttings)

Names:

-

Synonyms:

Brachystelma sinuatum, Ernst Heinrich Friedrich Meyer, 1838.
Fockea undulata, N.E. Br.,1895.
This member of the Asclepiadaceae* family was given this name by George Claridge Druce in 1917. It is found in Namibia and South Africa, growing in a well drained soil with some water and some to lots of sun. The caudex can grow to fifteen centimetres in diameter, the entire plant to 40 centimetres in height. The flowers are greyish-green.
The genera name after Charles Focke, 1802-1856, a Dutch botanist, collecting especially in Surinam. The species name means 'bent' or 'curved' for the edges for the leaves.
*)Accordantly to the latest taxonomic system; APG IV 2016, Asclepiadaceae is now part of the Apocynaceae.