This was my first caudiciform, back in 1990?
It cracked the pot, and then had to do without soil.

Found this huge plant in Göteborg Lustgårdar.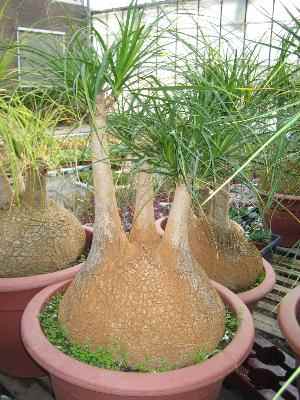 Nice round plants from Winco. 35 years old.

Real nice looking plant in Obesa Cacti Nursery in South Africa.

Big plant from Piteralandia, Alicante, Spain.
Copyright Spain: P.C. van der Meer.
Author:
Charles Lemaire, 1861
Family:
NOLINACEAE*
Origin:
South-East Mexico
Soil:
Mix
Water:
Medium
Sun:
Maximum
Thickness:
3,6 Meters
Height:
9 Meters
Flower:
Crème
Propagate:
Seeds/Cuttings
Names:
Pony tail palm, Bottle palm, Elephant's foot, Elefantfod.
Synonyms:
Dasylirion recurvatum, J.F. Macbr.
Nolina recurvata, Hemsley, 1884.
Beaucarnea inermis, Rose.
Dasylirion inerme, S.Watson.
Pincenectia linifolia, K.Koch & Fintelm.
Pincenectia recurvata, K.Koch & Fintelm.
Pincenectia tuberculata, K.Koch & Fintelm.
This member of the Nolinaceae family was given this name by Charles Lemaire. It's found in the south-eastern part of Mexico. Give it lots of sun, well drained soil and some water, and the caudex will grow to 3,6 meters in diameter, and the stem will reach nine meters. It can be reproduced both by cuttings and seeds. I bought mine in Roskilde around 1980 and after it has survived many years of over-watering, it died in 2006, after what I thought was the right dryer winter treatment.
It is dioecious, but will only start flowering when it's 20 years old. Lots of white/yellow/crème flowers give small fruits with 2-3 seeds.
This was my first caudiciform. It didn't have soil for 10 years, but seems to grow fine. One year it suddenly grow a side-branch. I didn't let it go to dormancy, but it can. It can even stand frost (-7 C).
It will form several new branches, if the first one is cut back. Only do this in the growing season!
The genera name after Monsieur Beaucarne, a Belgian succulent plant grower who first collected flowers of the genera. The species name means 'bent-back', and refers to its long, curved leaves.
The family-name Nolinaceae comes from the French agriculturist P. C. Nolin.
*)Accordantly to the latest taxonomic system; APG IV 2016, Nolinaceae is now part of the Asparagaceae.