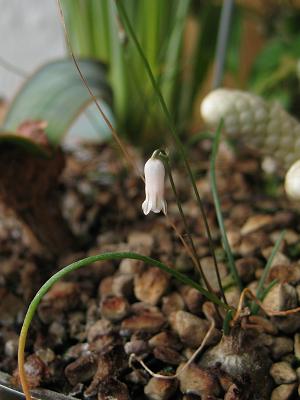 This tiny flower is three millimetres high, one in diameter.

Origin in the Wally of Desolation, South Africa.

Grit is 5 millimetres.
Author:
J. C. Manning & P. Goldblatt, 2000
Family:
HYACINTHACEAE*
Origin:
Eswatini, South Africa, Lesotho, Zimbabwe
Soil:
Mix
Water:
Minimum - Medium
Sun:
Minimum - Medium
Thickness:
3-6 Millimetres
Height:
4-6 Centimetres
Flower:
White
Propagate:
Seeds/Bulbs
Names:
Fairy Bell, Pilgrim's Rest
Synonyms:
Litanthus pusillus, William Henry Harvey, 1844.
Drimia pusilla Nicolaus Joseph von Jacquin.
This tiny member of the Hyacinthaceae family was given this name by John C. Manning and Peter Goldblatt in 2000. It is found in southern Africa from Namaqualand through Eswatini and Lesotho to Zimbabwe. It grows in rock cracks, in well drained but rich soil with little to some water and little to some sun. The bulb can grow to six millimetres, but most I have see was not more than three millimetres in diameter. The one or even two narrow leaves grow from four up to six centimetres, while the inflorescence reaches up to nine centimetres with a white flower of two or three millimetres. It is usually found in dense groups in the cracks underneath boulders.
The genera name from Greek; drimys; 'sharp' or 'cutting' for the pointed capsules. The species name means 'one flower'.
It is said to be the world's smallest flowering bulb, and I guess that could be right.
*)Accordantly to the latest taxonomic system; APG IV 2016, Hyacinthaceae is now part of the Asparagaceae.
In the wild, it might be a winter-grower, but it do fine at summer at my place.