Nice plant outside Karibib, Namibia.

This one is from my own collection.

Just an hour or so in the afternoon.

A wild plant from outside Karibib, Namibia.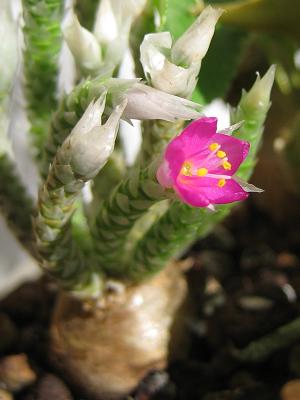 This one is from my own collection.
Author:
Gordon Douglas Rowley, 1994
Family:
PORTULACACEAE
Origin:
Namibia
Soil:
Grit - Mix
Water:
Minimum
Sun:
Maximum
Thickness:
2 Centimetres
Height:
6 Centimetres
Flower:
White - Slightly Pink
Propagate:
Seeds/Cuttings
Names:
-
Synonyms:
Anacampseros dinteri, Hans Schinz, 1908.
Anacampseros quinaria var. schmidtii Berger.
Anacampseros schmidtii Poelln.
Anacampseros wischkonii, Poelln.
Anacampseros ombonensis, Poelln.
Anacampseros neglecta, Poelln.
Anacampseros omaruruensis, Dinter ex Poelln.
Anacampseros ombonensis, Dinter & Poelln.
This little member of the Portulacaceae family was given this name by Gordon Douglas Rowley in 1994. It is found in the central Namibia, growing in grit or other well drained soil with little water and lots of sun. The caudex can grow to two centimetres, the branches up to six centimetres. The flowers are white with a slight touch of pink.
The genera name means 'lawlessness' in Greek, but is more likely from Latin; avus; 'grandfather', referring to the "old-looking" stipular scales. The species name after proff. Kurt M. Dinter, 1868-1945, a German botanist working in Namibia.
This column are photos of wild Avonia dinteri, found 40 km north of Omaruru, Namibia.
Found by and photographed by Jacques van Thiel.

A plant on location.

Zoom of the leaves.

A wild plant exposed.

Another wild plant exposed.

A third wild plant exposed